Happy Friday, fellow travelers! Have some space hijinks and some new (and old) mythology.
---
This newsletter is sponsored by The Evaporation of Sofi Snow by Mary Weber.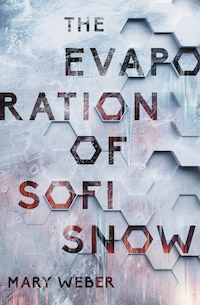 From award-winning author Mary Weber comes a story of video gaming, blood, and power. As an online gamer, Sofi Snow battles behind the scenes of Earth's Fantasy Fighting arena. Her brother Shilo is forced to compete in a mix of real and virtual blood sport. When, a bomb shatters the arena, Sofi thinks Shilo's been taken to an ice-planet – Delonese. Charming playboy Miguel is a Delonese Ambassador. He's built a career on secrets and seduction. When the bomb explodes, the tables turn and he's the target. The game is simple: Help the blackmailers, or lose more than Earth can afford.
---
We've got enough links for a space section this week, so let's start there.
– Ikea is sending people to Mars! Well, a Mars-simulation. For furniture science. It's like The Wanderers, only for three days and in the name of minimalist living.
– This piece on baking in space is excellent if only for the phrase "[C]ake in space is the ultimate goal," and also makes me want a "Great British Bake-Off"-style reality show on the ISS. A girl can dream, right? And happily, there is the comic Space Battle Lunchtime to tide me over until I get Mary Berry teaching Chris Hadfield how to properly time a soufflé whilst in orbit.
– Asgardia started out as satellite data storage "space nation" and now appears to have plans for an actual station, much to everyone's surprise. I confess that I am not inclined to be an early adopter when it comes to space citizenship, but you do you Asgardians!
We talked a bit in past newsletters about the surprise (to me, anyway) nomination of The Underground Railroad to several genre awards list. In flipped awards news, for the first time ever, a speculative fiction novel won the Bailey's Prize for Women. The Power comes out in the US in October, but if you can't wait that long I know a guy who ships internationally.
With great power comes great responsibility, and here is a list of seven YA novels with heroines who learned that the hard way.
Last but not least, if you'd like a detailed breakdown of that stellar (STELLAR I TELL YOU) Black Panther trailer, io9 has you covered.
On to the reviews!
Six Wakes by Mur Lafferty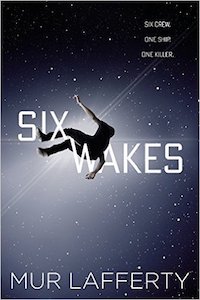 This is a locked-room mystery, except it's a locked spaceship and it's mid-space flight crewed by clones! Are you convinced yet?
You should be; Six Wakes is a page-turner and then some. The ship's crew, all of whom have criminal pasts, wake up 25 years into a colonization mission to find themselves — Their previous selves? Past selves? They are clones, selfhood become weird — floating around, very dead. Very messily dead. Some were stabbed, someone was hanged, someone else was stabbed and poisoned, and none of them have any memory of what happened. The only surviving crew member, the captain, is in a coma and not telling. What follows is both a whodunit, a look at the backstory of our protagonists, and a highly detailed imagining of what the legality surrounding clones could come to look like.
Brain hacking, political agendas, religious scruples, covert ops, artificial intelligence, personhood, and revenge — naturally — all come into play. In addition to the big plot points, Lafferty doesn't skimp on the mundane details. How does inheritance work now? How does food work in space? What happens to your personality over that much time?
Six Wakes is engrossing and thoroughly satisfying, and Lafferty succeeds at both laying down a mystery and creating a stand-alone sci-fi novel. Highly recommended, especially for beach/vacation reading!
The Metamorphoses series by Sarah McCarry
Later this year the first translation of The Odyssey by a woman is coming out, and my galley arrived this week. As I ran triumphant laps around my apartment and plotted where exactly it would go on my bookshelf, it reminded me of the series that re-awoke my love of the classics in the past few years: Sarah McCarry's Metamorphoses trilogy, which feature contemporary retellings of Ovid's Metamorphoses with teen protagonists and titles from Nirvana songs. A truly excellent combination, I am happy to confirm.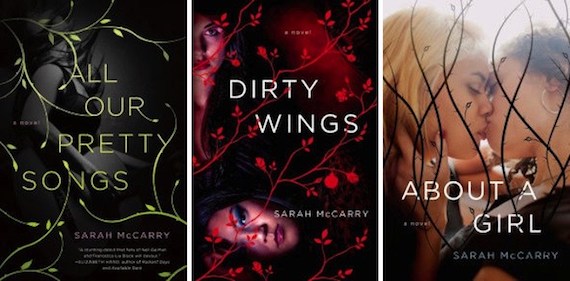 The series starts with All Our Pretty Songs, following our nameless narrator as she tries to get her best friend Aurora and their new friend Jack back from the Underworld. Jack's musical gifts have attracted the attention of an ancient evil, and that attention is now directed at them as well. It's a powerful start, both because you don't get to see sisterhood stories of this kind very often, and because the narrator is one of my all-time favorite Angry Girls Who Are Not Here For Your Supernatural Nonsense.
Dirty Wings is a prequel to All Our Pretty Songs, and while you could read it first it definitely spoils a few things! It too is a best friend story, following Cass and Maia (the mothers from #1). It too features a man who changes their friendship; but instead of a battle with dark forces, it looks at how those dark forces can entire your life all unwitting, and what you do when you find you've invited them in.
About a Girl jumps forward to Tally, who is 18, a genius and pretentious to go with it, and just counting down the days til she can go to college and win a Nobel for astronomy. Her aunt (our narrator from All Our Pretty Songs!) has raised her, and she's never known either her father or mother. She's got other things to think about, though — until she makes a discovery that finally offers her the chance to find out the truth. Why did her mother leave her? Who was her father? The answers to these questions, plus ones she didn't even know to ask, take her on a journey that will upend everything she thinks she knows about how the universe works. Spoiler: it ain't tidy OR scientific.
If you need more sci-fi/fantasy chat in your life, check out our newly launched podcast SFF Yeah!, hosted by yours truly and my fellow geek Sharifah. If you need even more reading recommendations of any kind, you can find me and Amanda at the Get Booked podcast. May the Force be with you!