Welcome back to In The Club, a newsletter of resources to keep your book group well-met and well-read.
---
This newsletter is sponsored by The Hideaway by debut author Lauren K. Denton.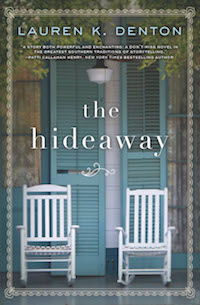 Named 'Debut of the Month' by Library Journal, The Hideaway is a lyrical, southern gem from Lauren K. Denton.
Sara Jenkins leaves her busy life in New Orleans and heads to The Hideaway, a ramshackle B&B in Alabama that she has just inherited from her late grandmother Mags. She intends to quickly tie up loose ends but soon discovers a home she never expected.
Brimming with winsome details, poignant insights, and endearingly-flawed characters, this novel is ideal for fans of Sarah Addison Allen, Beatriz Williams, and Patti Callahan Henry!
---
Need more murder for your group? 100 Must-Reads about serial killers.
The Other Scandinavians: Dorthe Nors breaks down contemporary Scandinavian literature, NOT Scandi Noir, and recommends five favorites. Not all of her picks are available in the US, but you'll want to check out the ones that are after reading this interview.
Foodie + steamy = yes. This list of 8 romances is full of reads about food and love, one of which is literally called Delicious! (I can vouch for that one personally; it's the Regency foodie Cinderella I didn't know I wanted.)
And, of course, it is past time for a summer reading round-up!
– Read like Bill Gates.
– Summer reading guide from Modern Ms. Darcy, sectioned out by type of novel!
– Recs from six novelists who own bookstores!
– Bitch Media's June selections
– The Seattle Times recs 15 books
Since we're done with the Read Harder Challenge suggestions, I'll be trying out some ideas for the second section of this newsletter! This week will be a pair of pairs (because my sense of humor is easily tickled) but I'd love to hear from you all! What do you want more of? What might be helpful to your group? More recs? More how-to's? Hit reply and let me know!
A Pair of Pairs: Page to Screen
I'm still obsessed with the idea of a page-to-screen book group, and since I don't have one right now you all have to live my dreams for me! Here are two film/book pairings that would make for excellent discussion and viewing:
Stories of Your Life and Others by Ted Chiang and Arrival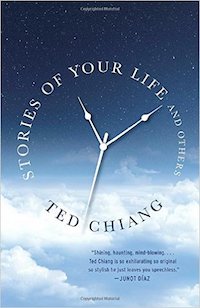 Arrival was one of the most critically acclaimed films of last year, especially for a science-fiction movie. It was based on the titular novella, "Story of Your Life," from Chiang's collection and I have described it as both a gut-punch to the feels and one of the most academically interesting alien encounter stories I've ever had the pleasure to read. Chiang looks at linguistics, parenting, the nature of time, and humanity's deep and abiding xenophobia, all in less than 50 pages. The rest of the collection is excellent as well, but "Story of Your Life" has enough meat to it to work as the subject of a full discussion. And, of course, the film inevitably strays from its original source material, so there will be plenty to compare and contrast!
To get the discussion going:
– an interview with the filmmakers of Arrival, via Parade
– a Contrast and Compare via Kirkus
The Hours by Michael Cunningham and The Hours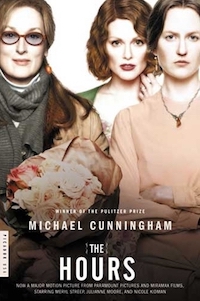 I know it's been a minute since The Hours came out (can it really be 15 years ago for the move?! And 17 for the book.), but for me this was the rare case in which I liked the movie better than the book. It's hard to argue with the production value or the slew of awards it won, including Best Actress for Nicole Kidman's portrayal of Virginia Woolf. It's also hard to argue with the Pulitzer Prize that the novel won! While the movie is overall faithful, changes were definitely made. Do they help the story? Do they hinder it? If your group is interested in books that include family sagas, depression and mental illness, a focus on queer lives, and characters that you can't always like but you might understand, this is the combo for you. Bonus: you could also throw Mrs. Dalloway in there to make the discussion even wider-reaching!
To get the discussion going:
– Michael Cunningham on seeing the film come to life
And that's a wrap: Happy discussing! If you're interested in more science fiction and fantasy talk, you can catch me and my co-host Sharifah on the new SFF Yeah! podcast. For many many more book recommendations (including the occasional book club question!) you can find me on the Get Booked podcast with the inimitable Amanda.
More Resources: 
– Our Book Group In A Box guide
– List your group on the Book Group Resources page