Welcome to another week, YA fans!
This week's edition of "What's Up in YA?" is sponsored by She's So Boss by Stacy Kravetz –The Girl Entrepreneur's Guide to Imagining, Creating, and Kicking Ass.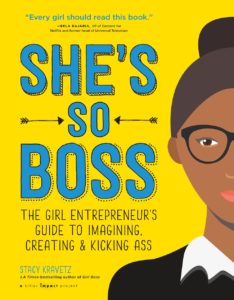 Whether you already have an idea for a business or you're mulling how to turn the things you enjoy into a self-sustaining enterprise, this book will connect the dots. From inspiration to execution, there are concrete steps every young entrepreneur, creator, or leader needs to take, and this book shows you how. Packed with information and with the profiles of more than a dozen real-life girl bosses who have turned their passions into business, She's So Boss is about thinking big, aiming high, and becoming the boss of your thing.
---
I'm so excited to bring an interview to you, especially as this week's guest is a Book Riot favorite: Malinda Lo.
Malinda Lo has been writing YA for many years, and prior to her first novel Ash hitting shelves, she was writing for many online outlets. Her work spans fantasy and realism, science fiction, heart-felt essays, short stories, and so much more. She's here today to talk about her upcoming book (!!!), about the growth and evolution of LGBTQ+ YA lit, and how to be an advocate for inclusive lit, among other things.*
Without further ado, Malinda Lo!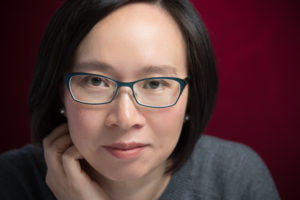 Malinda Lo is the author of several young adult novels, including the forthcoming A Line in the Dark (Dutton, Oct. 17, 2017). Her novel Ash, a lesbian retelling of Cinderella, was a finalist for the William C. Morris YA Debut Award, the Andre Norton Award for YA Science Fiction and Fantasy, the Mythopoeic Fantasy Award, and was a Kirkus Best Book for Children and Teens. She has been a three-time finalist for the Lambda Literary Award. Malinda's nonfiction has been published by The New York Times Book Review, NPR, The Huffington Post, The Toast, The Horn Book, and AfterEllen. She lives in Massachusetts with her partner and their dog.
---
First, tell us a bit about what you've been working on between your last release Inheritance in 2013 and your upcoming A Line in the Dark. Anything you can tease us with about the new book?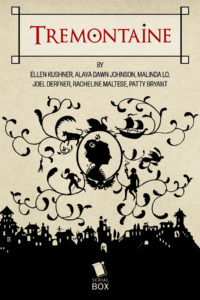 Since Inheritance was published I dabbled in adult fantasy by joining the writing staff for Tremontaine, a serialized prequel to Ellen Kushner's classic, Swordspoint. It was a lot of fun to work with other writers on crafting a TV series-like experience for readers. Tremontaine is basically a queer The Three Musketeers meets Dangerous Liaisons, and it is sexy, dangerous fun!
It's also quite different than A Line in the Dark, although I'd like to believe my new novel is also sexy, dangerous fun! Line is a psychological thriller set in a New England winter, where four girls are drawn together by love, lust, and jealousy. The main character is my first published Chinese American queer girl main character, and she's kind of the opposite of every stereotype you can imagine about Chinese American girls. It was almost cathartic for me to write her, because she breaks so many of those molds.
On a shallow note, the cover for A Line in the Dark is unbelievably good. Did you have any say in the process at all? Were there other concepts that got scratched?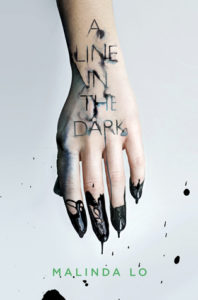 I agree, the cover is unbelievably good! I am so, so thrilled by its creepiness and edginess. My editor, Andrew Karre, had great ideas for the cover from the beginning, when he wanted to commission art from Stina Persson. She does really bold ink and watercolor stuff, and she created the incredible typography for the title. The rest of the book cover went through several design iterations, and I was involved from the start. I wanted to make sure the cover told readers that this would be a mystery with a dark heart, and I think the cover does that brilliantly. I've been fortunate work with editors who invite my input into the design process, and I'm very grateful for that.
Before writing novels, and even during the time you've been writing them, you've written for online venues like AfterEllen and Diversity in YA. What have you enjoyed about the world of "online" writing and how/where does it differ for you from "offline" (aka, novel) writing? Do you prefer one over the other?
Everything I've written for online has been nonfiction, and to me, nonfiction is a totally different world from fiction. Nonfiction—especially the stuff that's online—requires a different style, tone, and structure. And online essays require different structure than print essays, because people read online differently than they read in print. I enjoy many kinds of writing, and that's why I also write fiction in different genres. I need the challenge that different genres and types of writing require, and I like that writing in different genres trains me to be flexible with my words.
You've been active and involved in the queer YA community for a long time. What sorts of changes have you seen in the way that queer lit is talked about online?
Primarily, there's a ton more dialogue about it than before. It seems to be everywhere these days! That's wonderful because it pushes LGBTQ issues to the front of the conversation. I'm glad that people are talking.
What do you hope to see more of — or where do you see a lack — in the realm of queer YA?
I want LGBTQ+-identified writers to feel free to write about whatever they want. I want them to feel the same freedom that heterosexual writers feel. In terms of what I find lacking, I want books about queer girls to have the freedom to include frank and moving explorations of sexuality. I don't want that stuff pushed off the page.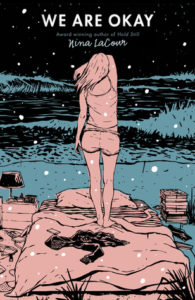 What are some of your favorite queer YA novels? What have been some of your influences in writing (YA or otherwise)?
Some of my recent favorites include We Are Okay by Nina LaCour and Georgia Peaches and Other Forbidden Fruit by Jaye Robin Brown. My writing influences include Sarah Waters, Madeleine L'Engle, and Robin McKinley.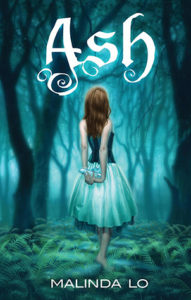 What book do you wish you could go back and hand your young teen self? Why?
I would definitely want to give myself Ash. Even though I wrote it! Or because I wrote it. I basically wrote Ash for my younger self. It was the fairy tale retelling I never had, and I think if I'd been able to read it when I was 12 or 13, a lot of things would have made a lot more sense earlier!
Like all readers, surely there are some titles you're looking forward to that are coming out later this year. Can you share a few you're itching to get your hands on?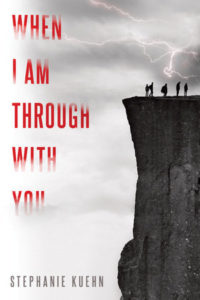 I'm fortunate to have already gotten my hands on Stephanie Kuehn's next novel, When I Am Through With You, which comes out August 1. I love her unreliable narrators, and this one is about a group of teens who go on a hike in the Northern California mountains when disaster (of the natural and unnatural types) strike. Stephanie is such a good writer, and I love the sense of place that is infused in this book — as well as all the delicious moral ambiguity you can imagine.
What can readers do to ensure that queer YA lit gets love and attention within and beyond Pride month? How can we become advocates for this segment of the book world and the readers who are eager for both those mirrors and windows?
Keep talking about it! When people ask you for fantasy, give them fantasy that happens to feature queer characters. When people ask you for love stories, give them love stories that happen to feature queer characters. People often think of "queer YA" as fitting a particular box — the coming-out story, or some other sexual orientation-focused plot — and while those stories do exist and can be wonderful, that's not the end-all be-all of books about queer characters. Don't forget that queer characters can do things besides be queer; they can also, for example, save the world.
---
____________________
See you next week, YA friends. Till then, hopefully you've found a book or two or more to pick up and enjoy.
— Kelly Jensen @veronikellymars