Hello again my fellow mystery fans! These high school journalist investigating their principal is the beginning of a great mystery book, so someone get to writing that!
---
Sponsored by Invisible Dead by Sam Wiebe—a gritty private-eye series from Quercus.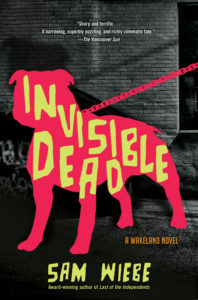 An ex-cop who navigates by a moral compass stubbornly jammed at true north, Dave Wakeland is a talented private investigator with next to zero business sense.
He continues to be drawn to cases that are usually impossible to solve and frequently don't pay. Whatever ghosts drive him, they seem to drive him inexorably toward danger –a journey he's content to take so long as it means finding out what happened to someone the rest of the world seems happy enough to forget. With nothing to protect him but his wit and his empathy for the downtrodden and disenfranchised, Wakeland is on the case.
---
Great crime novel with a casino setting!
Overturned by Lamar Giles: It is an understatement to say that Nikki Tate has a lot on her plate. While her dad sits on death row she's using everything she's learned from the family casino to play in illegal games to save up for college, she's also practically running the family casino, going to school, playing soccer, and trying to figure out what exactly is going on with her mom and a man that is not her father. And then her dad is released from jail, exonerated from killing his best friend. But Nikki's life doesn't get easier because her family doesn't go back to being the family they once were, and her dad isn't acting the way she remembers him. Then people start to die… Nikki is a great character, with great friends, who is not only determined to live her life on her own terms but to unravel the mystery of her father's setup and make those responsible pay. I loved the scenes that sat me at the poker tables and that the novel stayed within the realm of possibility, even in the ending.
An interesting article from 2016 that looks into how we treat and view violent women differently from men. It's left me thinking about how this applies to fictional violent women in mystery/thrillers, and readers–especially now that there's a rise in books with Amy Dunne-type characters.
In adaptation news:
Phyllis Nagy is adapting The Trap by Melanie Raabe and it seems the film has found its director.
Jo Nesbø's Blood On Snow will be Tobey Maguire's first time behind the camera as director.
NOT an adaptation but…
For psychological thriller/true crime/serial killer fans: Zac Efron will play Ted Bundy in an upcoming psychological thriller.
Awesome contemporary women + mystery detective mashup!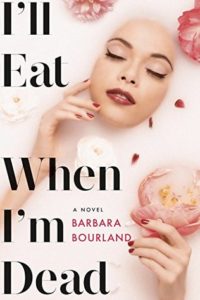 I'll Eat When I'm Dead by Barbara Bourland: I passed this cover so many times before realizing the book was a mystery! It's this perfect blend of the "chick-lit" type women working in fashion (think The Devil Wears Prada–except the women are friends and activists! And there are dead people.) with a mystery detective novel (hot detective!). Hillary Whitney is found dead in a locked room in the magazine's office, apparently from starvation. Detective Hutton has a weird feeling about this case even after it's closed, so when a postcard mailed by Whitney appears, he gets to dig in deeper. As he does, so do Whitney's friends/coworkers Cat and Bess who are funny, smart, determined, a bit of a mess–and also focusing on their careers. The more everyone digs, the more strange things start to happen–including another death… This was like eating a delicious box of sour, sweet, and juicy candy!
A difficult yet unputdownable read: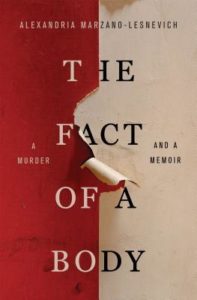 The Fact of a Body: A Murder and a Memoir by Alexandria Marzano-Lesnevich: And by difficult, I mean this was brutal. Marzano-Lesnevich has written a successful true crime memoir, and I say successful because I've read others that were really only memoirs that the writers did terrible jobs with when it came to the case. M-L did this mix of genres properly: while abuse in her childhood made this specific case something she couldn't let go of, she did not make the other case about herself, nor impose herself on it, nor sensationalize it. The chapters alternate between Marzano-Lesnevich's childhood and her trying to grasp the things about her family that she was still too young to understand; the true crime case of Ricky Langley and the young boy he murdered; Langley's childhood and struggles as an adult in and out of therapy for pedophilia; and M-L as an adult trying to find humanity in people and come to terms with her childhood. If child murder/pedophilia are topics you can't read, skip this one because it does not shy away from details and it's filled with tragedy. But if you can read about those types of cases, I really recommend this one. It's an excellent memoir and true crime novel.
Over on Book Riot: Rabeea recommends 5 Psychological Thrillers that Aren't Formulaic. And Annika Barranti Klein explains why modernizing Nancy Drew doesn't work.
I have to go shopping now:
Looking for bookmarks? How about an Agatha Christie magnetic bookmark set of Hercule Poirot and Miss Jane Marple.
Until next time, keep investigating! And in the meantime come talk books with me on Twitter and Litsy–you can find me under Jamie Canaves.