The U.S Debut of "The Cursed Child" (Refresh Screen. Refresh Screen.)
I predict an internet apocalypse this fall when tickets for the Broadway production of "Harry Potter and the Cursed Child" go on sale. The tea leaves at the bottom of this morning's cuppa spoke of much wailing and gnashing of teeth as the ticket status switches from on sale to sold out (in the span of a half-second). Those Potterheads who sacrifice their firstborns for a golden ticket will finally have an opportunity to see the award-winning production's U.S. debut at New York City's Lyric Theatre in April 2018. Look out for the cast list in the coming months!
Let's Hear It For Barbershop Books!
The National Book Foundation announced Barbershop Books' 2017 Innovations in Reading Prize win. And oh how this community-based literacy program deserves that $10,000 prize. Working to help young black boys identify as readers, Barbershop Books has partnered with more than 50 barbershops across 20 cities in 12 different states to provide books to these underserved readers. The program makes books black boys want to read accessible in a place they visit regularly. I don't know about you, but I was in dire need of that warm, fuzzy moment.
Librarians Call Out Little Free Libraries

A couple of Canadian librarians made a case against Little Free Libraries in a recent article for the Journal of Radical Librarianship, showing that Little Free Libraries predominantly appear in medium- to high-income Toronto neighborhoods. The pair critique these book exchanges as vehicles for virtue signaling by homeowners who aren't necessarily working to water book deserts by planting them in affluent, educated neighborhoods. They also express anxieties over library budget cuts in Toronto and whether Little Libraries are growing at the expense of the public library system. Take it with a grain of salt–their study isn't all-encompassing, but it's an interesting conversation.
An Inviting First Look At Murder On The Orient Express
Entertainment Weekly presented a first look at the upcoming film adaptation of Murder on the Orient Express and the photos have done little to convince me that I do not, in fact, want to hitch a ride on this train. I'll say no more–judge for yourself.
---
This week's newsletter is sponsored by Woman No. 17: A Novel by Edan Lepucki.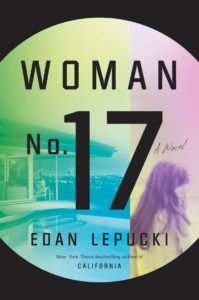 High in the Hollywood Hills, writer Lady Daniels has taken a break from her husband. Left alone with her children, she's going to need a hand taking care of her young son. In response to a Craigslist ad, S arrives, a magnetic young artist who will live in the guest house, care for Lady's toddler, Devin, and keep a watchful eye on her teenage son, Seth. But in the heat of the summer, S's connection to Seth takes a disturbing, and possibly destructive, turn. Darkly comic, twisty and tense, this mesmerizing new from Edan Lepucki novel defies expectation.