April showers bring May flowers, and the chance to sit outside with a good book. The house I moved into last fall with my sister has an awesome back porch, which I plan to utilize plenty this spring and summer. Where's your favorite place to read when the weather gets warm?
---
Today's newsletter is sponsored by TarcherPerigee, publisher of Adult-ish by Christine Vanko and Adulthood for Beginners by Andy Boyle.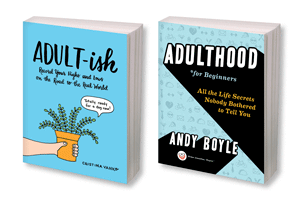 Ready for #RealLife?
Whether you're a newly minted "adult" navigating your first job and paying rent for the first time—or are just about to graduate and join the "sophisticates" in the real world, Adult-ish and Adulthood for Beginners provide the tools and advice for Millennials seeking to ease the transition from dorm room to cubicle life.
Adult-ish, an illustrated, interactive journal encouraging self-reflection, is a celebration (and keepsake) of your first years as an "adult."
Adulthood for Beginners is the hilarious—yet useful—guide for avoiding years of awkwardness, mistakes, bad dates and more that older Millennials and Gen Xers wish they'd had when they were younger.
---
New Books On My Radar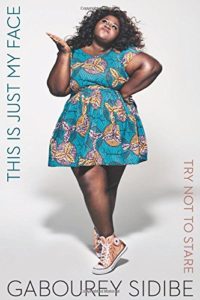 This Is Just My Face by Gabourey Sidibe (May 1 from Houghton Mifflin Harcourt) – Buzz on the Book Riot back channels for this book has been really good. Gabourey Sidibe is probably best known for her work in the movie Push and the television show Empire, but she's also had an interesting life that (according to the publisher summary) has included a polygamous father and work as a phone sex "talker." Intriguing! I'll probably check this one out on audio, since Sidibe narrates it herself.
Bonus Read: Sidibe wrote about her love/hate relationship with social media for InStyle.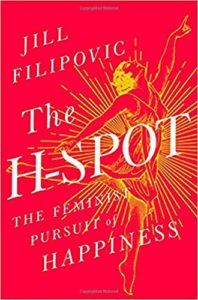 The H-Spot by Jill Filipovic (May 2 from Nation Books) – It may be immature to admit that the title of this book makes me giggle every time I type it but… whatever. In the book, attorney and author Jill Filipovic argues that the biggest challenge between women and true happiness is a rigged system that relies on free feminine labor, unrealistic standards of female perfection, and more. I imagine this one will get me riled up.
Bonus Read: In the New York Times, Filipovic argues that the Trump administration's all male photos are a strategy, not a mistake.
Radical Hope, edited by Carolina De Robertis (May 2 from Vintage) – If the current political climate is beginning to wear on you, Radical Hope: Letters of Love and Dissent in Dangerous Times might be a book to pick up. Collecting letters from authors like Junot Díaz, Thanh Nguyen, Karen Joy Fowler, Celeste Ng and more, the book offers perspectives on love and courage for uncommon times.
Bonus Read: The book's Amazon page includes an excerpt from De Robertis' opening letter explaining her idea for the project. It's lovely.
Thoughts on Henrietta Lacks
Last weekend, HBO debuted their movie version of Rebecca Skloot's The Immortal Life of Henrietta Lacks. I haven't watched it yet (I know, I know), but I have been eagerly collecting think pieces and reviews to peruse after I've had a chance to form my own opinion. Here are a few I think will be worth reading:
Book News in the World
On Monday, Robert M. Pirsig, author of Zen and the Art of Motorcycle Maintenance died at the age of 88. The book, now considered an important work of popular philosophy, was based on a 1968 motorcycle trip Pirsig took with his son. The NPR story goes on to note that Pirsig is from Minnesota (woo, home state!) and helped found the Minnesota Zen Meditation Center. I've never read Zen and the Art of Motorcycle Maintenance – have any of you?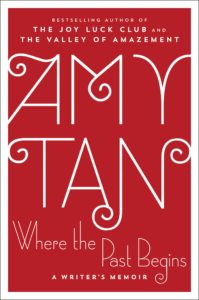 This October, Amy Tan has a memoir coming out titled Where the Past Begins. According to Entertainment Weekly, "she'll explore her own past and the secrets of her family's history, linking them both to her beloved novels." I highly recommend clicking through to watch the video of Tan commenting on the cover of the book, it's charming.
On My Nightstand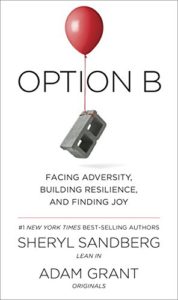 This week, one of my most anticipated books of the year came out – Option B by Sheryl Sandberg and Adam Grant. After her husband, David Goldberg, died unexpectedly in 2015, Sandberg reached out to her friend, Grant, a Wharton psychologist, to learn more about resilience and recovery. The book combines Sandberg's journey with Grant's research on how humans handle adversity to explore how to increase our own resilience. Without getting too personal, I'll just say that the last nine months of my life have been filled with my own immense loss, and so connecting with Sandberg through this book has been both difficult and hopeful.
As always, suggestions, recommendations, and feedback are welcome. You can reach me at kim@riotnewmedia.com or on Twitter and Instagram at kimthedork. Happy reading!