Happy Friday, space cadets and armchair magicians!
In case you missed it amongst all the other headlines, two much-beloved authors are releasing much-belated sequels. Neil Gaiman has not only announced a sequel to Neverwhere, but also announced its title: The Seven Sisters. Gaiman was inspired to write the sequel by his work with refugees in past years, which sounds hugely promising to this reader. And Philip Pullman has more things to say about Dust! He's not just writing a continuation, but a full companion trilogy for His Dark Materials. Called The Book of Dust, the trilogy will start with baby Lyra (!) and extend to a decade past The Amber Spyglass. While Gaiman is only a few chapters into Seven Sisters, the new Pullman is supposed to hit bookshelves in October of this year.
The much-anticipated Girl With All The Gifts is now available on your TV screen. Anyone watched it yet? I'm currently neck-deep in an X-Men re-watch before I go see Logan (which is the best worst idea I've had in a while), but the reviews have me curious. (Don't click any of those if you don't want spoilers!)
Eleven excellent authors wrote flash fiction inspired by the words "Nevertheless, she persisted" for International Women's Day on Tor.com, and that line-up is all killer, no filler.
I don't know about y'all, but it has been a pretty intense winter. So I was delighted to see not one, but two, highly entertaining just-for-funsies posts come across my dash. For your enjoyment, I give you:
– The best action figure photography in the history of ever, probably, courtesy of Instagram's hotkenobi.
– 10 sci-fi curse words, so you can get around those pesky censors. (Seriously though, I am on board with Make Frak Happen 2017.)
And how about a freebie to top things off? There's a give-away running for Rin Chupeco's Bone Witch, and today is the very last day. Get thee to the entry form!
And now, for two very different books:
Elysium by Jennifer Marie Brissett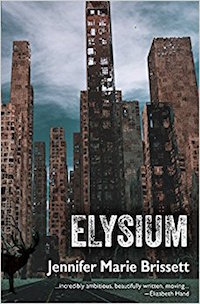 I was recently reminded by Nisi Shawl's post that Elysium is essential reading for sci-fi fans, and so I'm adding my voice to hers to tell you to read it ASAP.
With its experimental structure, this is a novel that rewards readers who go along for the journey. It jumps characters and time frames, and puts its protagonists through life after life, apocalypse after apocalypse. Through this repetition, we start to see the world of Elysium take shape, and the struggles of humanity to survive and protect their loved ones at any cost.
Brissett's genius is in pulling off the complex structure and by investing us wholely in the characters. We see them in different forms, different genders, different emotional configurations, but their personalities shine through in each chapter and keep us rooting for them, and desperate to know what happens next. It's also a book I wanted to start over again as soon as I finished it, which is a rare book indeed. Elysium is a truly monumental book, especially when one considers that it's a first novel. Give it your time and attention, and you will not be sorry.
Wintersong by S. Jae Jones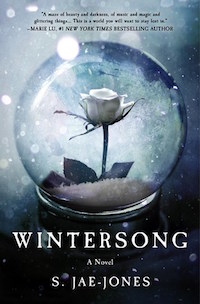 If you have been craving a fairytale that includes elements of Labyrinth's Goblin King, Goethe's Der Erlkönig, and the story of Orpheus, all while telling a gorgeous story about sisterhood and the power of creativity, then you are going to love S. Jae Jones' debut novel.
Liesl is a brilliant composer, but it doesn't matter — she's far too busy keeping her family together, running their inn, and supporting her younger brother's budding career as a virtuoso violinist. She's also a young woman in a time (I'm guesstimating 1800s) when women's contributions to the arts were largely overlooked or disregarded. And, perhaps most importantly, she's the target of a Goblin King who is looking for a new bride.
As the plot unfolds, Liesl must weave her way through a maze of obstacles to get at the heart of the Goblin King's challenge, which is also the heart of her own story. Capricious and captivating by turns, the Erlking is both her tormentor and her best ally in unleashing the talents that Liesl has been suppressing. Jae-Jones packs so much story between the opening and closing pages of Wintersong that I felt like I had read at least two books by the time I was done, and was gripped by every page.
A reading suggestion: have some Mozart close to hand, at the very least. This book will make you want to listen to all the classical music, and made me wish I knew much more about it than I do!
---
This newsletter is sponsored by Spaceman of Bohemia by Jaroslav Kalfar.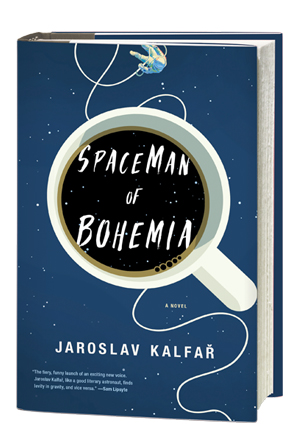 Raised in the Czech countryside, Jakub Procházka has gone from small-time scientist to premier national astronaut. When a dangerous solo mission to Venus offers him a chance at heroism, he takes it, leaving behind his devoted wife Lenka, whose love, Jakub realizes too late, he has sacrificed.

Alone in space, Jakub finds a companion in a possibly imaginary alien spider. Over a series of philosophical conversations, the pair form an intense emotional bond. But will it be enough to see Jakub through a clash with secret Russian rivals and return him safely to Earth for a second chance with Lenka?