Hello again my fellow mystery fans! I hope you're well and excited for all the books, news, and adaptations I'm about to throw at you.
Let's start with some great news: Walter Mosley (who I love) has a new novel coming out in 2018 published by Mulholland Books (who have put out some great mystery/thrillers like Tell the Truth, Shame the Devil by Melina Marchetta and Kill the Next One by Federico Axat!). I am really excited for Mosley's PI novel.
---
This week's newsletter is sponsored by Six Four by Hideo Yokoyama.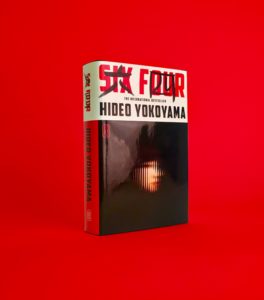 For five days, the parents of a seven-year-old Japanese schoolgirl sat and listened to the demands of their daughter's kidnapper. They would never learn his identity. And they would never see their daughter alive again.

Fourteen years later, the mystery remains unsolved and the stigma of the case known as "Six Four" has never faded.

Yoshinobu Mikami, a former detective who was involved in the original case and who is now himself the father of a missing daughter—is forced to revisit the botched investigation. Mikami is hoping to help finally put the notorious case to rest. But what he uncovers are secrets that he never could have imagined.
---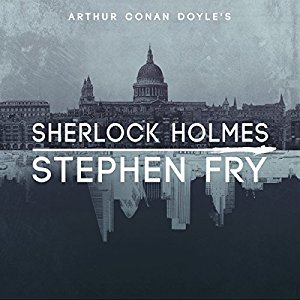 And even more great news: A new audiobook has Stephen Fry narrating Sherlock Holmes! The collection has four novels and four short stories AND Fry wrote an introduction for each, exclusively for Audible Studios. Even though I've previously read A Study in Scarlet I couldn't pass up listening to Fry's introduction, nor his narration. His introduction is the perfect length and gives a quick insight into his personal attachment, some history on Arthur Conan Doyle, the characters, the time period, and the detective genre. If you've never read Doyle's Holmes before this is a perfect collection to read so that when you're in the mood for a novel or short story you can select one and find yourself in Baker Street with Fry's wonderful narration in your ears. Or if you're a superfan already the collection is a hell of a binging challenge! Listen to a sample.
Epic Reads has a generator that tells you your Sherlock Holmes story title.
This one broke my heart: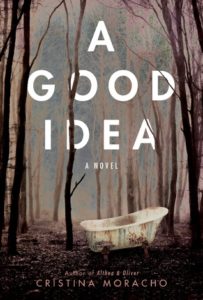 A Good Idea by Cristina Moracho: After her parents' divorce Finley moved with her mother to N.Y., but now she's home in Maine with her father for the summer. Except, it's anything but a reunion or summer vacation. Her childhood best friend, Betty, is missing–although most likely dead considering Betty's boyfriend confessed, then recanted after the police were forced to set him free because they didn't have a parent in the room. Fin is determined to find out what happened and where Betty is, dead or alive. She's an expected mess in trying to live her life, grieving for Betty, questioning herself as a friend, and whether to seek revenge on Betty's boyfriend. She's angry, taking drugs, confrontational, and very real as the novel dives into moral grey areas and questioning how far you'll stick up for those you love. My heartbreak came from the sadly often times real look at how many people did nothing, or the very wrong thing, in relation to helping someone with depression. A dark, partially morally complex mystery that left me looking forward to more from Moracho.
Creepy, looking-over-your-shoulder thriller!
I See You by Clare Mackintosh: I really enjoyed I Let You Go, so this was a must read for me and it delivered in the thriller page-turner department! Imagine while commuting to work seeing a photograph that you swear looks like you in the ad section of the newspaper that just lists a website. It gets worse! Now imagine you realize that former women in ads have reported their keys stolen and been murdered! Now you're also convinced someone is watching you… Like I said this one is a creepy, page-turner that made me super glad I don't take the train to work because I would have been a paranoid mess while reading this one–it's so good! And there are plenty of suspects because Zoe, a single mom, has an ex-husband and a current live in boyfriend…
Juno Rushdan has a three book deal for a romantic thriller series that sounds really interesting: "Kinkade's partner in the mission turns out to be a former lover who she'd assumed was dead—'by her own hand.'" Dun-dun-dunnnnnn!
Jack Ryan is coming to Amazon: Based on Tom Clancy's character the adaptation so far will star John Krasinski (Jim!), Abbie Cornish, Marie-Josée Croze, Wendell Pierce.
Excellent literary fiction with a dual past and present mystery: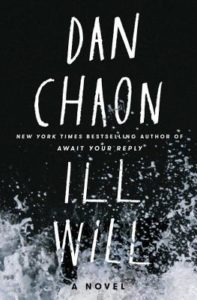 Ill Will by Dan Chaon: In the '80s Dustin Tillman's mom, dad, aunt, and uncle were all murdered leaving him, his adopted brother, and twin cousins orphaned. Now a psychologist, husband, and father Tillman finds the past coming back as his brother is being exonerated of the murders thanks to DNA evidence. It was Tillman and a cousin who had pointed the finger originally sealing his brother's fate–back when the country actually thought there was a wave of satanic groups coming for us. But that isn't all Tillman is dealing with: his wife is dying; he has a new patient convinced that he can crack a serial killer conspiracy of why college athletes keep getting drunk and drowning; his brother Rusty is reaching out to his son. The novel takes a deep dive into the characters lives and thoughts, past and present, and while the mysteries come second you're given satisfying conclusions and a tense ending placing Chaon on my excellent-writer list. Excellent! (If you're a fan of audiobooks the narrators were great.)
Bustle has a list of addictive mysteries and on Book Riot Beth O'Brien has very specific mysteries she enjoys.
David Finch's upcoming Netflix series Mindhunter, based on Mind Hunter: Inside FBI's Elite Serial Crime Unit written by Mark Olshaker and John E. Douglas, has a creepy teaser trailer.
I have to go shopping now:
Clue inspired murder mystery cookies. (Don't know if they taste good but they look awesome!)
Until next time, keep investigating! And in the meantime come talk books with me on Litsy, you can find me under Jamie Canaves.