Welcome back to In The Club, a newsletter of resources to keep your book group well-met and well-read. Onward to book-glory!
Awards are not just for the Academy: While many literary awards are announced in the fall, there's a nice crop of finalists that are worth adding to your group TBR piles. So, how about a few must-read lists certified by panels of judges?
– The 2017 Pen America Literary Awards Finalists list is chock full of goodness. Each award has a different focus, from debuts to a variety of nonfiction to translations, so there's a lot of range in the nominations. I'm particularly excited about the Open Book Award list this year, which includes personal favorites Helen Oyeyemi and Monica Youn.
– I am hugely excited about this year's Nebula's Award shortlist; I've read all of the Novel nominees with the exception of Borderline (must get on that), and can verify that they are brilliant.
– For groups with a kids and YA book focus, the ALA Youth Media Award winners were announced in January and include some amazing books. Rep. John Lewis's March! Nicola Yoon's The Sun Is Also A Star! Meredith Russo's If I Was Your Girl!
– The winners won't be announced until April, but this year's LA Times Book Prizes shortlist is worth looking over. James McBride, Wesley Lowery, Jacqueline Woodson, Matthew Desmond, Zadie Smith, Lydia Millet, Mary Roach — it's a who's who of Book Riot favorites. Like the PEN awards they've got finalists across the genres, so no matter what your groups' focus might be there's something on here for you.
For your enjoyment: Elizabeth Allen details the 14 people you'll find in every book group. (SO ACCURATE.)
For facing down those TBR piles, now you've got them: B&N put together a piece on techniques for picking your next read, and you could absolutely apply these to your next book group pick.
And now for this week's Read Harder Challenge picks! Since when it comes to books, more really is more, I'll now be giving you round-ups of themed lists for a couple tasks, plus a shout-out to a personal favorite.
For: Read a book about sports.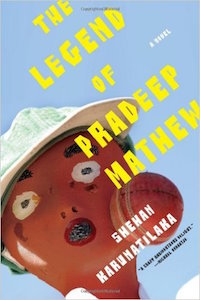 – Personal favorite: The Legend of Pradeep Mathew by Shehan Karunatilaka. This book features a crochety, alcoholic, meandering narrator; Sri Lankan history and politics; cricket; and a huge twist.
– Favorite Books About Sports
– 6 Books About Basketball
– Gymnastics Books For All Ages
– Are You Ready For Some Football (Books)?
– 100 Must-Read Books About Running
– 8 Books To Read After Seeing CREED
For: Read a book by an immigrant or with a central immigration narrative.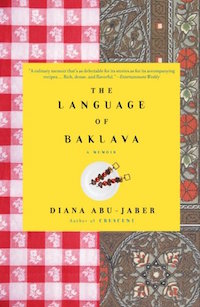 – Personal favorite: The Language of Baklava by Diana Abu-Jaber. A beautiful memoir about father-daughter relationships, growing up the daughter of an immigrant, and the search for place and identity. (And, of course, food.)
– 11 Books By Or About Immigrants and Immigration
– 8 Must-Read Immigration Stories By And About Latinos
– Books About Immigrants and Refugees That Should Be Adapted For The Stage
– 3 Stories Exploring U.S. Immigration [VIDEO]
– 17 Books That Perfectly Capture The Immigrant Experience
– 12 Nonfiction Books About Immigration
More Resources: 
– Our Book Group In A Box guide
– List your group on the Book Group Resources page
---
This newsletter is sponsored by Everything Belongs to Us by Yoojin Grace Wuertz.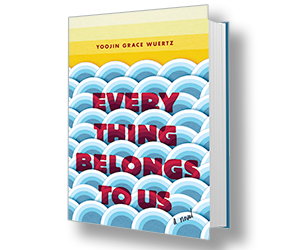 Seoul, 1978. At South Korea's top university, the nation's best and brightest compete to join the professional elite of an authoritarian regime. Success could lead to a life of rarefied privilege and wealth; failure means being left irrevocably behind. In this sweeping yet intimate debut, Yoojin Grace Wuertz details four intertwining lives that are rife with turmoil and desire, private anxieties and public betrayals, dashed hopes and broken dreams—while a nation moves toward prosperity at any cost.