It's a new year and I'm once again challenging myself to read ALL the books. Oh, and I've already read a mystery that will be in my top reads of 2017 so clearly it's going to be an excellent reading year!
My top read already!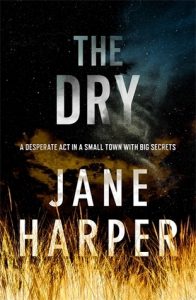 The Dry by Jane Harper: This was a completely satisfying read that has two mysteries, past and present, and a town that is as much a character as the people. Aaron Falk returns to his hometown after the death of his childhood best friend and family, in what appears to be a murder-suicide, but after being asked to investigate, Falk is forced to face the town's current state of despair and also everything he ran away from years before: the death of a childhood friend and the questions he's never answered… My only complaint is that it's a debut novel and I don't have a back catalog I can go binge read!
Have you heard?
Benedict Cumberbatch is related to Sir Arthur Conan Doyle in a real life twist that no one would believe in fiction. And you can play along with a live Sherlock mystery on Twitter.
I love a book that takes a sharp turn into WTF? land!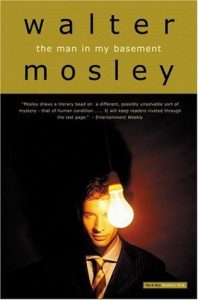 The Man in My Basement by Walter Mosley: Charles Blakey is struggling to pay his mortgage and get a job which makes the arrival of a stranger offering him a ton of money to rent his basement a bizarre proposition he's slowly finding his way to accepting. But then the stranger's demands and cage arrive and Blakey, a black man, suddenly with a white man imprisoned in his basement finds himself unable to understand what is happening. Blakey is about to find out what type of man would offer a ton of money to hide in his basement inside a cell…
Archie, Jughead, and a murder!
At least that would be my tagline. Roberto Aguirre-Sacasa is imagining the dark underbelly from the Archie Comics in Riverdale on the CW and I am 100% here for the January 26th premiere. Did I mention Luke Perry and Molly Ringwald are Archie's parents?! Watch the trailer here.
Hilarious!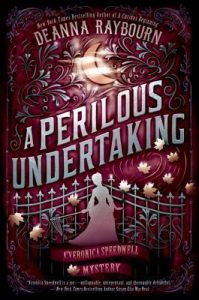 A Perilous Undertaking (Veronica Speedwell #2) by Deanna Raybourn: I don't think I've ever laughed this much in a mystery, let alone historical fiction. Imagine 1887 London and getting to know all the badly behaved of "polite society." If that sounds like fun—it was!—you don't want to miss Veronica Speedwell (a lepidopterist) and Stoker (a natural historian) as they try to solve the murder of an artist before the man accused of committing the crime is hanged. Added bonus: Speedwell and Stoker each have family drama and, unrelated to that drama, sexual tension.
So much Nancy Drew:
The 2007 Nancy Drew film starring Emma Roberts is now streaming on Netflix.
Nancy Drew and the Hardy Boys: The Big Lie by Del Col, Werther Dell'Edera (illustrated): This dark reimagining I'm hesitant on. I love the idea of a darker, older, reimagining of Nancy Drew and the Hardy Boys but I'm not sure how the 'femme fatale' will be handled. Guess I'll just have to wait until its March release. Fingers crossed.
Looking for a nice Nancy Drew pin to wear? Here you go.
Want to read a dark and gruesome locked-room mystery?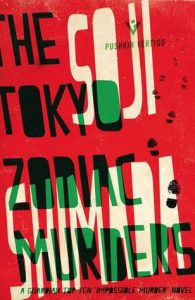 The Tokyo Zodiac Murders by Soji Shimada, Shika MacKenzie (Translator), Ross MacKenzie (Translation): In the 1970s friends Ishioka and Mitarai try to solve a gruesome crime and locked-room mystery from the 30s. Artist Umezawa had planned on creating the perfect woman by using dismembered body parts from six daughters and nieces. The women were in fact dead and one would think Umezawa had to be the murderer, BUT he had been murdered days before in his locked studio leaving a decades-old unsolved mystery of seven murders. This is one of the few books that I had ZERO idea of the solution and I loved that.
Like your books with a sharp twist and multiple points of view?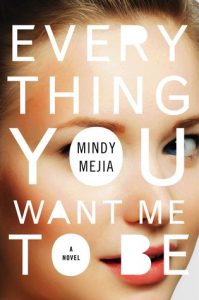 Everything You Want Me to Be by Mindy Mejia: Hattie Hoffman reminded me a bit of a teenage Amy Dunne (Gone Girl) in that Hoffman is never really herself but rather constantly morphing into the person someone else wants, needs, or expects her to be. She hates everything about her small town and is planning on moving immediately after her high school graduation but something changes that will forever keep her in her hometown. Chances are you won't see the twist coming.
In Theaters: Live by Night is Ben Affleck's adaptation of Dennis Lehane's same titled crime novel. Watch trailer here.
Watch Now: The adaptation of The Girl On the Train on Digital HD from Amazon/iTunes or buy the DVD on January 17th.
Until next time, keep investigating! And in the meantime feel free to come talk books with me on Litsy, you can find me under Jamie Canaves.