It's here! It's here!
Welcome to the first issue of Kissing Books!
From here on out, every two weeks, you'll get tons of romance fun, right in your inbox. And what, you might ask, do I mean when I say romance? For the most part, I'm sticking to books published under the category of romance by romance publishers and imprints, so it's going to be grown-ups falling in love, with or without the sexytimes. Kelly is doing such an awesome job with her YA newsletter that I would just be repeating her work if I wanted to cover all the love stories for all the ages, but don't come after me with pitchforks if you occasionally see one or two spectacular pieces of YA fiction that I think romance readers would love! Here, you'll get everything from drama in romancelandia to quick reviews, and every now and then, information about those near unicorns: film adaptations!
Let's start with those! Have you seen the newest Fifty Shades Darker trailer yet? I will admit to (*gasp!*) having absolutely no idea what's going on because I didn't make it to the second book in the series. But I enjoyed the movie and am looking forward to seeing this one…eventually. In the comfort of my own home.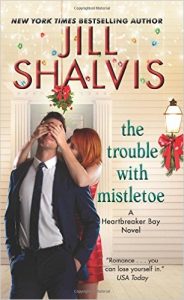 And in future news, Jill Shalvis tweeted this page from a movie script for her book The Trouble With Mistletoe. According to her blog, casting is next, but there isn't much out there on the project. No other info on who's picked it up, how it'll be released (I'm hoping for some Christmas-in-July Hallmark Channel feels), but I'm gonna keep an ear to the ground on this one!
It's been a couple weeks, but the drama with All Romance ebooks (ARe) and their offshoots has still left quite a few people upset and unsure of what the future of independent online sales might look like. Larger publishers like Riptide have been patient with customers, offering copies of their ebooks to people who didn't get the chance to pull their libraries from All Romance before it went dark on January 1 (as long as they provided screenshots proving they owned the titles already), allowing customers to keep the titles and (hopefully) getting more royalties to their authors if those purchases were made in Q4. But independent authors who were relying on royalties there were otherwise pretty much screwed. (If you have no clue what I'm talking about, here's a blog post about it, and here is a quick rundown from Bree Bridges on Twitter.)
Over on Book Riot, Amanda Diehl wrote about how annoying it is when publishers compare books to Fifty Shades of Grey, and I couldn't agree more! It was such a polarizing book, and continues to be so, so why would you potentially turn away half of your customer base when the people who enjoyed it might not need the comparison as an impetus to pick up the book?
Dana, meanwhile, wants a few tropes subverted. Don't you love a good trope-twisting? I think that might be one of the reasons I'm such a fan of menage romance—not only is the conflict of the love triangle taken out (though in those cases, you actually end up with a real triangle, not a love V as most "love triangles" tend to be), but, in the good ones at least, the other issues with heteronormative hypermasculinity can be addressed in ways straight cishet romances often can't or won't address them.
Did you see Hidden Figures this past weekend? Want to read about more awesome women doing things with numbers, letters, and code? NPR put out a nice roundup of romances with women in STEM. I haven't read any of them, but they're all on my list!
And now, quick reviews!
Roller Girl, Vanessa North
I started out my year with Vanessa North's Roller Girl, and it was adorable. Tina, a newly divorced physical trainer has a midnight plumbing emergency, and Joe is definitely not the person she expected the company to send. The two are immediately attracted to each other, but Joe is interested in Tina for more than just getting to know her; she wants Tina to join her roller derby team. Tina, a pro wakeboarder in her former life, is definitely interested in getting back into competitive sports, but there's one problem: Joe is the coach. There's nothing illegal about team members fraternizing with coaches, but it could still cause issues. The whole secret relationship concept is not usually my thing, but Tina's relationships with everyone else in her life kept me going. And the writing is so great and the community is so gorgeous, I'm going to have to go back and read everything else North has written.
Read Harder Bonus: Not only is it a book about an uncommon sport, but it's also an LGBTQ+ romance!
Insert Groom Here, KM Jackson
In the first book in Jackson's new Unconventional Brides series, we open the scene with Eva getting dumped on national television. And this isn't just any dumping; the pair have won a contest to have their dream wedding live in just a few weeks. In a fit of rage, Eva declares to the world (and the internet) that she will have her wedding; "insert groom here!" Leave it to someone at the station to come up with a new plan: push the wedding back long enough to have a Bachelor-style segment where she goes on dates to find her perfect groom. Unfortunately, there's a problem. She and her new producer, Aidan, have a super hot chemistry, and no matter how they try, they can't stay away from each other. Too bad she's supposed to be getting married at the end of all this, huh?
I really enjoyed this novel; it was compelling and I really needed to see what Eva was going to do about the whole Aidan thing. I will admit to wanting to see if they were going to throw in a date that she'd end up liking more than her former fiance. It wasn't fall down, roll over funny like I expected from some people's descriptions, but that didn't take away from my enjoyment.
No Read Harder Bonus here, but I will admit that I spent half my time trying to actually envision Aidan in my head. His race is never mentioned, and any description of him is almost racially ambiguous—so if you wanted to, you could consider him a POC. But that's up to you.
And just as a bonus because it's on sale and the second book in the series is a pretty damn good price right now:
Love on My Mind, Tracey Livesay
I don't usually go for romances that involve extensive deception, but this one pulled me in and kept me going through to the end, almost without stopping. Chelsea is a PR specialist who has been corralled into an impossible task: get tech bigwig Adam Bennett through his next big launch, without telling him he's her job. This means getting into his life using…alternative methods, and using her best PR skills to subtly get him through interviews and public appearances. Maybe change his image, too. Adam, who has Asperger's syndrome, has very strong feelings about liars and deception, and has trust issues to boot. What could possibly go wrong?
Other new releases to look out for until we chat again:
Wanted, A Gentleman by KJ Charles
Taming Sugar, Rebecca Grace Allen
Finding Your Feet, Cass Lenox
Dirty Money, Jessica Clare
Driven to Distraction, Olivia Dade
May you have many swoons and sizzles until next time!
–Jess
---
Thanks to Serial Box for sponsoring our first Kissing Books newsletter!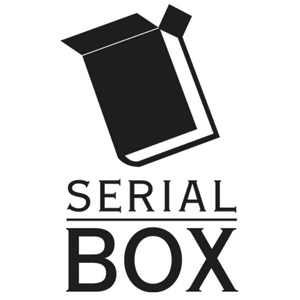 Serial Box, today's hottest publisher of serialized fiction is bringing everything that's awesome about TV (easily digestible episodes, team written, new content every week) to what was already cool about books (well-crafted stories, talented authors, enjoyable anywhere). From Urban Fantasy to Young Adult Science Fiction – they have something for every taste, and reading (or listening!) on the go has never been easier than with their iOS app. Readers longing for royalty can get their feet wet with Whitehall – the lush historical drama of Queen Catherine of Braganza, the King she loved, and the mistress he loved.