Greetings, fellow Earthlings!
This week's newsletter is sponsored by St. Martin's Griffin.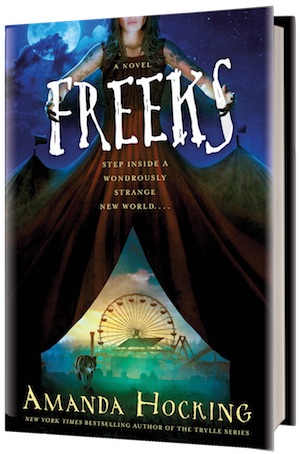 Mara is used to the extraordinary. Roaming from place to place with Gideon Davorin's Traveling Carnival, she longs for an ordinary life where no one has the ability to levitate or predict the future. She gets her chance when the struggling sideshow sets up camp in a small town, where she meets a gorgeous guy named Gabe. But then Mara realizes there's a dark presence in the town that's threatening her friends. She has seven days to take control of a power she didn't know she had in order to save everyone she cares about—and change the future forever.
Let's have some good news, shall we?
In perhaps the most welcome and exciting press release I've had the pleasure to receive, Orbit Books has announced a new three-book deal with NK Jemisin (tired of hearing me talk about her? TOO BAD.). The first in the series is also Jemisin's first novel set in our world and will deal with "themes of race and power in New York City," due out in April of 2019. No one who's read Jemisin's work will be surprised by this description; she frequently deals with themes of race and power. But ever since I read her short story "Non-Zero Probabilities" I have been yearning for an urban fantasy from her, and now we're getting one. I look forward to looking forward to that for the next two years.
LitHub recently published a selection of letters from Alice B. Sheldon as James Tiptree Jr. to Joanna Russ, and I am fascinated. Not least because I love the work of both authors, but because it gives us a look at the charade Sheldon maintained and her reasons for it. My first encounter with Tiptree's work was "The Girl Who Was Plugged In," likely via The James Tiptree Award Anthology 3 — well worth a read if you haven't already. As near as I can tell, the letters quoted are from this collection (which does not appear to be digitized, alas).
Did you watch the first episode of Emerald City last Friday? I did! And I definitely plan to keep watching. I knew it would be visually lush since Tarsem Singh is involved, and I was excited about having a Latina lead; beyond that, I had no idea what to expect. I wasn't disappointed: it's gorgeous to watch, Adria Arjona is beautiful and really good at looking creeped out, Vincent D'Onofrio is perfectly obnoxious as The Wizard, and while it is not without problems there was plenty of plot to intrigue me. (Tor.com agrees.) It also made me want to read the Oz books, as I have heard from friends that Tip's character is a particularly exciting inclusion (I know, how have I not read them?). Our very own Annika has contemplated the magical systems of both the show and the books (spoilers if you haven't read the books). This is just one of a plethora of sci-fi/fantasy shows hitting the channels this year; io9 has a guide for you, if you're interested in adding some screen-time to your 2017.
If you're looking to add some representation to your TBR, Nicole Brinkley put together a list of Seven Fantasies with Asexual Leads for Book Riot and I want to read all of them. (Except for maybe Jughead; I am just not an Archie fan, y'all.)
Will everyone please report to the bridge? An exact replica of the original Star Trek bridge exists in Ticonderoga, NY, and you can visit it. It's currently closed, but you can buy gift tickets now; might be a good Valentine's Day gift for the Trekkie you love, I am just saying. Special tours with the original Chekov, Walter Koenig, (RIP Anton Yelchin) will go on sale in February.
And now: books!
Galactic Empires, edited by Neil Clarke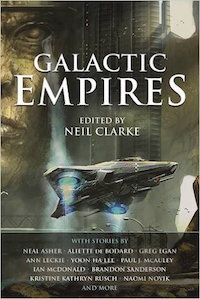 Empires, so hot right now! You'll forgive me for not having read all of this 600+ page anthology yet, as I've been cherry-picking. Personal favorites Ann Leckie, Aliette de Bodard, Yoon Ha Lee, and Naomi Novik all have pieces here-in, and all are worth your time. If you've missed the Raadchai, Leckie's brief tale of interspace espionage will scratch that itch (and if you're unfamiliar with her Ancillary series, welcome aboard). De Bodard expands on the world of the Dai Viet (On a Red Station Drifting should be required reading for all space-opera fans, in my opinion) and offers a truly unsettling look at sentience and culture clash. Yoon Ha Lee gives us origami-inspired warships and moral ambiguity. I am here for all of it! You can see the full Table of Contents here to check if your favorites are included (I bet at least a few are).
Nine of Stars, Laura Bickle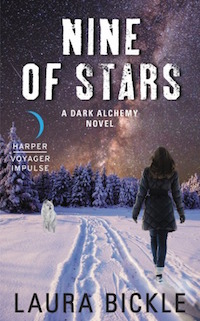 I am a die-hard fan of the Dresden Files, the Kate Daniels series by Ilona Andrews, and of Walt Longmire, so the publicity for Nine of Stars had me curious. "Weird West" is a tricky thing to pull off (and I'm not qualified to comment on the inclusion of Native American elements aside from to say that at least Bickle has honored the original Navajo definition of a skinwalker, unlike a bunch of other writers I could mention), but I enjoyed this installment a great deal. This is the third book in the Dark Alchemy series and I haven't read the first two, but I didn't have any trouble following the action or feeling attached to the main protagonists, reluctant alchemist Petra Dee and her love-interest the supernaturally-inclined Gabriel. While Dee and Gabriel are far less grumpy than Harry Dresden or Kate Daniels, it's still a good comp for those series; Nine of Stars has some nicely escalating villainy, an intriguing supporting cast, and a well-imagined rural West setting. I'll be going back to read the first two, and recommend them to anyone looking for a good distraction and/or escapist contemporary fantasy.
Live long and prosper (at the very least, until the next newsletter).