Out-of-office notifications are the name of the game this week in publishing. With most offices closed for the holidays, news has been slower than slow. Let's see what we can find.
Book Sales Get Christmas Week Bump
The holiday season started slowly for books – sales between Thanksgiving and December 18th were down 6% from last year – but last-minute shoppers came through to the tune of a 21% increase in unit sales in the week leading up to Christmas. Leading the bounce were juvenile fiction (perhaps thanks in part to the "something to read" part of the want/need/wear/read gift-giving trend this year?) and adult nonfiction (all hail the dad books!). Surprising absolutely no one, four of the six bestselling kids/YA titles were by J.K. Rowling.
NYPL Reveals Most Checked-Out Books of 2016
With more than 25 million (!) items checked out each year, the New York Public Library's circulation data make for a fascinating peek into reading habits. Paula Hawkins's Girl on the Train leads the NYPL's top 10, which is, notably, dominated by backlist. Only one of the most checked-out books (When Breath Becomes Air) was published in 2016. This is interesting, as it may reflect a difference between what people are buying and what they are actually reading. Bonus: the NYPL staff have included readalike recommendations for each of the most popular titles!
Milo Yiannopoulos Gets $250K Deal from Simon & Schuster
Nothing like the last week of the year for dumping news you hope no one will notice. Simon and Schuster has brokered a $250K book deal with infamous white nationalist and Breitbart News editor Milo Yiannopoulos, because when someone is so offensive that even Twitter bans them, giving them a new platform for their dumpster fire is a super great idea!
---
Thanks to The Girl in Green by Derek B. Miller for sponsoring This Week in Books.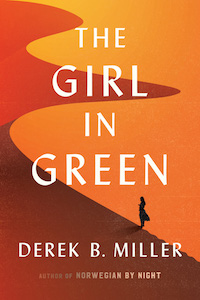 From the author of Norwegian by Night, a novel about two men on a misbegotten quest to save the girl they failed to save decades before.
"The Girl in Green is a Catch-22 for the twenty-first century. You'll laugh so hard you'll cry tears of blood."—Madison Smartt Bell