Welcome to Read This Book, a newsletter where I recommend one book that you should add to your TBR pile or nightstand or hidden stack under the bed, right away!
This week while preparing for the next Read or Dead episode, Katie and I got to brainstorm about TV shows that we like and books that remind us of those shows. It was a fun exercise, giving ourselves angst over how little we read or watch, etc. Highly recommend.
After however coming up with a certain number of picks, I took this question up to one of my best friends whose ability to watch TV and read books in one sitting astonishes me. Not being a watcher of crime shows herself, she went on about shows like The Crown, Mrs.Wilson, etc. In one of those moments, she mentioned Fleabag and asked me to watch it. And dear readers, I was hooked. Flawed female protagonists are at the very center of my wheelhouse. As I wrap up my day thinking about Fleabag, I also think of my pick for the week, and how it features one such female.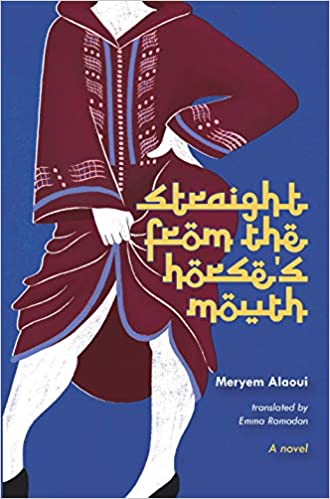 I don't think the protagonist in Fleabag is flawed per se but rather portrayed in a very real manner. The mix of grossness and wonder that is human existence is not glossed over in the show and that is what I loved about this particular pick as well.
This story is set in modern-day Morocco in the bustling neighborhood of Casablanca and tells of 34-year old prostitute Jmiaa. While not as distraught over her profession as her roommate, she is tired of the facade she has to put on for her mother and daughter. Jmiaa does what she needs to to keep her spirits high. The drudgery of everyday life is broken when a film director enlists Jmiaa's assistance, eventually offering up a chance at a better life.
Jmiaa's inner monologue manages to be sharp, harrowing, and witty at the same time. What I love about this book is how it tells the story of a real neighborhood that makes up the city of Casablanca, rather than a romanticized version of it. It is a work like which I have never read before. It is a work of translation from Arabic to English, and it seems seamless. I hope to one day read it in Arabic and corroborate the above claim. Until then, I invite you to take a trip down the streets of Casablanca and fall for the dreamers therein.
Don't forget you can get three free audiobooks at Audiobooks.com with a free trial!
---
Come tell me what you thought of the pick on Instagram @wellreadbrowngirl or Twitter @JavedNusrah.
Happy Reading!
Nusrah