Welcome to Check Your Shelf. I saw the Foo Fighters in concert last Friday, so naturally, my back and my knees are still in significant pain. But it was #WorthIt — Dave Grohl tore through two hours of greatest hits, and brought down the house at the end with "Everlong." So if you need me, I'll be rotating through all of their albums on repeat for the next few weeks.
Don't forget — there's still time in September for all new free Deep Dive subscribers to be entered to win Parable of the Sower by Octavia Butler, plus 5 mystery books from The Deep Dive. To enter, simply start a free subscription to The Deep Dive. No payment method required!
Collection Development Corner
Publishing News
Book publishing has a Toys 'R' Us problem: or, what the private equity acquisition of Simon & Schuster could mean for publishing.
The Internet Archive has filed an appeal in the Hachette v. Internet Archive case.
Millie Bobby Brown's debut novel reignites the debate over ghostwritten celebrity books.
How teens have been priced out of the YA market.
New & Upcoming Titles
Kazuo Ishiguro is publishing a collection of his song lyrics.
Deesha Philyaw, author of The Secret Lives of Church Ladies, has just signed a seven-figure deal for her next two books.
Michael Cunningham has a new book coming out for the first time in over a decade. Day will be released on November 14th.
Christine Blasey Ford, who testified during Brett Kavanaugh's Senate confirmation hearing, is releasing a memoir.
Cedric the Entertainer pays tribute to his grandfather in his first fictional crime novel, Flipping Boxcars.
Bachelorette star Hannah Brown has signed a two-book deal for a pair of romance novels.
Here are all of the big September book club picks.
Cover reveal for Baby X by Kira Peikoff, a thriller for fans of Gattaca and Black Mirror.
Cover reveal for Emma Lord's first adult rom-com, The Break-Up Pact.
And here's the cover reveal for Olivia Dade's At First Spite.
Here's an excerpt from Omar Epps' dystopian novel Nubia: The Reckoning.
Here's an excerpt from Iron Flame, the sequel to Rebecca Yarros' Fourth Wing.
And here's an excerpt from Ross Gay's upcoming The Book of (More) Delights.
8 new crime novels to keep you up at night.
Weekly book picks from Crime Reads, LitHub, New York Times, Wall Street Journal.
Fall books from Chicago Tribune, EW.
What Your Patrons Are Hearing About
Elon Musk – Walter Isaacson (AARP, Atlantic, CBS, Datebook, Guardian, LA Times, New York Times, People, USA Today, Vanity Fair, Vox. Washington Post)
Build the Life You Want: The Art and Science of Getting Happier – Arthur C. Brooks & Oprah Winfrey (AARP, Atlantic, People)
The Vaster Wilds – Lauren Groff (New York Times, Slate, Vox)
Exit Interview: The Life and Death of My Ambitious Career – Kristi Coulter (New York Times, Slate)
A House for Alice – Diana Evans (New York Times, Washington Post)
Glossy: Ambition, Beauty, and the Inside Story of Emily Weiss's Glossier – Marisa Meltzer (LA Times, Vogue)
Nineteen Steps – Millie Bobby Brown (New York Times)
The Death of Public School: How Conservatives Won the War Over Education in America – Cara Fitzpatrick (New York Times)
RA/Genre Resources
Stephen King reveals his approach to writing a mystery novel, and it's way more Alfred Hitchcock than Agatha Christie.
Black final girls are (literally) killing it.
A reading list of reimagined fantasy tropes.
The dark humor of millennial crime capers.
It's time to bring back the '90s legal thriller.
The iconic suspense of Lois Duncan.
The influence of Golden Age detective fiction on YA mysteries.
On the Riot
13 book clubs' September 2023 picks.
The best new weekly releases to TBR.
8 unputdownable authors like Ali Hazelwood.
What is mythpunk?
Now here's an interesting display idea: book recommendations for every toxic trait (sort of).
All Things Comics
The post-apocalyptic graphic novel Heart Attack by Shawn Kittelsen and Eric Zawadzki is being adapted as a TV series.
On the Riot
13 manga and graphic novels for fans of Hayao Miyazaki.
9 great graphic novels for preteens.
8 graphic novels about undocumented immigrants.
Book Riot has podcasts to keep your ears listening for days! Check them out and subscribe.
Audiophilia
Liev Schrieber will narrate the audio version of Marty Baron's new book, Collision of Power: Trump, Bezos, and the Washington Post. Schrieber portrayed Baron in the 2015 film Spotlight.
Book Lists, Book Lists, Book Lists
Children/Teens
22 YA books that inspire main character energy.
Adults
The 20 best fantasy books to read for ultimate escapism.
20 books to read after finishing Fourth Wing.
10 books about climate change to read right now.
9 books with fabulist worlds that push boundaries.
5 of the best books to read to get smart about AI.
Cozy mysteries with furry sidekicks.
5 SF classics about powerful aliens and puny humans.
7 crime novels set in Las Vegas.
Celebrating Latin & Hispanic culture through food.
New and classic works by authors of Mexican descent.
Books about working while Black, if you liked The Other Black Girl.
4 great indie books about the Jewish experience.
5 international thrillers from Afghanistan to Shanghai.
Thrillers set in remote island locations.
11 essential hip-hop books.
10 awe-inspiring memoirs for book club.
12 modern classics of the thriller genre.
Celebrating Hispanic Heritage Month with these award-winning authors.
On the Riot
15 delightful interactive books for toddlers.
8 picture books featuring multicultural and mixed-race families.
Spooky YA reads to set the proper fall vibe.
8 magical libraries in fiction.
8 inclusive romance novels to light your fire.
8 parody horror novels to scare you silly.
The room(s) where it happened: the best political memoirs.
20 of the most thought-provoking philosophical science fiction books of all time.
A room of one's pwn: 10 fun books like World of Warcraft.
10 mysteries and thrillers based around games.
Level Up (Library Reads)
Do you take part in Library Reads, the monthly list of best books selected by librarians only? We've made it easy for you to find eligible diverse titles to nominate. Kelly Jensen has a guide to discovering upcoming diverse books, and Nora Rawlins of Early Word has created a database of upcoming diverse titles to nominate as well that includes information about series, vendors, and publisher buzz.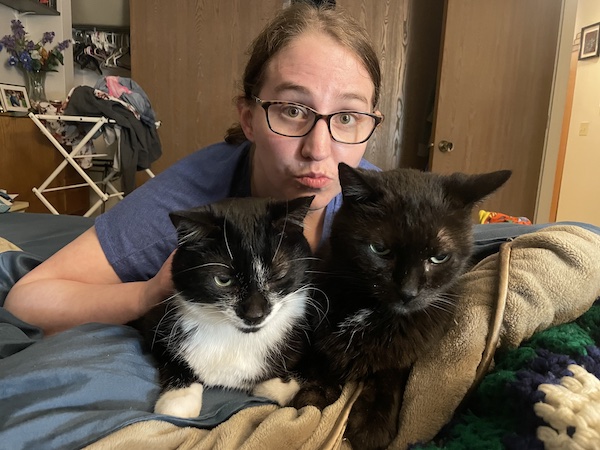 When my boys start snuggling like symmetrical loaves of bread, I have to jump in. They're so damn cute!
All right friends, that's it for me. I'll check in again on Friday.
—Katie McLain Horner, @kt_librarylady on Twitter.