Hello Hello Book Friends!
How has your week been going? I can't believe it's already Thursday and we're nearly halfway through September. And I know the autumn equinox isn't until September 23, but I don't care. It's officially fall! You all know how I feel about summer, and it's finally overrrrr! To mark the occasion, I broke out my Halloween clothes today. I'm committed to this. And while we're riding this wave of seasonal joy, let's talk books.
Book Deals and Reveals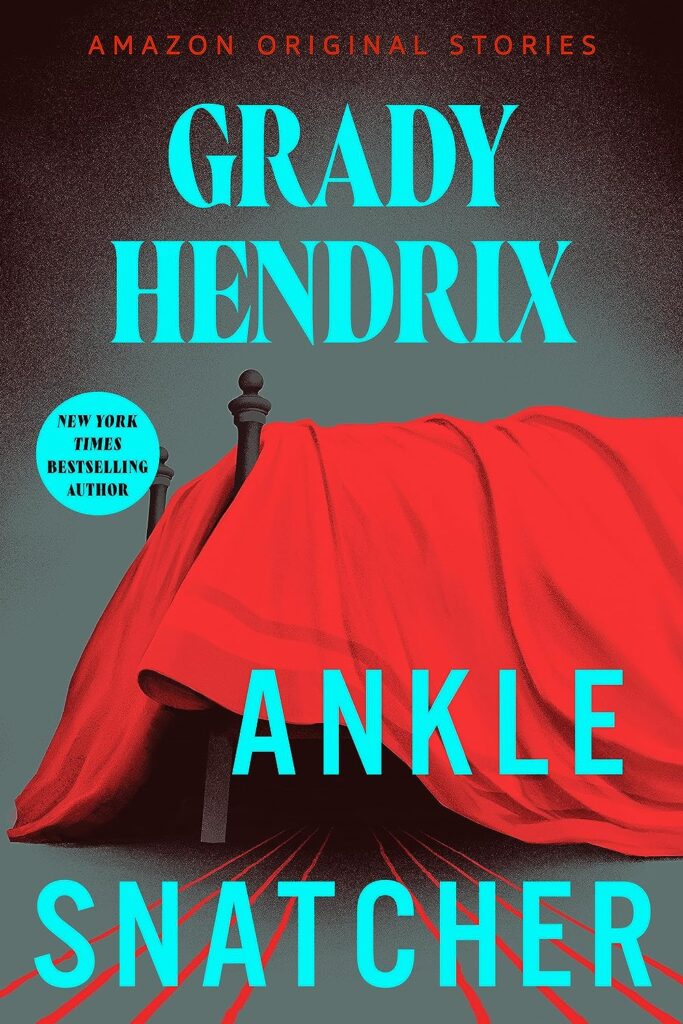 Grady Hendrix has announced the upcoming release of his short story "Ankle Snatcher." This short story is a part of Amazon's Creature Feature series, which are creepy stories that "can be read or listened to in one petrifying sitting." Preorder now, and it'll be out on September 26th! So soon!
GLAAD Media Award-winner Samantha Allen will be publishing her second novel Roland Rogers Isn't Dead Yet with Zando Publishing. The novel follows "a (recently departed) closeted A-list celebrity and his (living) mid-list ghostwriter" as they discover "the meaning of life and love after death."
Literary Hub revealed the cover of the short story collection You Are the Snake by Juliet Escoria. The cover was designed by Farjana Yasmin. The book is out from Soft Skull Press in June.
Jeffrey Eugenides recently shared the story behind his novel The Virgin Suicides with The Guardian.
And here's the cover for Jumata Emil's sophomore novel Wander in the Dark. It's out from Delacorte Press on January 30!
The seven winners of the sixth annual Whiting Literary Magazine Prizes have been announced. Each winner took home a $20,000 grant this year.
Looking for your own bookish community online? Let's take a look at some of the best online book clubs!
Speaking of book clubs, here are all of the book club picks for September 2023.
It isn't just a feeling. Books are getting more expensive. How much have book prices increased since 2019?
Book Riot Recommends
Hi, welcome to everyone's favorite segment of Book Radar called Book Riot Recommends. This is where I'll talk to you about all the books I'm reading, the books I'm loving, and the books I can't wait to read and love in the near future. I think you're going to love them too!
Can't Wait for This One
A Fragile Enchantment by Allison Saft (Wednesday Books, January 23)
With it being fall and cuffing season on the horizon, we're all thinking about romance. So let's take a look at one of the romance books we have to look forward to in this upcoming season of love. Enter A Fragile Enchantment, a romantic fantasy of manners from Allison Saft, The New York Times bestselling author of books like A Far Wilder Magic and Down Comes the Night.
Niamh Ó Conchobhair is a magical dressmaker whose powers allow her to sew emotions and memories into the fabric of her clothes. It's a power that is fated to kill her, but in the meantime Niamh is trying to make the best of the time she has. When she's given the opportunity to design the outfits for a royal wedding, Niamh sees it as a chance to guarantee a better life for her family before she's gone.
So Niamh journeys to the neighboring kingdom of Avaland, and there she meets Kit Carmine, the groom who is…decidedly less excited about his upcoming nuptials. While the wedding might be a wonderful opportunity for Niamh, Kit knows that he is just being used as a political pawn, and he has no love for his future bride.
It will surprise NO ONE to know that Niamh and Kit develop a close friendship that turns into something more. But that's not where this story ends. Oh no, things get messier from there. A gossip columnist catches wind of the secret affair, and she threatens to expose their story to the entire kingdom. The only way she'll stop is if Niamh goes undercover and reveals the secrets of the royal family. Romance, intrigue, scandal, and magic, all set in a Regency England-inspired fantasy world? Yes, please.
Book Riot has podcasts to keep your ears listening for days! Check them out and subscribe.
Words of Literary Wisdom
"Maybe there's no such thing as soulmates. Maybe there are only people who trust each other enough to begin something without being assured of the end."
— You, Again by Kate Goldbeck
What's Up in the Book Community?
My iPhone is constantly telling me I spend too much time staring at my screen, which is honestly so rude. But this means I spend a lot of time scrolling around the online book community: BookTube, Bookstagram, BookTok, BookLinkedIn (JK. That's not a thing…I don't think). You get the idea. Don't have the time, energy, or the will to do all of that yourself? No problem. I got you. In this weekly section of Book Radar, we'll take a look at something cool, interesting, and/or newsy that's going on in the book community.
File this under BookTok made me do it. I just finished reading Fourth Wing by Rebecca Yarros. Now I can't stop watching YouTube and BookTok videos about the book. And friends, the book community is divided! I loved this video where Reads with Rachel "explains" Fourth Wing to her husband. In the process, she really highlights some of the more absurd moments in the story. But on the other hand, I have also really appreciated the BookTok videos like this one from lydia.arina where she explains the disability representation in this book and just how important it is to see Ehlers Danlos Syndrome represented in fiction.
Have you read Fourth Wing yet? If so, what were your opinions? Feel free to shoot me a note and let me know. Would love to chat about it!
And Here's A Cat Picture!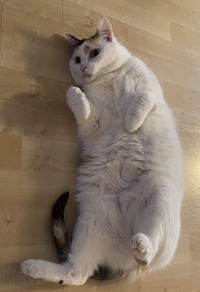 I really wish you could see the animation on this image, because Cersei was rolling around and being super sweet and cute! Cats are truly the best animals in the whole world!
Aaaand…that's a wrap on Thursday's Book Radar! I hope you have a beautiful weekend. May it feel like fall!