Welcome to Read This Book, a newsletter where I recommend one book that I think you absolutely must read. The books will vary across genre and age category to include new releases, backlist titles, and classics. If you're ready to explode your TBR, buckle up!
Delighting velocireaders since 2017, Book Riot's New Release Index will keep you in the know about all the latest books. New books for days. Subscribe today — you won't be able to read them all, but it's fun to try!
Today's pick is a psychological thriller set in a library, which is pretty much my catnip. Content warning for murder in a medical setting, fire, and terminal illness.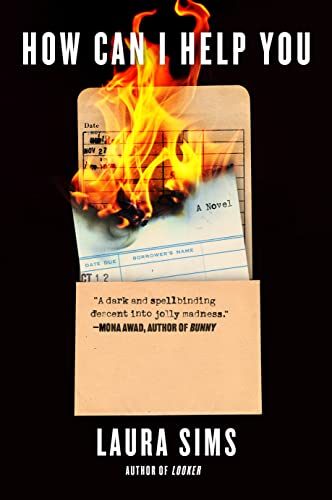 Margo is the most enthusiastic employee at her small town's library. She checks books in and out with warmth, her co-workers love her, and she enjoys the reassuring routine of her days and the order of the public library. Until one day, a new reference librarian is hired. Patricia is young, elegant, and observant. And Margo doesn't like her one bit — she feels watched and judged, and before long Patricia has discovered Margo's secret: Her name isn't Margo, and she's wanted…for murder.
I was really intrigued by the power struggle that Sims sets up between Margo, who sees the world as an adversarial place, and Patricia, who is coming off of her own bitter disappointment and finds herself intrigued by Margo. This story is told in alternating perspectives, and it's almost funny how wildly Margo and Patricia misjudge and misunderstand each other…but the consequences are far from funny. For a moment it seems like they could be friends, but when the realities of learning each other's secrets become apparent, a quick and brutal power struggle ensues.
This is a book that might leave you with more open-ended questions than answers, but it's a fascinating character study set against a very particular backdrop. As someone who has worked in small town libraries before, I really liked the idea of a book set in a library (it's so rife for drama, believe me) and there were some situations and characters that were very believable — the patron who always is looking up porn on public computers, the unreasonable patrons who never want to pay fines or bills, and the patrons who take up so much time and feel entitled to your time and attention. But the library setting wasn't totally and completely believable for me. Margo is one of three full-time employees in addition to the director and Patricia, and all they do is shelve and sit behind the circulation desk. There is no mention of programming, outreach, or part-time clerks or pages to shelve books, let alone volunteers. There is no children's librarian, and one would presume that if the library finally got funds to hire a new full-time staff member, a director would go for a children's librarian rather than a reference librarian who doesn't do anything other than write in a notebook all day. If you can overlook this, though, it was really fun to have a psychological thriller set in a library!
Bonus: I listened to the audiobook, which was very well performed by Maggi-Meg Reed and Carlotta Brentan.
Join Rebecca & Jeff in the First Edition podcast to consider the 10 finalists for the "It Book" of August and pick a winner.
Happy reading!
Tirzah
---
Find me on Book Riot, Hey YA, All the Books, and Instagram. If someone forwarded this newsletter to you, click here to subscribe.