Dear Book Friends,
Greetings, and happy Thursday! It's been so incredibly hot this week, and I have barely felt like moving. I really don't get how anyone likes summer. I'm counting down the days to October. But for now, we're here, and we're still reading more books every week. So let's chat books.
Delighting velocireaders since 2017, Book Riot's New Release Index will keep you in the know about all the latest books. New books for days. Subscribe today — you won't be able to read them all, but it's fun to try!
Book Deals and Reveals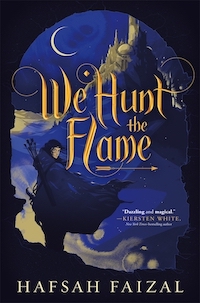 Hafsah Faizal took to Instagram to give fans an update on the We Hunt the Flame TV adaptation.
Tana French answered questions on The Today Show about her upcoming novel The Hunter, her sequel to The Searcher.
Loren Long — illustrator of bestselling children's books by former President Barack Obama, Madonna, and poet Amanda Gorman — has signed a six-figure deal with a Macmillan imprint for two of his own projects.
Aubrey Plaza is joining the Marvel universe, potentially as Kathryn Hahn's ex in the Disney+ show Agatha: Coven of Chaos. Coven of Chaos is scheduled to premiere in 2024.
Eerdmans Books for Young Readers is launching Stories from Latin America, a series focused on fiction and nonfiction set in Central America, South America, and the Caribbean. The series launches on September 19 with Colorful Mondays: A Bookmobile Spreads Hope in Honduras, written by Nelson Rodríguez and Leonardo Agustín, illustrated by Rosana Faría and Carla Tabora, and translated by Lawrence Schimel.
Cosmopolitan has revealed the cover of Abby Jimenez's Just for the Summer. Check out the cover reveal and an excerpt from the novel, and then get ready for the release on April 2, 2024.
What would happen if you wished for the perfect romance? You'd get Swati Teerdhala's The Boyfriend Wish. Here's the cover reveal for the upcoming romcom. It's out this February!
Goodreads has just released several lists rounding up their users' most anticipated new book releases coming out in the next few months.
Coming soon to a screen near you: these 10 books you probably didn't know were in the process of being adapted!
Get to know what all of the book clubs are reading in August, from exciting debuts to new releases from beloved authors.
Book Riot Recommends
Hi, welcome to everyone's favorite segment of Book Radar called Book Riot Recommends. This is where I'll talk to you about all the books I'm reading, the books I'm loving, and the books I can't wait to read and love in the near future. I think you're going to love them too!
Join Rebecca & Jeff in the First Edition podcast to consider the 10 finalists for the "It Book" of August and pick a winner.
Prepare Your Shelves!
Three Holidays and A Wedding by Uzma Jalaluddin and Marissa Stapley (G.P. Putnam's Sons, September 26)
I don't know how it happened, y'all, but it's that time of year again. The time when we start anticipating the new holiday romcom books of the season. But why have a romcom that only celebrates one holiday when you can have one that celebrates three? Plus a wedding? Color me charmed.
Maryam Aziz and Anna Gibson don't know each other, but they are both flying to Toronto for the holidays, both for their own reasons. Anna is meeting her boyfriend's family for the first time. Maryam is attending her sister's wedding. Little do the two strangers know that an unexpected bout of turbulence will have the two confessing all of their deepest darkest secrets to one another. Especially because Maryam's crush Saif is sitting a few rows behind them…and overhears everything.
When the plane is forced to make an emergency landing, the entire flight ends up snowed in at the charming (and very Hallmark holiday movie-ish) Snow Falls Inn. And who else just so happens to be snowed in at that very same inn? Anna's actor-crush, who is in town filming a holiday romcom. Will Anna be able to open up to her crush? And what about Maryam and Saif? We'll just have to read and find out when this one comes out next month!
Words of Literary Wisdom
"I was not and had never been a part of a queer community. How to access such a thing was not just a mystery but an impossibility. The loss of which was sizable. Agony in isolation, the shame and pain that I thought was mine alone. My heart aches for my younger self. A tiny bug running to the rim of an upside-down juice glass. What a difference it would have been to sit with queer and trans pals and have them say, 'I feel that way, too. I felt that way, too. We don't have to feel that way. You don't have to feel that way.'"
— Pageboy by Elliot Page
What's Up in the Book Community?
My iPhone is constantly telling me I spend too much time staring at my screen, which is honestly so rude. But this means I spend a lot of time scrolling around the online book community: BookTube, Bookstagram, BookTok, BookLinkedIn (JK. That's not a thing…I don't think). You get the idea. Don't have the time, energy, or the will to do all of that yourself? No problem. I got you. In this weekly section of Book Radar, we'll take a look at something cool, interesting, and/or newsy that's going on in the book community.
Book lovers, wondering how you can help Maui relief efforts following the devastating wildfires in the region? The book community is showing up to support, and here's how you can join in.
The Queer Collective book club is hosting the Maui Relief Effort Readathon. The Readathon runs until August 28th, and you can read more about it here.
Additionally, Romance for Maui is a romance-themed auction to benefit survivors of the Maui wildfires. Bidding has already started, and it ends on the 21st.
And Here's A Cat Picture!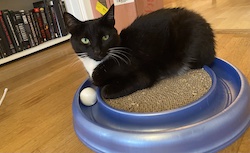 Check out Remy sitting on his toy, which is definitely what this is made for and not for playing with. And yeah, there are books in the background. If you can spot any titles, let me know.
Have a wonderful weekend, friends! I will see you soon!