Welcome to Check Your Shelf. I finally got to see the Barbie movie last weekend in its entirety, and like everyone else on the internet, I'm obsessed with the dance party scene. I need someone in my life to get married or throw a super extra Halloween party this year so I have a reason to find a Barbie costume and learn the choreography. (Do you think anyone will give me side-eye if I come to work dressed as Weird Barbie this year?)
Anyway, make sure to check out Book Riot's New Release Index, which has been keeping velocireaders in the know about all the latest books since 2017! Subscribe today — you won't be able to read them all, but it's fun to try!
Collection Development Corner
Publishing News
Simon & Schuster has been sold to the private equity firm KKR, but there are a number of industry insiders who are concerned about the deal.
Jane Friedman talks about seeing a bunch of AI-generated books with her name show up on Amazon and Goodreads.
The New York Times looks at the flood of shoddy travel guides that have shown up on Amazon recently.
New & Upcoming Titles
Brooke Shields announces a new book about the empowerment of middle age.
Robert Downey Jr. has a book about sustainable food habits coming out in 2024.
Questlove is writing Hip-Hop is History in honor of rap's 50th anniversary.
Megan Fox has a poetry collection coming out in November, and it's already an Amazon best-seller.
There will be a YA version of American Prometheus by Martin Sherwin and Kai Bird.
YA authors talk about their new "romantasy" books.
Here's a first look at Kerry Washington's upcoming memoir.
And here's a first look at Cassandra Clare's first adult fantasy novel, Sword Catcher.
Spotlight on new books about surviving toxic religion.
Some of the best new romantic suspense novels of 2023.
2023's new campus fiction and dark academia novels.
The best historical fiction of 2023 so far.
Weekly book picks from Crime Reads, LitHub, New York Times, USA Today.
August book picks from Good Morning America, The Guardian (thrillers).
What Your Patrons Are Hearing About
The Heaven and Earth Grocery Store – James McBride (New York Times, Slate, Washington Post)
Liquid Snakes – Stephen Kearse (LA Times, New York Times)
RA/Genre Resources
Hockey romance novels are in the news. Here's why they're so popular, but there's also a bonkers story involving TikTok, an actual player for the Seattle Kraken, and rampant boundary crossing.
The authors helping "sad girl lit" grow up.
All of Stephen King's books in publication order.
On the Riot
12 hot book club picks for August.
The best new weekly releases to TBR.
Reading pathways for Barbara Kingsolver.
Science fiction is inherently rebellious. Why don't some of its fans agree?
All Things Comics
5 of the summer's best and most daring graphic novels.
On the Riot
The most underrated comics according to Goodreads.
Audiophilia
Jeff Daniels is releasing an audio-exclusive memoir next month on Audible.
An audiobook roundup of mothers, daughters, and memoirs.
On the Riot
9 of the best video game and audiobook pairings.
Join Rebecca & Jeff in the First Edition podcast to consider the 10 finalists for the "It Book" of August and pick a winner.
Book Lists, Book Lists, Book Lists
Adults
7 books that will make you put down your phone.
11 modern retellings of classic stories.
9 LGBTQ+ books every queer writer should read.
Great books starring women over 40.
7 must-read Nigerian horror novels.
10 best-selling books by Latinas from the last decade.
7 wellness books you need on your shelf.
9 novellas for our current age of distraction.
6 difficult women who live on in fiction.
The great reluctant detectives of crime fiction.
Thrillers about parents protecting their child.
5 surprisingly devoted SFF couples.
7 novels about girlbosses and the dark side of social media.
Fiction and nonfiction about the dark side of the Jazz Age.
11 horror novels to read before the end of the year.
On the Riot
9 YA novels from the current horror renaissance.
Books if you're missing XO, Kitty.
Queer royal romance for fans of Red, White, and Royal Blue.
9 body horror novels by women about losing control.
10 books for fans of Criminal Minds.
10 of the best puzzle mysteries.
Travel memoirs that aren't by the usual white dudes.
8 overrated literary classics, and 8 books to read instead.
12 beautiful books about the saddest stories.
Level Up (Library Reads)
Do you take part in Library Reads, the monthly list of best books selected by librarians only? We've made it easy for you to find eligible diverse titles to nominate. Kelly Jensen has a guide to discovering upcoming diverse books, and Nora Rawlins of Early Word has created a database of upcoming diverse titles to nominate as well that includes information about series, vendors, and publisher buzz.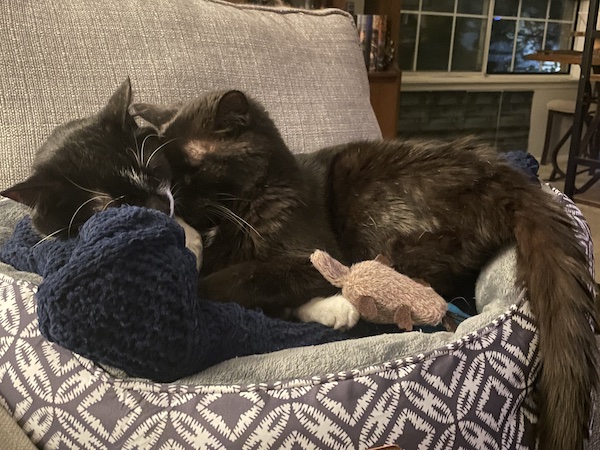 This photo may be a little hard to see, but Gilbert decided to infiltrate Dini's sleeping space, and they fell asleep like that. But where does one cat end and the other one begin??
All right, friends. That's all I have for today. See you on Friday!
—Katie McLain Horner, @kt_librarylady on Twitter.