Happy Monday, Book Friends!
I hope you had a wonderful weekend full of restfulness and/or adventure. And I hope you're ready for another week of all the fun book news and conversation we can fit into one newsletter. It's another Book Radar Monday, and I've got some news for you that's almost as exciting as the announcement of 1989: Taylor's Version. Don't believe me? Read on.
Delighting velocireaders since 2017, Book Riot's New Release Index will keep you in the know about all the latest books. New books for days. Subscribe today — you won't be able to read them all, but it's fun to try!
Book Deals and Reveals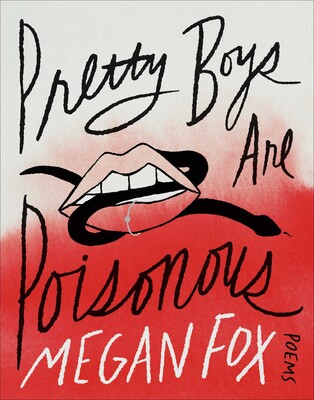 Megan Fox's poetry collection Pretty Boys Are Poisonous is already a bestseller ahead of its November 7 release date. The 192-page book is described by publisher Simon & Schuster as "heartbreaking and dark."
Here's a sneak peek of Kerry Washington's new memoir Thicker Than Water. The book is out from Little, Brown Spark on September 26.
Maurice Carlos Ruffin has revealed the cover of his new novel The American Daughters! According to Ruffin, the book is "about a group of Black women and girls who form a spy ring to resist the Confederates!" It's out on March 5, 2024.
And here's the cover reveal of O.O. Sangoyomi's Masquerade, a retelling of Persephone set in 1400s West Africa. It's out on July 2, 2024.
You want more exciting cover reveals? How about this cover reveal of both the U.S. and the UK cover of Kellye Garrett's Missing White Woman? It's out on April 30, 2024.
Emily Henry also has a new book coming out soon, and here's the cover reveal of Funny Story. It's out on April 23, 2024.
Bestselling children's book author Kate DiCamillo has a new middle grade novel, Ferris, forthcoming from Candlewick Press next spring. Here's the cover reveal!
Paste Magazine has shared the cover and an excerpt from Anna Gracia's The Misdirection of Fault Lines. This one will be out on April 2, 2024.
XO, Kitty has been renewed for a second season. But since we're not sure when exactly it'll be coming back, here are 8 books like XO, Kitty you can read in the meantime.
As the start date of a Texas law censoring books approaches, publishers have refused to comply by rating their books.
Book Riot Recommends
Hi, welcome to everyone's favorite segment of Book Radar called Book Riot Recommends. This is where I'll talk to you about all the books I'm reading, the books I'm loving, and the books I can't wait to read and love in the near future. I think you're going to love them too!
Join Rebecca & Jeff in the First Edition podcast to consider the 10 finalists for the "It Book" of August and pick a winner.
Can't Wait for This One!
Godly Heathens by H. E. Edgmon (Wednesday Books, November 28)
We're almost in the homestretch for 2023, but as we near the end of the year, we have a great new fantasy duology to look forward to. The best part? The second half of this duology is set to release in 2024, so you won't be waiting for the conclusion to this story for long!
Living in the small town of Gracie, Georgia isn't always easy for nonbinary Seminole teen Gem Echols. Gem relies on their charm and charisma to shield them from the outside world and keep anyone from knowing who they truly are. So when Willia Mae Hardy moves into town and immediately acts as if she and Gem are best friends, Gem doesn't know what to make of it. Who is she? And how does she know about Gem's haunting visions?
After Gem is attacked by a being claiming to be the Goddess of Death and Willa Mae saves their life, Gem finally gets some answers. But the truth is so much wilder than anything Gem could have anticipated. Willa Mae and Gem are actually reincarnated gods who have lived through many lifetimes. And Gem has made some enemies in those past lives.
What I'm Reading This Week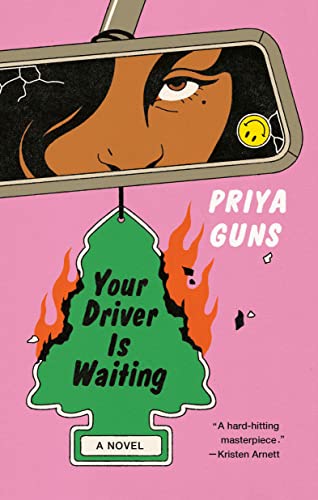 Your Driver is Waiting by Priya Guns
A Twisted Love Story by Samantha Downing
Thirst for Salt by Madelaine Lucas
Seven Empty Houses by Samanta Schweblin, translated by Megan McDowell
Pageboy by Elliot Page
Reviving Ophelia by Mary Pipher and Sarah Pipher Gilliam
Monday Memes
I'm not into fishing, but I can really get behind this fishing-inspired book meme. Should we make this a thing?
And Here's A Cat Picture!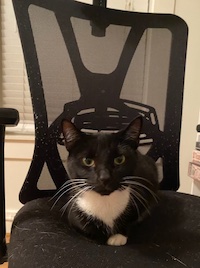 I leave you this week with a picture of Remy sitting in a chair. Probably contemplating what book he's going to pick up next from his TBR pile. He's got that look of panic about him.
And that's all for today, friends! I hope you have a wonderful few days, and I'll catch you on Thursday.