Haaaaaaaaappy Tuesday, star bits! The new release hits just keep on coming. Did any of you read Tom Lake yet? Isn't it the best?!? I was thinking about it again today, which reminded me how much I loved They're Going To Love You by Meg Howrey. It has been out for nine months now, and if you haven't read it yet, I cannot recommend it enough! It's another "middle-age reflection on life" novel, like Tom Lake, and it is so freaking good. (It's also out in paperback next month!) For you this week, I have a great work of historical fiction by a master, a creepy novel about a kids' show, and a fun middle grade horror novel. All perfect for summer reading!
At the top of my list of today's books I want to pick up are A Council of Dolls by Mona Susan Power, I Hear You're Rich by Diane Williams, and Tomb Sweeping: Stories by Alexandra Chang. You can hear about more of the fabulous books coming out today on this week's episode of All the Books! Vanessa and I talked about some of the books we're excited about this week, including Whalefall, Looking Glass Sound, and Congratulations, the Best Is Over!: Essays.
Delighting velocireaders since 2017, Book Riot's New Release Index will keep you in the know about all the latest books. New books for days. Subscribe today — you won't be able to read them all, but it's fun to try! 
When a skeleton is found at the bottom of a well during construction work in 1972, it brings up old secrets being kept by the residents of Chicken Hill. In an African American and Jewish neighborhood, the people of Chicken Hill have been helping each other out for decades, working to combat the racism and antisemitism they experience. This is at times a sad and brutal novel of the realities of hatred and racism and the effects they have on Chicken Hill, but it's also a story of humanity, grace, and neighbors, and the eponymous establishment. McBride is a master of historical fiction, and he has done it again. (CW includes ableism, racism and racist language, antisemitism, xenophobia, and sexual assault.)
Backlist bump: Deacon King Kong by James McBride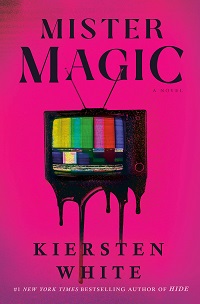 It's the 30th anniversary of the last episode of the kids' TV show Mister Magic, which ran for decades. The thing is, no footage of the show remains. There are no script writers, no station workers, no directors, no one who worked on the show can be located, and no one really remembers it except for the five cast members, now grown. The internet speculates about it, they have vague memories, but no one can quite describe it. Then the five are invited to do a podcast to celebrate the anniversary. They gather once again at the old show lot in the desert of Utah. One of them cannot remember anything from their childhood, and at least one has ulterior motives. And they're all in trouble. This is a creepy, fun horror story about children's television, the Mandela Effect, and childhood memories. (And other things, too, but they're spoilers.) And trust me, whatever you think the answers are going to be, I promise you that they're weirder.
Backlist bump: Hide by Kiersten White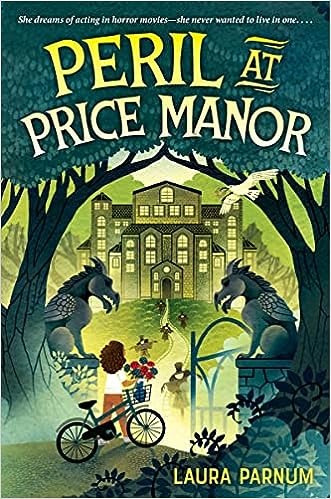 And last but not least, is this really fun supernatural middle grade adventure! Halle has grand dreams of being a scream queen in horror films when she gets older. And one day, she gets a chance to make her dreams come true: she becomes the babysitter for the twin children of a famous horror director in town. But it turns out that the director gets his inspiration from very real horrors: his home, Price Manor, is full of scary supernatural things. The twins think it's movie magic, but all three of them will soon learn that monsters are real, and they're going to have to use their monster movie smarts if they want to survive the summer. This is a great horror novel for young readers who want to get into the genre, and just an all-around fun book for readers of all ages.
Backlist bump: The Keeper by Guadalupe García McCall
Join Rebecca & Jeff in the First Edition podcast to consider the 10 finalists for the "It Book" of August and pick a winner.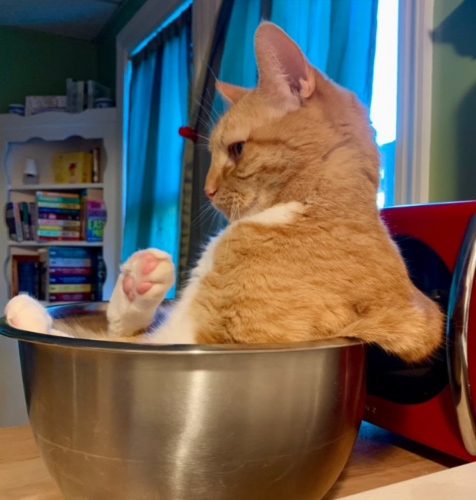 This week, I am reading Rainbow Black by Maggie Thrash and The Stone Home by Crystal Hana Kim. In non-book things, I have started rewatching Brooklyn Nine-Nine for the zillionth time while I work on secret things (that I hope I can tell you about soon.) The song stuck in my head this week is "Good to Sea" by Pinback. And here is your weekly cat picture: This is Zevon, sitting in his cat-designated mixing bowl. It doesn't look like he even fits in there, but I assure you, it's his favorite place to hang out.
Thank you, as always, for joining me each Tuesday as I rave about books! I am wishing you all a wonderful rest of your week, whatever situation you find yourself in now. And yay, books! See you next week. – XO, Liberty