Welcome to Read This Book, a newsletter where I recommend one book that should absolutely be put at the top of your TBR pile. Recommended books will vary across genre and age category and include shiny new books, older books you may have missed, and some classics I suggest finally getting around to.
Before I do that, I have a question: What do S.A. Cosby, Khaled Hosseini, Sarah Bakewell, and Yahdon Israel have in common? They've been guests on Book Riot's newest podcast, First Edition, where BookRiot.com co-founder Jeff O'Neal explores the wide bookish world. Subscribe to hear them and stay to hear Book Riot's editors pick the "it" book of the month.
I know it's hot most everywhere in the Northern Hemisphere right now, but I'm gonna turn up the heat with today's pick.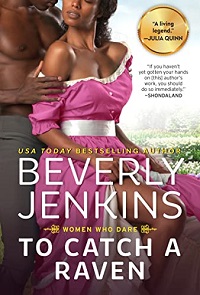 This is a historical romance that takes place primarily in the southern United States in the late 1870s, and race and racism are very much a part of this book. This is technically the third book in Jenkins's Women Who Dare romance series, and as someone who has only read this book in the series, I can tell you that To Catch a Raven totally holds its own without having read the two other books first.
I am an absolute sucker for a book that has a con artist as the main character. This book not only has that, but it has an entire family of con artists, and each person is an absolute delight. First, outside of this con artist family, we have a father and son in Boston: Harrison and Braxton Steele. They are well-off Black men, as Braxton's maternal grandfather had a fleet of merchant ships. Braxton is used to comfort and he is a tailor, and Harrison is a painter and illustrator.
Well, Harrison's past has come back to cause some trouble. Before Braxton's mother, he was in love with a woman named Hazel Moreau. Hazel, like her mother, her siblings, and now her children, was an incredibly talented con artist. When Hazel and Harrison were together, Harrison would produce incredibly good counterfeit paintings that they sold. At present, a detective has threatened Harrison (and Hazel, who is still living down in New Orleans) with arrest unless they convince their respective children to help pull a heist to recover something that was stolen.
Hazel and Harrison haven't talked for decades, but suddenly he and Braxton find themselves in Hazel's home in New Orleans, meeting with Hazel and her daughter, Raven. The detective has told them that a copy of the Declaration of Independence has been stolen, but the detective knows who has it: a former Confederate official in South Carolina. The detective wants Braxton and Raven to pose as husband and wife, go work for this man and his wife disguised as a chauffeur and housekeeper, and find (and steal) back the copy of the Declaration of Independence. Apparently, this Confederate official and his wife only hire Black people as servants because they like to feel like they are still owning enslaved people. So, you know, terrible all around.
Braxton is a goody-two-shoes and super judgmental of the life that Hazel, Raven, and their family lead, but he will do anything to keep his father out of the penitentiary. Raven finds Braxton absolutely insufferable. This animosity and tension does not last long, and things definitely get spicy. There is a good helping of sex on the page as well as some very touching acts of kindness that made my heart melt.
Delighting velocireaders since 2017, Book Riot's New Release Index will keep you in the know about all the latest books. Start your 14-day free trial today.
---
That's it for now, book-lovers!
Patricia
Find me on Book Riot, the All the Books podcast, Twitter, and Instagram.
Find more books by subscribing to Book Riot Newsletters.