Welcome to Check Your Shelf. The next few weekends are going to be very busy (wedding! Cubs game! work! movies!) so I'm looking for times in the schedule where I can carve out some alone time. These are all things I'm looking forward to (well, except for work), but my inner introvert is going "WHY DID YOU SCHEDULE ALL OF THIS??"
Don't forget to check out Book Riot's newest podcast, First Edition, where BookRiot.com co-founder Jeff O'Neal explores the wide bookish world, and talks to authors including S.A. Cosby, Khaled Hosseini, and Sarah Bakewell. Subscribe to hear them and stay to hear Book Riot's editors pick the "it" book of the month.
Libraries & Librarians
Cool Library Updates
Jay-Z announced a new exhibition at the Brooklyn Public Library.
Worth Reading
Glencoe Public Library (IL) tackles the public need for libraries.
Book Adaptations in the News
It Ends With Us gets a 2024 release date.
Fifth Season has purchased film rights to Shelley Read's debut, Go As a River.
Here's a first look at the Hulu adaptation of The Other Black Girl.
Here's the first trailer for Wonka.
Trailer for Wheel of Time, Season 2.
Censorship News
Here's Barack Obama's letter to librarians, thanking us for protecting the right to read.
The impact of book bans on authors.
Paywalled: Montgomery County (TX) will restrict teen access to LGBTQ books, and will add books with conservative themes (not sure what that means).
A new Florida law says that parents can appeal to a state magistrate if school boards don't rule in their favor re: book bans.
Leon County (FL) schools have pulled five books from library shelves, thanks to challenges submitted by Moms for Liberty.
Hernando County (FL) school board heard from an upset pastor about the book Marvin Redpost: Is He a Girl? at a recent meeting.
A Columbia County (GA) judge sided with the school district, saying "a parent's opt-out of the school's sexual education program does not require schools to keep materials related to sexuality out of the hands of her child."
Brookfield (CT) school board is debating whether or not to remove a digital copy of This Book is Gay, which has only been checked out twice.
Old Lyme Public Library (CT) will keep two age-appropriate sex-ed books in the teen section.
Massachusetts legislators propose multiple anti-book ban bills.
A Massachusetts senator is trying to step in and stop a proposed book ban in Ludlow Schools.
The Indian Valley Public Library (PA) will not be defunded over what one council member called "inappropriate library materials."
Members of the public are apparently an acceptable stand-in for professional school librarians in the Hempfield Area School District (PA).
These are the first seven books being considered for removal at Samuels Library (VA).
The book banning and censorship debate shifts to Hanover (VA) public libraries.
I'm paywalled from this article about a recently proposed North Carolina bill that would significantly increase parents' ability to sue school boards and have superintendents removed, but here's a non-paywalled op-ed that explains exactly why this is such a horrifying proposition.
In New Hanover County (NC), Stamped was challenged in the school districts, then approved, and now that decision is being appealed.
Moms for Liberty continue to push for Charlotte Mecklenburg Schools (NC) to ban books throughout the district.
The Iredell-Statesville (NC) school district has made it official practice to remove books while they are being reviewed.
Yancey County (NC) Board of Commissioners tried to pass a motion to take control of the public library, which many residents believed was in retaliation for a recent Pride month display. Thankfully, the motion did not pass.
Pickens County schools (SC) returned Stamped to high school library shelves, but students can only check it out with parental consent.
Beaufort County School District (SC) may bar the chicken-feed-throwing member of the public from attending any future meetings.
Oconee County Library (SC) voted to relocate Flamer from the teen section to the adult section.
There's a petition circulating to fire an Athens Public Library (TN) staff member for putting up a Pride Month display.
Paywalled: Nixa (MO) school board will be reviewing Unpregnant.
An Ohio bill would ban and criminalize drag queens at story time events and other events geared toward children.
Big Walnut School District (OH) is reviewing 24 challenged books.
Friends of the Caro Library (MI) are helping to raise money to protect a group of board members that are being pushed for recall. The local bigots are apparently upset that these trustees won't ban books on demand.
The new slate of conservative Brandywine (MI) school trustees have made their presence known…since January, the board has formed an "Explicit Book Review Committee" that has stopped the library from purchasing new materials and has also removed 30 books from library shelves.
Bartholomew County Public Library (IN) audited their teen section after receiving numerous requests to relocate the LGBTQ books. Not only did they decide that the books will be staying where they are, but they found that only 10-15% of their teen collection is written by LGBTQ authors, and library staff will focus on diversifying their future purchases.
The 57 Bus is currently an elective book in a high school English class at West Bend High School (WI), but a complainer who doesn't have any kids in the school thinks it should be removed completely. This person also said that the book won't stop LGBTQ students from being bullied, but it might encourage kids to use gender pronouns and identify with the "attractive" LGBTQ lifestyle. Keep in mind, this is a nonfiction book about a nonbinary student being set on fire while riding a bus. Is this the "attractive" LGBTQ lifestyle that this person is referring to?
As a side note, the same parent is also trying to get The Kite Runner removed from the same high school.
PFLAG will be holding an informational meeting in Waukesha (WI) about book banning in the school district, where 23 books have been censored or banned since 2021.
Iowa's public libraries are becoming "the next grounds for the oncoming civil rights movement."
A group of people at the Yankton (SD) Public Library board meeting spoke in favor of the library's recent Pride display.
Once again, St. Marys (KS) officials have threatened to terminate the lease with the library because of LGBTQ books. From the article intro: "Gerard Kleinsmith says he hates the idea of censorship. He just wants to pull the lease for the city's public library because he doesn't like books about transgender people."
Enid Public Library (OK) will allow an LGBTQ+ history display in October.
The numbers reveal more about the state of book banning in Greeley-Evans schools (CO). Specifically: "The number of people filing complaints and appeals on books in Greeley-Evans schools represents less than 1% of the total number of voters who participated in a District 6 ballot issue late last year."
Moms for Liberty wants the Billings Public Library (MT) to visibly label LGBTQ+ books, even though libraries have definitively moved away from that practice.
Far-right Idaho legislators urged libraries to cut ties with ALA because of ALA President Emily Drabinsky's previous tweet self-identifying as a "Marxist lesbian."
At a recent Washoe (NV) County Commission meeting, several public commenters called for an investigation after commissioners selected a retired realtor as a new library trustee, rather than a right-wing bigot who has advocated against the library and its popular drag queen story hour. The County Commissioners were hoping to appoint a new board at a previous meeting, but were unable to due to the level of public comment.
Elk Grove Unified School District (CA) is facing public backlash over The Bluest Eye.
Clovis City (CA) Councilwoman Diane Pearce took to Facebook to warn people about LGBTQ books in the library. Why is the presence of LGBTQ books in the library being treated like such a groundbreaking revelation? I mean, I know why, but for crying out loud, the insanity of all this performative hysteria is ridiculous. Also…very tired of news outlets posting headlines like "Do LGBTQ kids books belong in the library?" like it's up for debate.
These are the five books that people have challenged over the last five years at the Huntington Beach Public Library (CA).
Let's Talk About It will be moved from the teen section to the adult section at the Ketchikan Public Library (AK). One of the councilors who voted against moving the book said, "[T]he city council is somehow going to become the arbiter of what's appropriate for the books in our library. That is not our role. That is the role of the librarians."
Winkler City Council (Manitoba) passed a resolution that would appoint several of their members to the library board "to exert influence as members of the SCRL Board of Directors to create a policy, whereby graphically sexually explicit books be moved from the children's section to another section of the library as appropriate."
Queer people and authors are being pushed out of one of the last remaining public spaces: the library.
Books & Authors in the News
Thousands of authors have come together to urge AI companies to honor copyrights.
Book sales, a lure for money, and more takeaways from the AP investigation into Supreme Court ethics.
Numbers & Trends
Here are the best-selling books of the week, and the best-selling books of 2023 so far.
Delighting velocireaders since 2017, Book Riot's New Release Index will keep you in the know about all the latest books. Start your 14-day free trial today.
Award News
The Emmy nominations have been announced, and the NYPL has a reading list based on the nominations.
The Booker Prize ceremony has been pushed back until November.
The Shirley Jackson Awards have been announced.
The 2023 CWA Dagger Award winners have been announced.
The shortlists for the Ursula K. Le Guin Prize for Fiction and the Waterstones Debut Fiction Prize have been announced.
Bookish Curiosities & Miscellaneous
Over 100 people were trapped for several hours in Agatha Christie's former house, after a storm knocked down a tree and blocked the road to the property.
On the Riot
How to survive and thrive at a book fair.
12 reasons to shelve your books in rainbow order.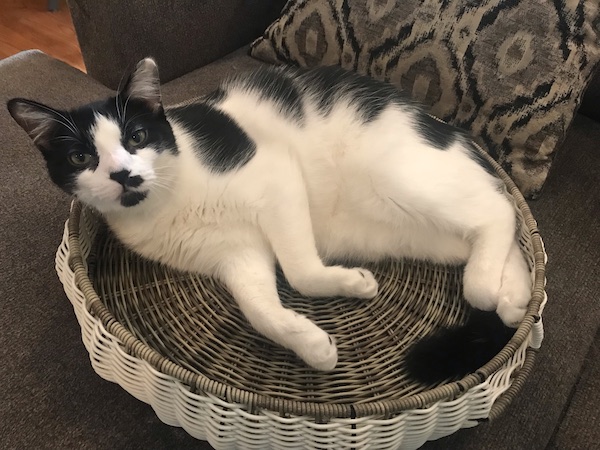 Guest appearance from Groucho! My parents say Groucho is getting more and more comfortable being out when people come over, and he loves playing with his new kitty friends.
All right, that's all for today – catch you on Tuesday!
—Katie McLain Horner, @kt_librarylady on Twitter.