Happy Tuesday, star bits! It's hot and humid and rainy in Maine right now, which is perfect weather for reading intense novels! I have been in the mood for them lately, and have been cramming horror novels and thrillers into my brain like whoa. That's why all of today's picks have thrills of some kind! There's a thriller involving horror films set in Mexico City, a spooky middle grade tale of haunted woods on Halloween, and a YA romantic thriller about a Black prince.
At the top of my list of today's books I want to pick up are The Jasad Heir by Sara Hashem, A Guide to the Dark by Meriam Metoui, and How Can I Help You by Laura Sims. You can hear about more of the fabulous books coming out today on this week's episode of All the Books! Tirzah and I talked about some of the books we're excited about this week, including The Deep Sky, All That's Left to Say, and Crooked Manifesto.
What do S.A. Cosby, Khaled Hosseini, Sarah Bakewell, and Yahdon Israel have in common? They've been guests on Book Riot's newest podcast, First Edition where BookRiot.com co-founder Jeff O'Neal explores the wide bookish world. (I was a guest last week!) Subscribe to hear them and stay to hear Book Riot's editors pick the "it" book of the month
And now, it's time for everyone's favorite game show: AHHH MY TBR! Here are today's contestants.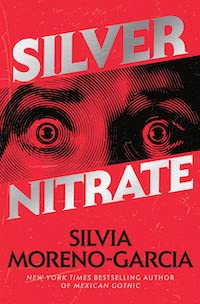 It's 1993 in Mexico City, where a young sound editor and her former soap opera star best friend meet a director of cult horror films. Montserrat wondered what happened to director Abel Urueta, whose last film was never finished. When her bff Tristán moves into his building, they become friends with Urueta and he tells them what happened: he's cursed. Supposedly, a Nazi occultist was going to imbue the film with magic that would help them. But he died before he could finish the spell, and now the director is cursed. He convinces Montserrat and Tristán to help him break the curse by finishing the last scene of the film, which should then bring them all good things. But pick a cliché: be careful what you wish for; if it sounds too good to be true, that's because it is; the truth is stranger than fiction, etc. Because weird things start happening to them, scary and powerful things, and they'll have to get to the truth of dark magic if they want their lives to get back to normal. It's a really fun examination of Mexican film history and the movie industry, as well as a story of friendship and loss, and of course, a dark mystery with some scares, too. (CW include sexism, bullying, antisemitism, racism, homophobia, cancer, drug abuse, infidelity, animal death, car accident, injury, gore, violent death, murder.)
Backlist bump: Mexican Gothic by Silvia Moreno-Garcia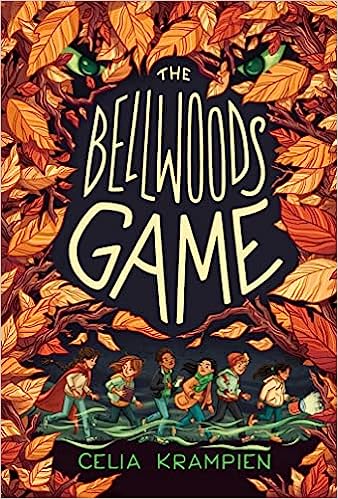 And the whole "don't go in the scary woods" trope never gets old because there are so many fun books about scary things in the woods! This one involves a tradition in the town of Fall Hollow on Halloween. Many years ago, a young girl named Abigail supposedly went into the woods and never came out. Now, on Halloween each year, three sixth graders play a game. They must run into the woods and ring a bell before Abigail's ghost catches them. The first to do it will keep their town safe from being haunted for another year. Bailee is determined to win the game this year so that her classmates will think she is brave and want to be her friend. But it's one thing to say you'll do it and another to actually do it, and Bailee and her classmates are going to find out that what they thought they knew about the woods is nothing like the truth. (CW for bullying, illness and loss of a loved one, and grief.)
Backlist bump: Small Spaces by Katherine Arden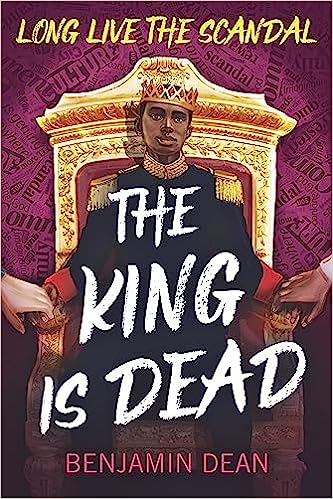 If you love books about royalty, mystery, and drama, this is a fun one you'll want to pick up! James is the young heir to the British throne, just 17 years old. He's already been subjected to tabloid scrutiny and rumors as the first Black heir. When his father dies, his life is put under a magnifying glass, which makes it hard to keep his secrets, like that he has a boyfriend. And when his boyfriend goes missing and he starts receiving threatening letters, James will have to find out what happened to him and who in the palace he can trust with his secrets before every last one is shared with the world. Long live the king…he hopes. This is fun and intense. (CW for homophobia and racism, outing, bullying, loss of a loved one, grief, stalking, injury, and violence.)
Backlist bump: Ace of Spades by Faridah Àbíké-Íyímídé
Delighting velocireaders since 2017, Book Riot's New Release Index will keep you in the know about all the latest books. Start your 14-day free trail today.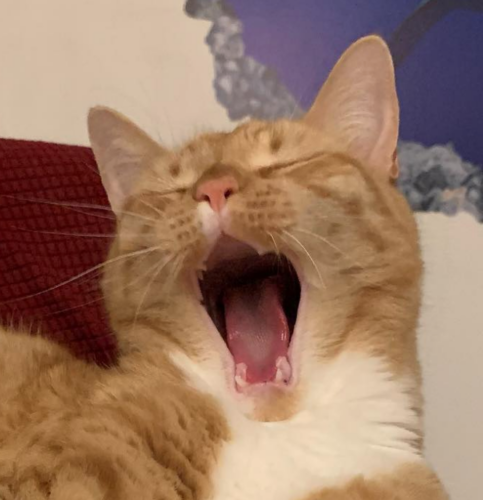 This week, I am reading The Country of Toó by Rodrigo Rey Rosa, Stephen Henighan (translator) and The September House by Carissa Orlando. In non-book things, I am considering learning how to do scrape painting. I saw it on this Instagram account and it looks SO fun. It's my birthday today and my husband is setting up all the supplies for me, so we'll see how it goes! The song stuck in my head this week is "Bittersweet" by Big Head Todd and the Monsters. And here is your weekly cat picture: It looks like Zevon has burst into song, or is maybe laughing. But he's just yawning, because he's lazy.
Thank you, as always, for joining me each Tuesday as I rave about books! I am wishing you all a wonderful rest of your week, whatever situation you find yourself in now. And yay, books! See you next week. – XO, Liberty