Dear Book Friends,
Happy Thursday! Just think…next week at this time, we'll all be watching the Barbie movie (or at least I will. I have my tickets for July 20). I can't wait. In the meantime, I guess let's talk about books. That's what we're here for! But wait…did you know Barbie is partially inspired by Reviving Ophelia by Mary Pipher. So it is book related! Ok, ok. I'll move on.
What do S.A. Cosby, Khaled Hosseini, Sarah Bakewell, and Yahdon Israel have in common? They've been guests on Book Riot's newest podcast, First Edition where BookRiot.com co-founder Jeff O'Neal explores the wide bookish world. Subscribe to hear them and stay to hear Book Riot's editors pick the "it" book of the month.
Book Deals and Reveals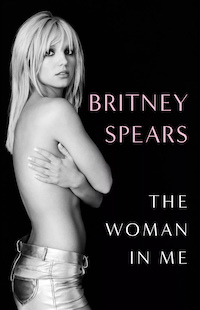 Pop icon Britney Spears is releasing her much-anticipated memoir The Woman in Me on October 23.
Jordan Peele's Monkeypaw Productions is releasing its first short story anthology. Out There Screaming "explores the worlds of horror, sci-fi, folklore & more through short stories crafted by Black authors." It's out on October 3.
Here's the cover reveal of Mónica Mancillas' debut middle grade novel Sing it Like Celia. With artwork from Mirelle Ortega and a design by Mary Claire Cruz, the book will be out from Penguin Kids in April 2024.
Superman: Legacy has added Nathan Fillion to its cast as The Green Lantern. Also joining the cast are Isabela Merced as Hawkgirl and Edi Gathegi as Mister Terrific.
The official trailer for Wonka, starring Timothy Chalamet as Willy Wonka, has been released. Wonka hits theaters on December 15.
Jennifer Garner will be reprising her role as Elektra in the upcoming Deadpool 3 movie. Deadpool 3 is currently expected to hit theaters on May 3, 2024.
Nimona creator ND Stevenson announced on Twitter that copies of his graphic novel were sold out on Amazon following the release of Netflix's film adaptation.
109-year-old Viola Ford Fletcher has published a memoir about growing up during the Tulsa Race Massacre. Don't Let Them Bury My Story will be out on August 15.
Nnedi Okorafor has sold her novel The Africanfuturist to HarperCollins/William Morrow in a seven-figure deal. The book is scheduled for a winter 2025 release.
Book Riot Recommends
Hi, welcome to everyone's favorite segment of Book Radar called Book Riot Recommends. This is where I'll talk to you about all the books I'm reading, the books I'm loving, and the books I can't wait to read and love in the near future. I think you're going to love them too!
Delighting velocireaders since 2017, Book Riot's New Release Index will keep you in the know about all the latest books. Start your 14-day free trial today.
Prepare Your Shelves!
Kissing Kosher by Jean Meltzer (MIRA, August 29)
Can you believe it's already time to start preparing ourselves for the next batch of romance novels for the holiday season, 2023? Where has the year gone? And yet…reading holiday-themed romcom books at the end of every year is one of my favorite things. And this one comes from Jean Meltzer, the author of the adorable novel The Matzah Ball. So yes, I'm constantly in an existential crisis as I think about the passage of time, but on the plus side, look at this book! It's very exciting!
Avital Cohen's chronic pain has forced her to set aside her dreams of becoming a photographer and her love life. She is doing everything she can to manage her family's bakery, but she knows she needs help. So when handsome and charming Ethan Lippmann shows up at Best Babka in Brooklyn, Avital feels like she's found the perfect person to help out around the bakery.
There's only one problem…Ethan isn't there to help. He's there to spy on the bakery for his grandfather, the owner of a mass-produced kosher baked goods company. Ethan is there to steal the Cohen family secrets — especially their Pumpkin Spice Babka recipe. But the more time he spends with Avital, the more Ethan wants something different from his relationship with her.
Words of Literary Wisdom
"There is no value in simply being busy—everyone these days is busy. There is value in focus. In the satisfaction of control and the productivity of lucrative work."
— The Whispers by Ashley Audrain
What's Up in the Book Community?
My iPhone is constantly telling me I spend too much time staring at my screen, which is honestly so rude. But this means I spend a lot of time scrolling around the online book community: BookTube, Bookstagram, BookTok, BookLinkedIn (JK. That's not a thing…I don't think). You get the idea. Don't have the time, energy, or the will to do all of that yourself? No problem. I got you. In this weekly section of Book Radar, we'll take a look at something cool, interesting, and/or newsy that's going on in the book community.
So we're already over halfway through the year (woo here comes my stress and anxiety about time passing once again). How are you doing on your reading goals? If you're behind like me, there's nothing a little readathon can't fix. This summer, there are a ton of readathons going on all over BookTube. Unsure of where to start? Check out this guide to readathons happening in July!
And Here's A Cat Picture!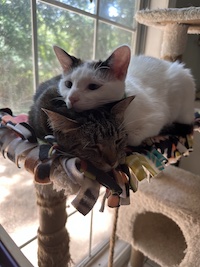 Today, we have some guest stars in the newsletter! Everyone, meet Pizza Roll and Gwen. These two cuties belong to my friends Mary and Todd. I couldn't get over how cute they look stacked on top of each other here, and I thought you all would enjoy them as well.
On that pleasant note, have a wonderful week, and happy week-before-Barbie!