Welcome to Check Your Shelf. I had a belated birthday celebration with my family, and as part of my gift, my mom wrapped up a jar of pickles. The last couple of times I'd been at my parents' house, my mom had pickles out, and I went to town on them because we can't get the good kind at our grocery store. My husband HATES pickles, so he was absolutely perplexed at how excited I was over a jar of gherkins.
Don't forget to check out Book Riot's newest podcast, First Edition where BookRiot.com co-founder Jeff O'Neal explores the wide bookish world, and interviews authors such as S.A. Cosby, Khaled Hosseini, Sarah Bakewell, and Yahdon Israel. Subscribe to hear them and stay to hear Book Riot's editors pick the "it" book of the month.
Collection Development Corner
Publishing News
The USA Today Booklist is back!
ByteDance, the owner of TikTok, is launching a publishing company.
A look at how AI could end up writing best-selling novels.
How "review bombing" can tank a book before it's even published.
Plus, why Goodreads has no incentive to deal with trolls, spam, and harassment.
How hard could it be to translate a picture book?
New & Upcoming Titles
The Millions has their giant book preview for the second half of 2023.
STOP THE PRESSES: TANA FRENCH HAS A NEW BOOK COMING IN 2024!!!!
Alyssa Cole also has a new thriller coming out!!
Viola Ford Fletcher, the oldest living survivor of the Tulsa Race Massacre, is publishing a memoir.
Dame Judi Dench is publishing a book about the Shakespearean roles she's played in her career, called Shakespeare: The Man Who Pays the Rent.
Former New Zealand prime minister Jacinda Ardern is writing a book about leadership.
Keep an eye on this dystopian thriller by Soyoung Park, which is described as "Squid Game meets the Hunger Games."
Here's the (gorgeous!!) cover reveal for Amina Akhtar's latest book, Almost Surely Dead.
And here's the cover reveal (and an excerpt!) from Stephen Graham Jones' conclusion to the Indian Lake trilogy: The Angel of Indian Lake.
Cover reveal and excerpt for Stacy Willingham's upcoming thriller, Only If You're Lucky.
Cover reveal for Jada Pinkett Smith's upcoming memoir, Worthy.
Cover reveal for Cadwell Turnbull's We Are the Crisis, the sequel to No Gods, No Monsters.
Debut authors to watch this fall.
The best crime novels of the year (so far).
Summer reading picks from Essence, The Guardian, The Millions (poetry), PBS.
July picks from Barnes & Noble, Epic Reads, Goodreads (YA), Kirkus, New York Times.
What Your Patrons Are Hearing About
The Art Thief: A True Story of Love, Crime, and a Dangerous Obsession – Michael Finkel (Crime Reads, New York Times)
A Thread of Violence: A Story of Truth, Invention, and Murder – Mark O'Connell (New York Times, Slate)
The Imposters – Tom Rachman (LA Times, New York Times)
Little Monsters – Adrienne Brodeur (Washington Post)
The Memory of Animals – Claire Fuller (Washington Post)
The Rachel Incident – Caroline O'Donoghue (New York Times)
RA/Genre Resources
Why Lessons in Chemistry is the biggest debut novel of the past year.
Colleen Hoover's 26 books in chronological order.
The appeal behind four popular mystery tropes.
Be aware of these harmful tropes and stereotypes in LGBTQ+ fiction.
Is 2023 the year of the "slim read?"
What happened to all the sports books?
A look at how Cat Sebastian writes her queer historical romances.
On the Riot
New YA books being published this summer.
The best new weekly releases to TBR.
July picks for mysteries & thrillers, SFF, horror, romance, nonfiction, YA, children's.
Why you should read reviews AFTER you've read the book.
From fan fiction to TikTok: long live the microgenre.
The advantages and pitfalls of illustrated romance covers.
What is Regency romance?
Welcome to the Stone(punk) Age.
Australian noir and the best Australian crime fiction.
Why are dystopian books so white?
The 50 best book covers of 2022.
Delighting velocireaders since 2017, Book Riot's New Release Index will keep you in the know about all the latest books. Start your 14-day free trail today.
All Things Comics
Fall 2023 YA comics & graphic novels announcements.
Penguin Random House launches a new pop-comics imprint.
Tokyopop launches a new romance manga label with four new titles.
Apparently the adaptation of Nimona has been so popular that Amazon SOLD OUT last week!
Here's the trailer for Heartstopper, Season 2.
On the Riot
New horror manga and manhwa to check out in 2023.
July releases for comics/graphic novels and manga.
8 excellent LGBTQ+ nonfiction manga.
Books and comics for fans of Adventure Time.
Discover the foundation of manga art styles.
How to create haunted spaces in comics.
Audiophilia
9 of the best audiobooks about American history.
Book Lists, Book Lists, Book Lists
Children/Teens
The best chapter books to read as a family.
11 Jenny Han books to read if you loved XO, Kitty.
23 romances to live out your romcom dreams.
Adults
7 novels about questionable geniuses and false saviors.
The best stories about storytelling.
Top 10 summer love stories.
6 hip hop books that chronicle the genre.
Books about reimagined family.
15 delightful romances set in bookstores and libraries.
On the Riot
8 of the best potty training books.
10 engaging chapter books for third graders.
9 of the best monster girls in YA.
A 20th century queer lit reading list. ​​
11 books in translation from East Africa.
8 books about the relationship between humans and animals.
Strange and obscure fairy tales.
Fast-paced reads to make you neglect life.
The 20 most-famous books of all time.
10 summer camp horror novels to keep you up past lights out.
20 genre-defying fantasy books.
10 lively Irish romance novels.
8 magical Peter Pan retellings.
28 of the best queer fantasy books.
8 of the best action-packed romance novels.
The best vampires in literature.
20 must-read fiction and nonfiction books about the disability experience.
Level Up (Library Reads)
Do you take part in Library Reads, the monthly list of best books selected by librarians only? We've made it easy for you to find eligible diverse titles to nominate. Kelly Jensen has a guide to discovering upcoming diverse books, and Nora Rawlins of Early Word has created a database of upcoming diverse titles to nominate as well that includes information about series, vendors, and publisher buzz.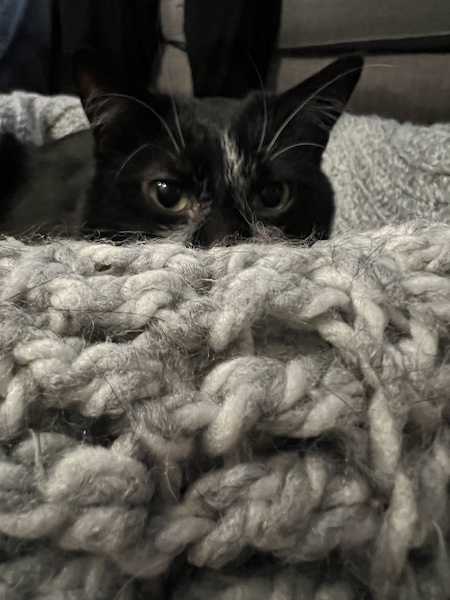 Dini is like Santa…he's always watching.
Well, that's all I've got for today. Let's check in again on Friday.
—Katie McLain Horner, @kt_librarylady on Twitter.