Hey‌ ‌there‌ horror fans, ‌I'm‌ ‌Jessica‌ ‌Avery‌ ‌and‌ ‌I'll‌ ‌be‌ ‌delivering‌ ‌your‌ ‌weekly‌ ‌brief‌ ‌of‌ ‌all‌ ‌that's‌ ‌ghastly‌ ‌and‌ ‌grim‌ ‌in‌ ‌the‌ ‌world‌ ‌of‌ ‌Horror.‌ ‌Whether‌ ‌you're‌ ‌looking‌ ‌for‌ ‌a‌ ‌backlist‌ ‌book‌ ‌that‌ ‌will‌ ‌give‌‌ you‌ ‌the‌ ‌willies,‌ ‌a‌ ‌terrifying‌ ‌new‌ ‌release,‌ ‌or‌ ‌the‌ ‌latest‌ ‌in‌ ‌horror‌ ‌community‌ ‌news,‌ ‌you'll‌ ‌find‌ ‌it‌ ‌here‌ in‌ ‌The‌ ‌Fright‌ ‌Stuff.
Real quick, before we get started! Are you looking for fascinating stories, informed takes, useful advice, and more drawn from our collective experience as power readers, teachers, librarians, booksellers, and bookish professionals? Subscribe to The Deep Dive, a biweekly newsletter to inform and inspire readers, delivered to your inbox! Your first read (The Power Reader's Guide to Reading Logs & Trackers) is on the house. Check out all the details and choose your membership level at bookriot.substack.com.
Now let's get creepy, because this week's Fright Stuff is all about queer middle grade horror! I really wanted to ensure I made room for this topic during Pride this year, though — as we've all seen recently — it's a year-round issue. Kids deserve to have access to queer books across a whole spectrum of age categories and genres. But it's particularly important to me, as someone who was such a spec fic kid growing up, that they have access to queer sci-fi and fantasy stories to remind them how to dream, and queer horror stories to remind them that, yes, the things they fear are real, and it's alright to be afraid. Horror stories about queer kids just like them, who manage to persevere in the face of things that are truly frightening and terrible.
So that's why this week we celebrate just some of the amazing queer middle grade horror books that are out there. Buy one for the young reader in your life! Or ask your local library to order a copy if they haven't already, and help them stock their shelves with books for all the queer horror kids in your community!
Bookish Goods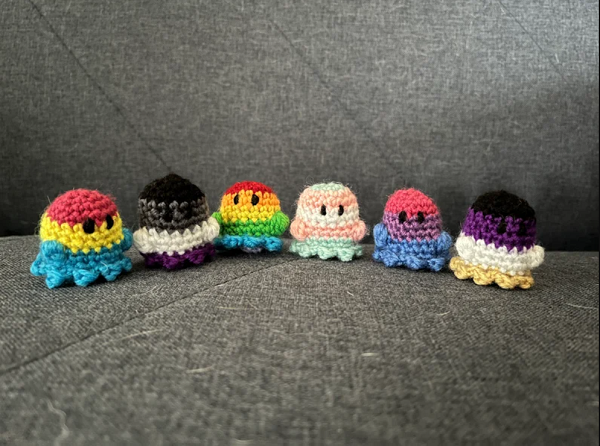 Get yourself a little ghost friend for pride this year! These tiny crocheted ghosties from MiniGhostShop are too cute (as is everything in their shop, by the way!) and would make an excellent companion for your desk, side table, or bookshelves. Aside from the flags shown in the image, if you select the "Other" option on the drop down menu, you can request any pride flag of your choice in the customization box and MiniGhostShop will crochet you up an adorable boo buddy of your very own.
$5
New Releases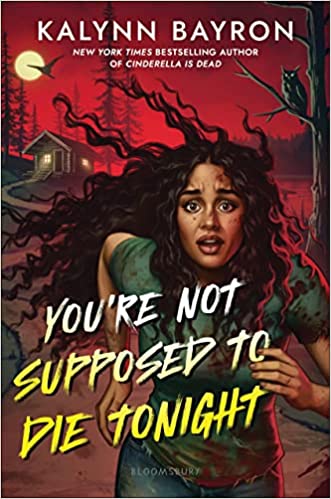 Tomorrow is publication day for You're Not Supposed to Die Tonight! Slasher fans get ready to hit that order button, because this is one summer read you won't want to miss out on. Bayron is taking us all the way back to our bloody, messy genre roots with this gem of a lakeside summer camp slasher. Horror fan Charity scored the perfect summer job when she got cast to play the "final girl" in an interactive attraction based on the classic slasher, Curse of Camp Mirror Lake. It's a full-contract experience where guests pay to immerse themselves in scenes from the film. The more frightening the better. Until the last weekend of the season when things at Camp Mirror Lake take a deadly turn, leaving Charity and her girlfriend Bezi fighting to survive the unknown killer that's picking off Charity's fellow cast members one by one.
I actually just finished Night's Edge the other day, and it was so good! I found Kerin's take on vampirism fascinating. We've seen "viral vampirism" before, sure, but there was something about the Saratov virus in Night's Edge that felt fresh and frightening. Mia doesn't have friends. She doesn't go to clubs after school. She doesn't date. She doesn't let anyone in to her life, because no one can ever find out about her mother. It isn't Izzy's fault that she needs blood to live, it's all because of that deadbeat she was dating, but if the world finds out she's infected with the Saratov virus, she'll disappear, stuffed into one of the special facilities designed to "rehabilitate" the modern vampire. But it's a lonely life, being her mother's blood donor and caretaker, and Mia feels the weight of her isolation. So when she meets Jade, a musician with a family history (almost) as complicated as Mia's own, and gets her first taste of freedom, everything starts to change. For better or worse.
For a more comprehensive list, check out our New Books newsletter!
Riot Recommendations
Quick note: I didn't intend to end up with two graphic novels on this list. I was pulling together books that sounded amazing, only to realize I ended up with one prose book and two graphic novels. But we all agree that graphic novels are just as valid as prose books, yes? It's 2023, and no one's going to DM me, angry that I suggested graphic novels and not "real books?"
Okay. Cool. Don't make me set the bats on you.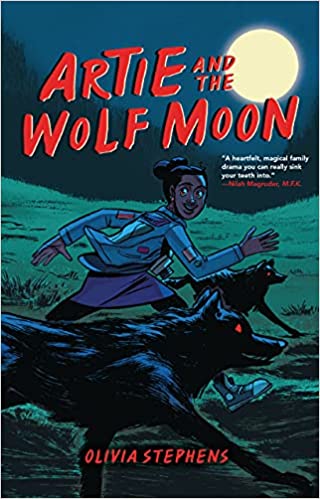 Werewolves vs. Vampires! A horror rivalry for the ages, and one at the heart of Olivia Stephens' graphic novel Artie and the Wolf Moon. When Artie Irvin sneaks out of the house one night and catches her mother turning into a werewolf — or rather, a werewolf turning back into her mother — her whole life turned upside down. Reluctantly, Artie's mom tells her everything: about where they come from, about the father that died when Artie was small, and the long line of werewolves from which they are descended. But even though Artie couldn't be more excited about uncovering her own wolfish tendencies and becoming part of the larger werewolf community, not every new discovery is a good one. It turns out werewolves aren't the only monsters in the world.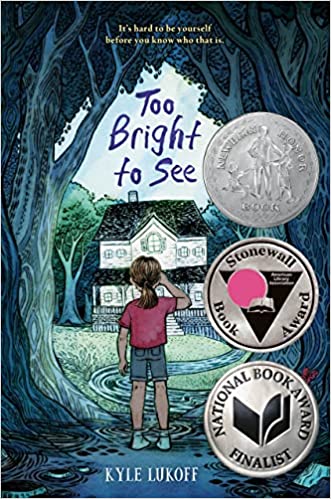 You've heard me say it before: the best ghost stories are about more than ghosts. So it is with Kyle Lukoff's Too Bright to See, about a young trans kid discovering who they are while trying to uncover the truth about the ghost haunting their house. Bug is 11, just getting ready to start middle school, and even though summer is supposed to be the best part of the year when you're a kid, Bug's isn't off to a great start. Bug's best friend Moira only wants to talk about boys and how to be the right kind of girl for middle school, which Bug couldn't care less about, and oh by the way, Bug's house is haunted! But the more Bug digs into the mystery of the ghost and what it wants, the more difficult the questions Bug has to answer. And not just about the ghost.
Another Kind by Trevor Bream (Illustrated by Cait May)
Another Kind is one of those great graphic novels that's going to appeal to so many readers. It's Stranger Things meets D&D meets just enough creepy monster goodness to tip it into the dark side of fantasy, veering towards horror. Six children, each a little bit more than human, are forced to flee a secret government facility known as the Playroom, where they were being raised and taught how to control their powers. The Playroom kept them safe and hidden from the world. Now they only have each other to rely on as they try to navigate their frightening new reality, and evade the clutches of the mysterious shadowy being stalking their every move. The thing that calls itself The Collector.
As always, you can catch me on twitter at @JtheBookworm, where I try to keep up on all that's new and frightening.