Welcome to Read This Book, a newsletter where I recommend one book that I think you absolutely must read. The books will vary across genre and age category to include new releases, backlist titles, and classics. If you're ready to explode your TBR, buckle up!
Looking for fascinating stories, informed takes, useful advice, and more drawn from our collective experience as power readers, teachers, librarians, booksellers, and bookish professionals? Subscribe to The Deep Dive, a biweekly newsletter to inform and inspire readers, delivered to your inbox! Your first read (The Power Reader's Guide to Reading Logs & Trackers) is on the house. Check out all the details and choose your membership level at bookriot.substack.com.
Because we are right in the middle of Pride, I thought I'd share another great queer read today! This book combines some of my favorite elements—pining, classic retellings, hijinks, and coming of age!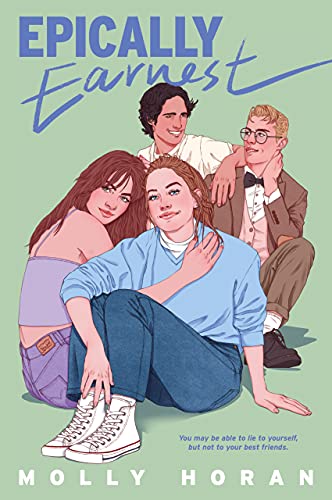 Jane was one of the very first people to go viral on the Internet when she was discovered as a baby in a Gucci handbag in a Poughkeepsie train station. She's since grown up and been adopted by the man who found her, and has a very nice and happy life — which is why it's a bit of an affront that her incorrigible best friend Algie submits a DNA test on her behalf to find her bio family. As Jane deals with the roil of emotions that comes from searching out her birth family, she's also falling for Algie's beguiling cousin Gwen, and trying to keep Algie from breaking her cousin Cecil's heart. It's a lot to juggle — and she has to figure out a way to be honest with herself and what she wants if she's going to find true happiness.
This is a really fun and clever retelling of one of my favorite Oscar Wilde works, The Importance of Being Earnest. I love that Horan recasts Wilde's class-conscious characters as NYC teens who live with varying degrees of privilege and who are trying to find their own way in the world. Algie is over the top and fun, and I love that you can really feel the friendship between him and Jane, even when they're driving each other to exasperation. The romance between Jane and Gwen is really sweet as well, and I liked that it felt both inevitable and uncertain as they figured out a way to communicate what they need and want. This is a book about facing the realities of growing up: Relationships change, needs shift, and what we thought we wanted can morph into something different. But this story is also about holding on to what (and who!) you love throughout those changes, and finding your true self in the process. It's a quick read, but utterly enjoyable and laugh out loud funny!
Subscribe to First Edition for interviews, lists, rankings, recommendations, and much more, featuring people who know and love books.
Happy reading!
Tirzah
---
Find me on Book Riot, Hey YA, All the Books, and Twitter. If someone forwarded this newsletter to you, click here to subscribe.