Welcome to Check Your Shelf. This week feels like it's been death by a thousand tiny cuts…no one thing has been particularly stressful, but the number of small things I have to do this week is getting a little ridiculous. I am very much looking forward to the weekend.
Don't forget you can subscribe to The Deep Dive, a biweekly newsletter to inform and inspire readers, delivered to your inbox! Your first read (The Power Reader's Guide to Reading Logs & Trackers) is on the house. Check out all the details and choose your membership level at bookriot.substack.com.
Libraries & Librarians
News Updates
New York City sues the architects of a newly built Queens library over a lack of accessibility and non-compliance with the ADA.
Cool Library Updates
Governor Pritzker has created a statewide partnership with Dolly Parton's Imagination Library!
The Boston Public Library announces a $1 million gift to expand the library's LGBTQ+ programming and collections.
Worth Reading
Are public computers becoming obsolete in the library?
Book Adaptations in the News
Ruth Ware's most recent novel, Zero Days, has been acquired for a series adaptation.
Perry Mason has been canceled after 2 seasons on HBO.
Rob Savage, director of the recent Stephen King adaptation The Boogeyman, says that he'd like to try his hand at directing another SK story: The Langoliers.
Here's the trailer for Good Omens, Season 2.
Censorship News
The White House announces a new position with the Department of Education to help combat book bans.
Shiny Happy People is a must-watch to understand today's book ban movement.
As conservatives target schools, LGBTQ+ kids and students of color feel less safe.
In the field: school librarians share their battles with book banning.
Texas governor Greg Abbott has officially signed the legislation banning "sexually explicit" books in school libraries.
HarperCollins and Scholastic have backed the ongoing lawsuit filed by Llano County (TX) patrons.
Seminole County Public Schools (FL) "is offering to reprint this year's Lyman High School yearbook and remove two pages for parents upset about LGBTQ+ content, prompting criticism that the district isn't standing up to bigotry. The pages highlight the school's LGBTQ+ community and provide definitions of terms such as genderfluid and pansexual." WOW. Way to fail your LGBTQ+ students, Seminole County. Let's just pretend they don't exist because a group of angry parents don't believe they have a right to exist.
Brevard Public Schools (FL) have removed three poetry collections by Rupi Kaur, and by policy, the decision cannot be appealed for eight years.
A report on some of the many reasons why teachers are leaving Florida schools.
Georgia residents are getting a limited chance to comment on a proposed vote to remove "woke" words from K-12 lesson plans. (Please, someone…what the hell does that even mean?)
I'm paywalled, but St. Tammany Parish Library (LA) has returned four books that had previously been sequestered behind the desk.
Louisiana lawmakers approve a bill that would limit sexually explicit materials to minors in libraries, although several amendments are currently being debated.
There was a recent protest over a drag queen story hour in Waterville, Maine despite support from the mayor. "Mayor Jay Coelho of Waterville openly supported the drag queen story hour, asserting the importance of everyone being able to read to children if they so choose. He stressed the necessity of equality in society, noting that many of the protestors were not even local residents." (Emphasis mine, because this is such a boringly predictable theme in these types of stories.)
(Paywalled) Starting this fall, Hermon High School (ME) students will need parental permission to read or check out books containing sexual content.
A proposal in Amherst, Pelham and Amherst-Pelham Regional schools (NH) would limit book challenges to actual residents of the district.
A recent bid to withhold funding from the Joshua Hyde Public Library (MA) over a Zoom-based drag queen story time program has failed.
How MassResistance (a SPLC-designated hate group, mind you) fueled the book burning fervor at Ludlow Schools (MA).
The Essex Public Library (CT) has restored their Pride displays after an unknown patron recently removed 20 books.
Newtown (CT) school board voted unanimously to retain Flamer and Blankets.
Westerly Town Council (RI) rejects a resolution backing a proposed library obscenity bill.
The 11 books being challenged at Roxbury High School (NJ).
Nazareth and Parkland school districts (PA) have both received lists of books that a group of parents wants removed from the libraries, but both districts say nothing has been removed from the shelves, and no policies have been implemented that would restrict a student's ability to access them.
The Pennridge (PA) School Board will be working with Vermilion Education at an upcoming meeting. Vermilion's services were previously rejected by the Sarasota School Board in Florida, after a trustee and Moms for Liberty co-founder orchestrated the push to work with Vermilion. Their website includes this little nugget on their Missions & Principles page: "Citizen control over education via their representatives on the school board is what makes public education public."
Punxsutawney (PA) School Board heard from multiple people both in favor and against banning books. I particularly like this point that one of the attendees made: "Focusing on isolated paragraphs or sentences doesn't show the true meaning of a book, and using someone else's explanation of a book is just parroting rather than forming a conclusion."
Manheim Township High School (PA) administrators are recommending that the school retain Identical by Ellen Hopkins.
Parents in Wicomico County (MD) are getting their undies in a twist over "obscene materials" in the schools. "What are these obscene materials?" Apparently not even the parents know, because nowhere does the article point to specific titles.
Protestors coverage on Montgomery County Public School (MD) headquarters in response to a recently revised policy, which says that the school will NOT give parents prior notice when reading LGBTQ+ inclusive books in school, and families will not be allowed to opt their students out of participating.
The Samuels Public Library (VA) faced a number of funding critics during a recent budget proposal meeting.
Catawba County (NC) schools discussed changes to their book challenge procedure, and set hearing dates for three challenged books. It's remarkable how much this language implies that it's the books themselves that have done something wrong.
This article from Wake County, North Carolina argues that students shouldn't be allowed to serve on book review committees because they might be exposed to "vile nonsense." Yet another way to prove to students that the adults in charge of their education don't give a lick about their rights.
Beaufort County (SC) School Board has voted to uphold the recommendations that seven challenged books be returned to school library shelves.
In Saline County, Arkansas, the county judge just gave himself oversight of the library board, and by extension, management and operations of the library as well. Nope, no problems here.
Whitehall (MI) parents are challenging three books currently available in the district.
Residents have filed a petition to recall members of the Caro Public Library (MI) Board who disagree with recent book banning attempts.
Menomonee Falls (WI) residents are worried about the fate of their library after three board members were ousted and the budget was cut by $250,000.
The West End School Board (WI) has a couple of trustees that are interested in having books pulled from the school libraries.
Illinois has officially banned book bans!
The Sioux City West High School (IA) valedictorian used his graduation speech to advocate for LGBTQ rights.
Iowa's new legislation that opens the door for more book bans ALSO protects the names of parents who request the removal of books or other educational materials from a school district. In other words, this information will not be considered a public record subject to disclosure.
Mid-Continent Public Library (MO) has removed LGBTQ Pride displays for kids and teens in order to comply with Missouri's new library rules.
Great Falls Library (MT) passed its mill levy by just over 600 votes, allowing the library to clear its fiscal shortfall, add 12 full-time employees, and increase building and materials budgets. This also came amongst greater local election scrutiny.
Idaho Falls Public Library is making all parents re-register their children for library cards, so that the library can enact a new policy preventing children from accessing different types of materials. You know what they could do instead? They could make parents opt in to a program like this. Or, even more radically, not restrict access at all because they're a public library and shouldn't be restricting access in the first place.
Back in March, the Ada Community Library Board voted to remove six books, but the vote was held illegally, so now the books are back on the shelves.
People are upset that the Lander Valley High School (WY) library includes the book Let's Talk About It.
Amongst the other information in this article about ongoing debates re: book bans in Laramie County School District No. 1 (WY): only 41 parents (out of thousands) have elected to opt their children out of certain library books.
Douglas County (CO) bigots have been declaring victory on their social media against the public library and several challenged books, except it's not true.
I'm paywalled, but the ginormous book review committee at the Greeley-Evans School District (CO) is recommending that the schools retain two challenged books.
At the May board meeting for the Garfield County Public Libraries District (CO), a member of the public expressed concern that a member of one branch's staff "appeared to be transgender." This is the stuff that makes me sick to my stomach, and it just goes to show that this nonsense has never been about the books at all. It's been about controlling, ostracizing, and attacking people who don't conform to one particular set of cultural norms.
Arizona governor Katie Hobbs vetoes a bill that is allegedly to prevent the filming of sex acts on public property, but which Hobbs says is a "thinly veiled effort to ban books.
Rio Rancho Public Libraries (NM) have refused to pull a number of books despite pressure from local right-wingers. From the article: "'We're not parents right? We're librarians. So we're not here to control anyone's access. You as a parent are responsible for checking what your children read and keeping an eye out on that.'"
"Temecula's (CA) conservative school board majority has blocked a history textbook because its supporting materials mention slain gay rights leader Harvey Milk."
Western Placer Unified School District (CA) will make a decision later in June about whether or not The Hate U Give should remain in the curriculum.
The Liberty Lake City Council (WA) failed to override a mayoral veto on their proposal that would have given the council final say over library policies. Say it with me now…WOMP WOMP.
Tips for parents who insist that all conversations about gender should happen at home: how to talk to your young children about gender.
Books & Authors in the News
Literary titan Cormac McCarthy has passed away at 89.
Best-selling romance author Julia Garwood has passed away at 78.
Elizabeth Gilbert has announced that she's pausing the publication of her upcoming book The Snow Forest after intense backlash from her Ukranian readers because the book is set in Russia. Pundits have since weighed in on the decision.
New incriminating details have emerged in the case against the Utah mom and picture book author, who has been charged with the murder of her husband.
Debut author Sarah Steusek posted a TikTok going after a Goodreads reviewer who left her book a one-star rating, and now she's been dropped by her publisher.
Writers are now raising doubts about the veracity of an eight-year-old book about Tennessee Williams, Follies of God: Tennessee Williams and the Women of the Fog.
Numbers & Trends
Despite book bans, LGBTQ+ fiction sales are soaring.
Want a living wage? You won't find it working at most indie bookstores.
The best-selling books of the week.
Subscribe to First Edition for interviews, lists, rankings, recommendations, and much more, featuring people who know and love books.
Award News
The 2023 Lambda Literary Awards have been announced.
The 2023 Tony Awards were announced last weekend.
The 2023 Arthur C. Clarke Award shortlist has been announced.
Bookish Curiosities & Miscellaneous
Elizabeth Banks is starting a book club exclusively for drinking wine.
On the Riot
Have some Pride in the Library goodies to cheer you up. 🙂 I myself am aiming for the Libraries Are a Safe Space T-shirt and the Libraries Are for Everyone tank top.
The literary life of Elliot Page.
How does Bookworm Reads compare to Goodreads or Storygraph?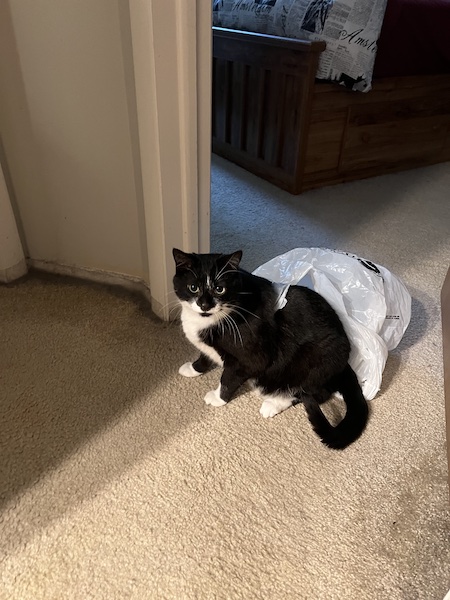 Well, there was no question about which photo was going in this newsletter. Blaine heard a rustling noise and thought Dini had gotten into something in the kitchen. Nope. Instead, he had gotten his chonky butt stuck in a plastic bag handle and was just wandering around with the bag trailing behind him, like "What? That's always been there."
Okay friends, we made it to Friday!! Have a great weekend and I'll pop back in next week.
—Katie McLain Horner, @kt_librarylady on Twitter.