Hello mystery fans! I finished the second season of With Love (Prime) and feel exactly the same as when I finished Primo (Prime/freevee ): I need more, now! In my reading life this week my internet provider rudely cut everyone's internet/cable for two days to do work and I used the time to inhale Elliot Page's memoir Pageboy the second it dropped. Highly recommend the audiobook format and making time for this book — Publishing is especially killing it in the nonfiction/memoir department these last few years.
And have you checked out Book Riot's newest newsletter? If you're looking for fascinating stories, informed takes, useful advice, and more drawn from our collective experience as power readers, teachers, librarians, booksellers, and bookish professionals, subscribe to The Deep Dive, a biweekly newsletter to inform and inspire readers, delivered to your inbox! Your first read (The Power Reader's Guide to Reading Logs & Trackers) is on the house. Check out all the details and choose your membership level at bookriot.substack.com.
Bookish Goods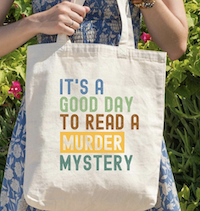 Whether you like or hate summer, it does seem to be a season where you might lug around more things and why not get a tote bag for that? ($20)
New Releases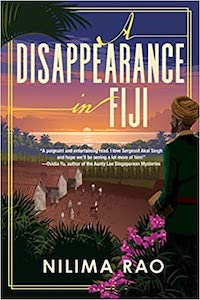 For fans of historical mysteries, especially with settings rarely depicted!
This is set in Colonial Fiji (1914), where Akal Singh, a Muslim Sikh British Police officer, has been relocated from Hong Kong as punishment. His new assignment is given to him with instructions to not really investigate but he wants to prove himself, and really there does seem to be something going on at the sugarcane plantation where an indentured Indian woman is missing.
For fans of crime novels!
This is set in the summer of 2017 when violence and hate towards marginalized voices started to increase. Nikki Finch, a transgender woman who owns Beatnik café, felt the impact when her business partner was attacked by a neo-Nazi. With herself, family, and community in danger, Nikki feels like her life has become a choice: kill or be killed. Does she plan and pull off a perfect murder or will that set the wrong example for her daughter?
For a more comprehensive list of new releases, check out our New Books newsletter.
Riot Recommendations
Here are two very different novels with fictional serial killers.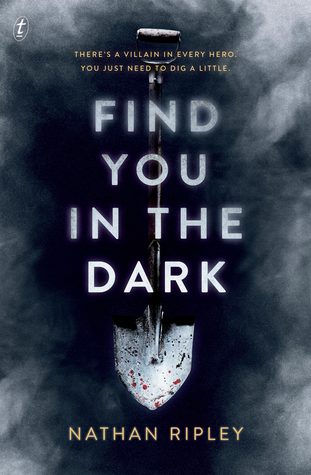 For fans of fun thrillers and shows like Castle and Dexter where it's just ridiculous enough to make it entertaining and not real or stressful!
Martin Reese has created a really unique profession for himself: he pays a cop to give him unsolved cases and then he solves the case, finds the body, and anonymously calls it into the police. It's all fun and games until a killer is pissed his bodies are being found and the crooked cop starts to question this arrangement…
(TW child abuse/ stalking/ suicide/ past domestic abuse mentioned)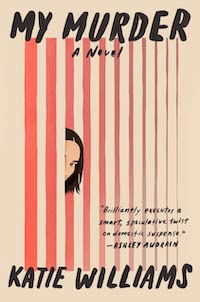 For fans of twisty mysteries that want something that feels slightly out of the box!
This has a few interesting angles: it is not about catching a serial killer, nor focused on them; it also has a tiny sci-fi blip of people brought back to life.
Lou was the victim of a serial killer. She is dead. Well her first body is. She was brought back to life by a program that grew a new her from a sampling of her murdered self known as Replication Commission. She knows she was murdered by a serial killer but since short term memory and trauma don't come through in the procedure, she knows everything about her life except her murder. The serial killer has been caught. She's in a serial killers survivor group, and home with her husband and her baby. But there are questions that are starting to come up about her murder and, well, maybe things didn't happen exactly as is believed…
This doesn't focus on any sci-fi stuff, it's very much our world with this one twist. So if you normally shy away from sci-fi, this could be a good toe-dip-in-water if you're feeling a bit adventurous.
For audiobook readers: Rebecca Lowman, who has a lot of thrillers under her belt, narrates.
(TW brief recount of past emotional abuse, domestic murder/ mentions stalking/ past postpartum)
News and Roundups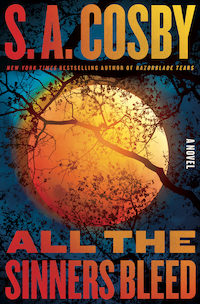 Liberty and Danika chat about new releases on All the Books! including All the Sinners Bleed by S.A. Cosby and My Murder by Katie Williams.
Book Banners Moms for Liberty Labeled a Hate Group
The Bible Officially Banned in Utah School District
Perry Mason Canceled After Two Seasons on HBO
Two summer suspense novels delight in overturning the 'woman-in-trouble' plot
Tiffany Haddish Investigates a Wedding Murder Mystery in The Afterparty Season Two Trailer