Welcome to Check Your Shelf. I don't know if I'm ashamed or proud to announce that I still haven't unpacked my suitcase from last week…maybe I can split the difference and just say I'm unsurprised. I mean, I've unpacked the essential things, like dirty clothes and shampoo, but the rest of my stuff is just hanging out in suitcase limbo. Tune in next week to see if the situation has changed!
Collection Development Corner
Publishing News
If you weren't already aware, New Leaf Literary & Media is facing a huge amount of backlash for how they dropped several authors from the agency.
Former Public Enemy member, Chuck D, launches a book and an imprint at the U.S. Book Show.
Pearson is taking legal action over use of its intellectual property to train AI models.
Not even NYT bestsellers are safe from AI-generated cover art.
New & Upcoming Titles
Tor Books signs Amal El-Mohtar to a four-book deal.
Willie Nelson is publishing a new book.
Johnny Cash's lyrics are going to be collected in book form for the first time.
Walter Isaacson's biography of Elon Musk is scheduled for a mid-September release.
Patrick Rothfuss has a new novella coming out in November.
Cover reveal for Heather Fawcett's next book in the Emily Wilde series, Emily Wilde's Map of the Otherlands.
New LGBTQ+ YA books to read for 2023.
5 new memoirs to put on your radar this year.
The best recent crime thrillers.
5 new fantasy novels that invigorate old tropes.
14 highly anticipated books for this summer.
Weekly book picks from Crime Reads, LitHub, New York Times, USA Today.
June picks from Barnes & Noble (adults, kids)
What Your Patrons Are Hearing About
Yellowface – R.F. Kuang (Bustle, New York Times, NPR, The Rumpus, Shondaland, Washington Post)
Quietly Hostile – Samantha Irby (NPR, Shondaland)
Close to Home – Michael McGee (New York Times, Washington Post)
Life B: Overcoming Double Depression – Bethanne Patrick (LA Times. Washington Post)
Berlin – Bea Setton (New York Post, Washington Post)
RA/Genre Resources
Here are the big book club picks for May 2023.
Men talk about loving romance novels, including baseball superstar Bryce Harper.
Medical mysteries are the new true crime.
On the Riot
8 new fiction books exploring mental health issues.
New and upcoming nonfiction and poetry by AAPI authors.
The best new weekly releases to TBR.
8 of the best books by Isabel Allende.
What is a marriage of convenience in romances?
A brief introduction to social horror.
An introduction to "weird queer" literature.
All Things Comics
The Eisner Award nominees have been announced.
Chiwetel Ejiofor joins the cast of Venom 3.
Archie Comics is introducing its first trans character.
5 innovative ways to use graphic novels as teaching tools.
On the Riot
12 of the best cozy manga that feel like warm hugs.
The longest-running comic strips of all time.
Audiophilia
Roxane Gay, Carrie Brownstein, Jane Lynch, and more are starring in the Audible adaptation of Dykes to Watch Out For.
New mystery & thriller audiobook picks that focus on cold cases.
On the Riot
20 must-read short stories on audio.
Looking for fascinating stories, informed takes, useful advice, and more from experts in the world of books and reading? Subscribe to Book Riot's The Deep Dive to get exclusive content delivered to your inbox.
Book Lists, Book Lists, Book Lists
Adults
Humorous mysteries to pick up this summer.
Top 10 strangest alien invasion novels.
8 fantasy books about working in the afterlife.
25 best fantasy books of all time.
13 Asian Latinx writers you should know for AAPI Heritage Month.
10 novels about the drama of working for the family business.
9 mermaid romance books that make a splash.
8 thrillers set over the course of three days or less.
11 biker romances to rev your engines.
10 grand estate mysteries that'll invite you in.
On the Riot
8 picture books to celebrate AAPI Heritage Month.
8 heartwarming children's books about respect.
10 books about disability for kids and teens.
12 teen books that prove nothing is off limits for YA.
9 classic horror novels, old and new.
12 disaster girl novels to make you feel better about your own life choices.
10 contemporary romance recommendations for straight men.
10 existential horror novels to make you question everything.
Visit with these Appalachian memoirs.
24 life-changing healing books.
10 middle-aged protagonists in SFF.
Level Up (Library Reads)
Do you take part in Library Reads, the monthly list of best books selected by librarians only? We've made it easy for you to find eligible diverse titles to nominate. Kelly Jensen has a guide to discovering upcoming diverse books, and Nora Rawlins of Early Word has created a database of upcoming diverse titles to nominate as well that includes information about series, vendors, and publisher buzz.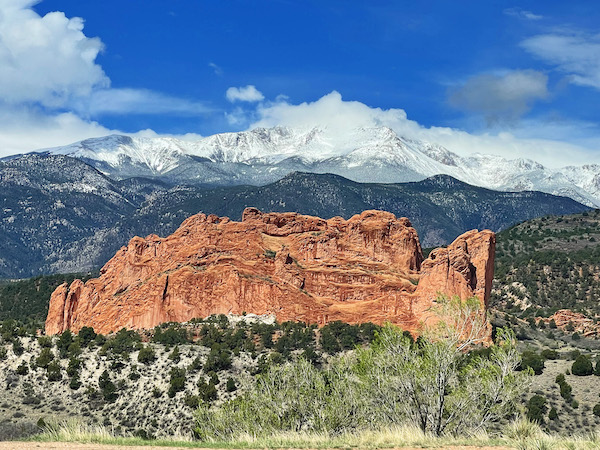 I'm missing the altitude of Colorado, so here's one of the best photos I took on vacation. If you have an opportunity to visit Garden of the Gods, please take advantage of that — it's free to visit, and it's spellbindingly gorgeous.
Don't forget, Book Riot has a new podcast called First Edition, with bookish interviews, lists, rankings, retrospectives, recommendations, and much more! Subscribe to First Edition on Spotify, Apple Podcasts, or your podcatcher of choice.
—Katie McLain Horner, @kt_librarylady on Twitter.