Welcome to In Reading Color, a space where we focus on literature by and about people of color.
If you haven't heard the latest Bookternet thing, it happened last week and involves Twitter user Bigolas Dickolas. Bigolas tweeted how everyone should buy This Is How You Lose the Time War by Amal El-Mohtar and Max Gladstone, and the book shot up the Amazon bestsellers list (even surpassing books that had just won the Pulitzer Prize). The book girlies sang the praises of B.D. and they even got a shoutout at the Nebula Awards (as they should!).
Bigolas Dickolas is the hero we need but don't deserve. May the rest of 2023 be filled with their energy.
Bookish Goods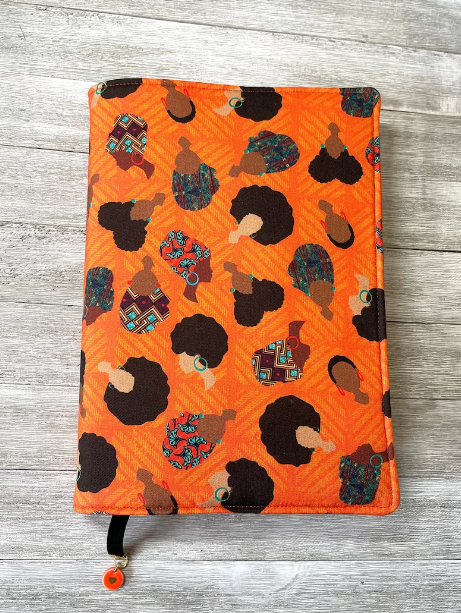 This book cover is adorable and comes in a few different sizes. $25+
New Releases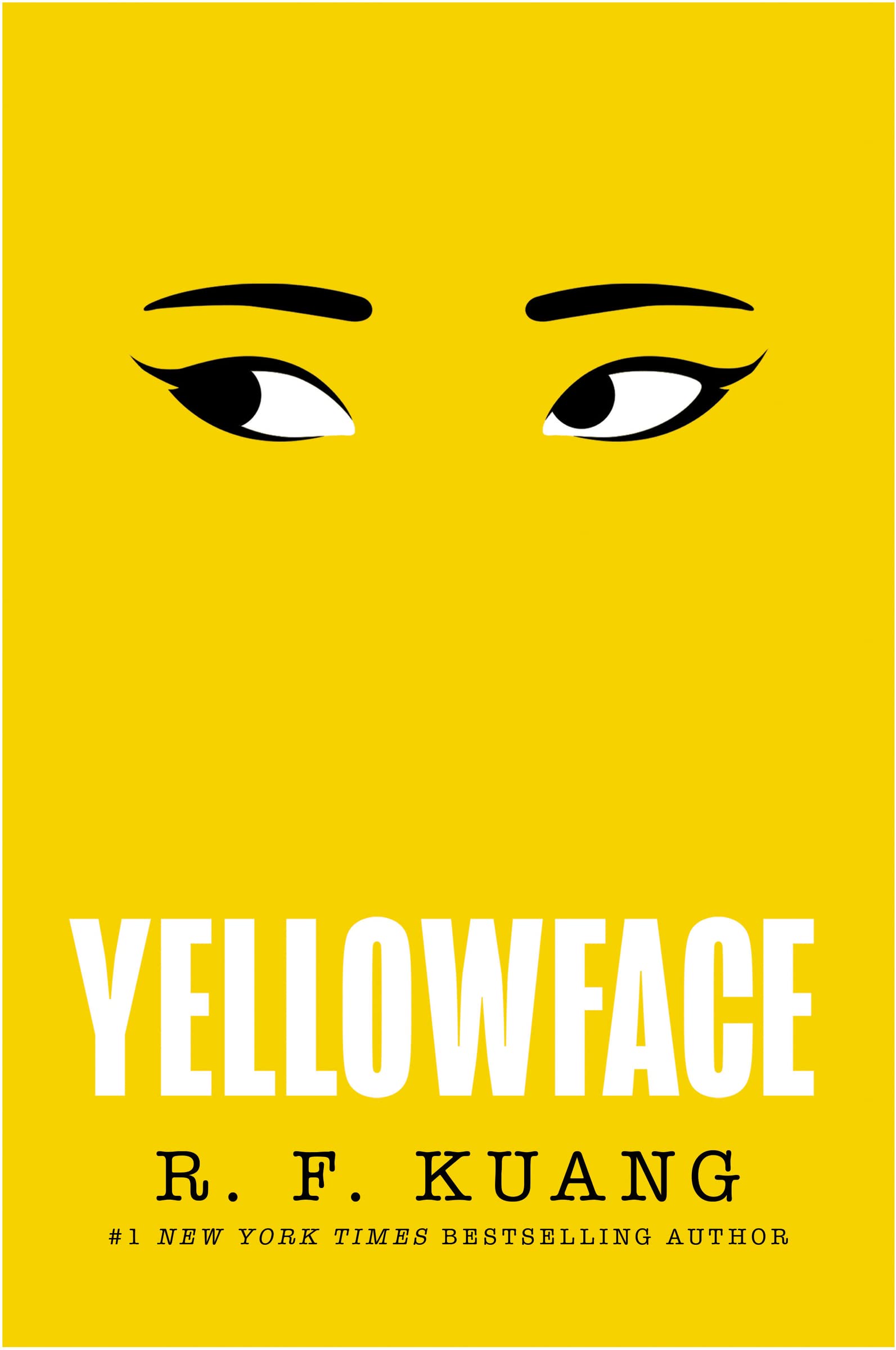 Let me holla at you one more time about this one since it's out today.
This is one of the most anticipated books of the year and one I've been more than looking forward to. It's also a book that really tells the publishing industry about itself. When June Hayward, a young white writer, and Athena Liu graduated from Yale, they were meant to rise together. At least in June's mind. Instead, Athena became the literary It Girl, and June remained on the sidelines. But then June sees Athena die right in front of her and she steals her manuscript. Once she edits the novel about the contributions of Chinese laborers during WWI, she passes it off as her own and is catapulted to book fame. She, a white woman, even gets a rebranding as Juniper Song and an ethnically ambiguous author picture. But she can't shake the feeling that someone out there knows the truth, and she is down to do what she has to do to protect her secret.
Interestingly enough, the premise of someone pretending to be another race for clout in academia or publishing has actually happened. A couple times, I might add. I'm pretty sure more cases will be revealed, and I feel like like there will be more of these scathing critiques of the publishing and academic fields by authors of color. I'm ready to receive each and every last one of them.
*Also, Kuang just won and Nebula Award for Babel.* Flowers. Give her all of them.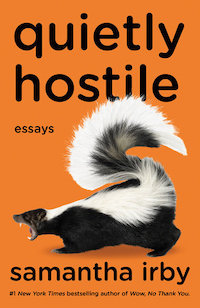 Samantha Irby has a blog titled "bitchesgottaeat," so you know any and everything by her slaps. And slap this one does. Much like in previous collections, Quietly Hostile has Irby getting into the nitty gritty of her life. She's getting calls from Hollywood, tries therapy, and maybe likes things other people judge her for. She also may have some digestive issues…Her writing is seriously funny, while also having moments of insight and tenderness.
Don't forget to check out First Edition, the new podcast started by Book Riot co-founder Jeff O'Neal. It explores the wide bookish world, with interviews, lists, rankings, retrospectives, recommendations, and much more, featuring people who know and love books. Subscribe to First Edition on Spotify, Apple Podcasts, or your podcatcher of choice.
More New Releases
Dona Cleanwell Leaves Home: Stories by Ana Castillo (Fiction, Short Stories)
King: A Life by Jonathan Eig (Biography)
Meet Me Tonight in Atlantic City by Jane Wong (Memoir)
Miss Major Speaks: Conversations with a Black Trans Revolutionary by Toshio Meronek and Miss Major Griffin-Gracy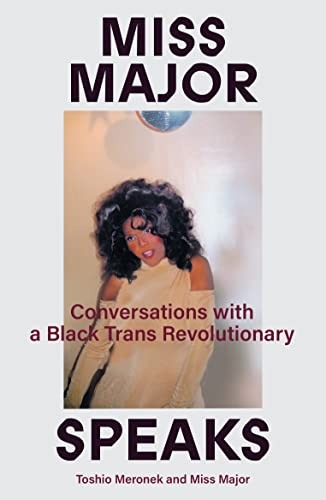 The Enchanted Hacienda by J.C. Cervantes (Magical Realism)
The God of Good Looks by Breanne Mc Ivor (Contemporary Fiction)
Thinning Blood: A Memoir of Family, Myth, and Identity by Leah Myers (Memoir)
Transmogrify!: 14 Fantastical Tales of Trans Magic, edited by g. haron davis (YA, Fantasy, Queer Short Stories)
Fake Dates and Mooncakes by Sher Lee (YA Queer Romance)
Hurt You by Marie Myung-Ok Lee (YA, Fiction)
Saint Juniper's Folly by Alex Crespo (YA, Queer Romantic Fantasy)
Venom & Vow by Anna-Marie McLemore and Elliott McLemore (YA, Fantasy)
There Flies the Witch by Mayonn Paasewe-Valchev (Middle Grade, Fantasy)
Jackie Ormes Draws the Future: The Remarkable Life of a Pioneering Cartoonist by Liz Montague (Children's Biography, Picture Book))
For a more comprehensive list, check out our New Books newsletter.
Riot Recommendations
So I've been in an odd kind of reading slump lately. I've wanted to read and been really interested in books, but kind of a little too interested. By that I mean that I've been coming across so many fire books lately that I keep starting them and not finishing…because I start another one and forget.
This past weekend, I got a kind of refresh, though. I need to go get my car fixed, which I hate doing for reasons *cries in adulting*, so I've been walking around more. And it's been…nice, actually. I'm discovering things I hadn't noticed before, and it's making me more mindful of certain things. It's also made me refresh my reading environment. Because it takes me some time to get to the library, I end up staying there for awhile to read. This weekend while there, I decided to get through some graphic novels to break out of my current non-finishing habit.
Here are a few of the ones I read:
I also checked out Spellbound by Bishakh Som, a trans graphic memoir, and horror graphic novel Infidel by Pornsak Pichetshotebut, but haven't started them yet.
Thanks for reading; it's been cute! If you want to reach out and connect, email me at erica@riotnewmedia.com or tweet at me @erica_eze_. You can find me on the Hey YA podcast with the fab Tirzah Price, as well as in the In The Club newsletter.
Until next time,
Erica