Welcome to Check Your Shelf. We arrived in Colorado Springs today (Wednesday), but I can't quite tell how I feel because traffic was bad, the weather was worse, and by the time we got to Colorado Springs, Pikes Peak was completely obscured by fog. We're used to plentiful sunshine, but this week looks like it's going to be full of clouds and rain…send good weather vibes!
Libraries & Librarians
News Updates
The deputy director for the Anchorage Public Library has resigned after ProPublica and the Anchorage Daily News documented her history of racist and transphobic comments to staff and on social media.
OverDrive marks 20 years of eBook lending.
Cool Library Updates
How to host a repair event at your library.
Worth Reading
Providing sexual and reproductive health information in a public library.
5 simple rules for navigating a national conference.
Book Adaptations in the News
All of the movies and TV shows affected by the WGA strike.
Taika Waititi is in talks to direct the adaptation of Klara and the Sun.
Tom Hiddleston and Mark Hamill are slated to star in an adaptation of the Stephen King short story "The Life of Chuck," with Mike Flanagan set to direct.
We're also getting an adaptation of Stephen King's short story "The Monkey," produced by James Wan.
Trailer for The Dry 2 (AKA Force of Nature).
Censorship News
How to support your library in the wake of rising fascism.
A look at the current slate of 2023 "right to read" bills.
Library funding becomes the "nuclear option" as the battle over books escalates.
Chelsea Handler tells Florida to get its shit together.
Social studies textbook publishers are censoring topics to comply with Florida law.
Illinois to become the first state to ban book bans.
Not surprisingly, most Michigan residents support and trust their local libraries and dislike book banning.
Boise librarian Erin Downey talks about the next steps in the library debate in Idaho.
California governor Gavin Newsome writes a love letter to librarians: "And yet, despite your indispensable contributions — or perhaps because of them — you have become the target of unjust attacks across the nation. Idealogues and demagogues are attacking you for championing diversity, inclusion, and equity — for making sure our children and all people belong. You are facing censorship, battling record numbers of book bans and challenges, as you defend free access to literary works, especially those written by authors who are often targeted: LGBTQ+ writers, writers of color, and those daring to challenge the status quo. It is more important than ever that we have your back and that we ensure and expand access to public libraries and defend your essential role in preserving freedom."
Books & Authors in the News
Steven Tyler's lawyer says that his memoir cannot be used against him in a pending lawsuit that alleges sexual assault.
The court sides with Elizabeth Warren in her dispute over RFK Jr's antivax book.
This Utah mom wrote a children's book about grief after her husband's death last year. Now she's been charged with his murder.
Everyone's talking about a mystery nonfiction book that will be released over the summer, and a lot of people think it's a Taylor Swift memoir.
How Ann Patchett became a microcelebrity on TikTok.
Numbers & Trends
The most-read YA books in college and university classes.
Looking for fascinating stories, informed takes, useful advice, and more from experts in the world of books and reading? Subscribe to Book Riot's The Deep Dive to get exclusive content delivered to your inbox.
Award News
The 2023 Pulitzer Prize winners have been announced.
The Anthony Award nominees have been announced.
Bookish Curiosities & Miscellaneous
This newly discovered butterfly species has been named after Sauron.
On the Riot
The bookish life of Pedro "Internet Daddy" Pascal.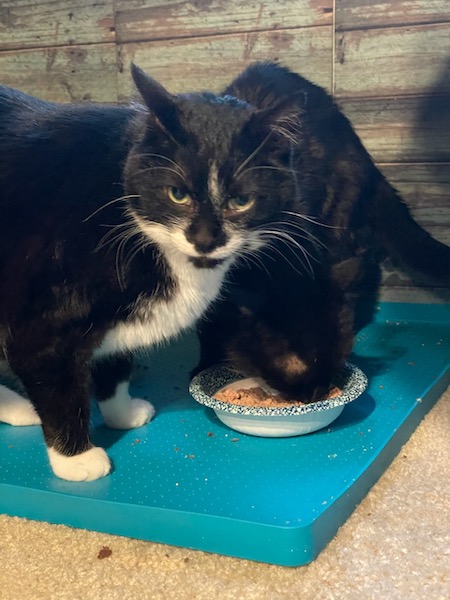 My friend did us a HUGE favor by feeding the boys the first night we were gone and she sent us this picture. Dini is clearly thrilled that she's interrupting his dinner time.
All right, friends. I'll catch you again on Tuesday! Don't forget, BookRiot.com has a new podcast called First Edition, with bookish interviews, lists, rankings, retrospectives, recommendations, and much more! Subscribe to First Edition on Spotify, Apple Podcasts, or your podcatcher of choice.
—Katie McLain Horner, @kt_librarylady on Twitter. Currently listening to Devolution by Max Brooks.