Welcome to Check Your Shelf. We're celebrating some positive election results in the Midwest this week, especially with the mayoral election in Chicago! It's a little injection of hope amidst a ton of less hopeful book banning news. So let's jump to it.
Interested in fascinating stories, informed takes, useful advice, and more from experts in the world of books and reading? Check out our newest newsletter, The Deep Dive, to get exclusive content delivered to your inbox! Choose your membership level today at bookriot.substack.com
Libraries & Librarians
News Updates
OverDrive's eBook app is shutting down completely on May 1.
Worth Reading
Libraries need more freedom to distribute digital books.
5 spring cleaning tips for your collections.
Book Adaptations in the News
Carrie Soto is Back is snagged for adaptation.
Chloé Zhao will direct the adaptation of Maggie O'Farrell's Hamnet.
Paramount Pictures lands Rebecca Searle's One Italian Summer for a feature adaptation.
Victor LaValle's latest book, Lone Women, has been optioned for a TV series, with LaValle writing the script.
Austin Butler will star in the adaptation of Don Winslow's City on Fire.
Diane Marie Brown's debut novel Black Candle Women, is getting a series adaptation from Universal and Jenna Bush Hager.
Censorship News
What 100-year-old Grace Linn can teach us about standing up for the freedom to read.
PEN America: The U.S. is experiencing the biggest attack on First Amendment rights in "generations."
Florida Democrat Jared Moskowitz confronts Georgia Representative Marjorie Taylor Greene, who advocated that teachers should be armed in the wake of the latest school shooting in Nashville. "You guys are worried about banning books. Dead kids can't read."
Texas librarians are alarmed over Senate Bill 13, which would create "school library advisory councils" tasked with ensuring "local community values are reflected in each school library catalog."
"The Spring Branch ISD [TX] School Board voted to allow the Board of Trustees to decide if books should be banned, without input from teachers and librarians."
A McKinney ISD (TX) school board official spoke in front of the Texas House Committee on Public Education in support of more book restrictions, and parents are pissed.
The Disney movie Ruby Bridges has been pulled from North Shore Elementary School (FL) for review, after a parent claimed it "might result in students learning white people hate Black people."
This is actually a really solid interview with the Florida school board president who forced out a teacher who showed a picture of Michaelangelo's David in class. They push the president for answers, and he doesn't like it.
Hillsborough County School Board (FL) votes to ban This Book is Gay from middle school libraries.
The National Coalition Against Censorship is pushing Martin County Schools (FL) to amend their book challenge policy after nearly 100 books were removed.
The NCAC has also recommended a substantial change to Volusia County Schools' (FL) proposed library media policy.
How one former Florida inmate fought the law and won against book banning.
Florida teens speak out about the "period ban" bill currently being pushed in the state legislature.
The St. Tammany Library Control Board (LA) voted to keep five challenged books on the shelves.
The Virgin Suicides has been pulled from an elective English class on Gothic horror and thrillers at North Smithfield High School (RI).
The New York Library Association reaffirms the right to read in response to the bomb threats sent to the Hilton Schools.
The Central York School District (PA) removed Push and A Court of Mist and Fury after parents complained. Plus, "Why can't we have our own mind? Our own voice?": Favor Gabriel, Central York High School junior.
14 books are being removed from Spotsylvania County Public Schools (VA), which the superintendent said was due to sexual content.
This same superintendent also proposed eliminating school libraries to save money if the County fails to fully fund the school district's budget request.
More than 50 people left the Fontana Regional Library Board of Trustees (NC) meeting in Highlands on March 14 after the board discontinued public comment.
Blount County Public Library (TN) hears a second round of public comments on book challenges. "The majority of commenters — nine of a total 12 — said they opposed removing books from the library. Three people — two of whom have challenged 13 books between them — spoke in favor of materials' removal or movement to different areas of the library."
Arkansas legislators have sent a bill legislating the availability of specific books in libraries to Governor Sarah Huckabee Sanders' desk. Sanders has said she will sign the bill.
Tam Kelly, a Bartlett, Arkansas resident, tried to get You Know, Sex banned from the Conway Public Library, but instead got herself banned after she took the book from the children's section without checking out. Which is stealing.
Missouri's diversity budget ban is already unpopular to the Senate.
When Missouri proposed library censorship, librarians got organized.
Missouri librarians are getting threatened with jail time for doing their jobs.
A West Michigan school librarian says that the district violated its own policy by removing a challenged book during the review process, even though the policy states that the book will remain on the shelf.
A Wisconsin elementary school's board decided against having Miley Cyrus and Dolly Parton sing their song "Rainbowland" at the school's yearly spring concert. In return, Miley Cyrus donated to an LGBTQ+ book charity.
Indiana librarians condemn the restrictions proposed by Senate Bill 12, which would make it possible to charge Indiana librarians with a Level 6 felony for providing obscene and pornographic materials to children, which is the criminal equivalent to auto theft and strangulation. Convictions of these types of crimes carry a sentence of up to 2.5 years in jail and fines up to $10,000.
The literary nonprofit Indy Reads in Indiana received a bomb threat for hosting a drag queen story hour.
Around 100 elementary students from the Center for Inquiry School 27 in Indiana staged a walkout to protest Indiana's "Don't Say Gay" bill. The walkout was organized by three 5th graders. FIFTH GRADERS. My heart both melts and breaks.
A junior high teacher at Heyworth Junior High School (IL) was unanimously forced by the school board to resign after parents became upset that she had This Book is Gay in her classroom.
After receiving multiple bomb threats over This Book is Gay, the Iowa City Community School District has removed the book from all school libraries. And there's a proposed bill that would have any book that has been banned from one school be removed from every school in the state.
The Iowa Association of School Boards has also said that if this new bill passes, it would require staff to review thousands of books and waste an enormous amount of staff time and taxpayer dollars.
A North Dakota bill has passed through the Senate with a veto-proof majority. The bill "bans public libraries from providing explicit sexual material. The amended bill says libraries cannot keep offensive books in their children's section. And by January 1, 2024, every public library must have a policy for how it reviews its collection to check for inappropriate content."
Oklahomans must stop listening to politicians who spread fear.
A look at the pending library pornography bills being proposed in the Idaho Senate.
A parent has asked for the Bible to be reviewed in the Davis School District in Utah.
Panic over Gender Queer has spread to Australia. "If there's one thing I hope Australia never imports from the U.S., it's that country's raging appetite for banning books."
People are attempting to get books banned in record numbers, and it's "exhausting and frightening."
Conservatives are targeting suburban school boards. And the elections are becoming political battlegrounds.
Jodi Picoult continues to talk about book bans, and talks about the current strategy to challenge a huge list of books at a time, meaning that the review process will take even longer, and the books will likely be pulled from the shelves immediately.
Isabel Wilkerson talks about the experience of her book being targeted by book bans.
A brief history of drag queen story hour.
Books & Authors in the News
James Patterson "rips" the New York Times Bestseller List for its "lack of journalistic rigor" after his most recent book didn't show up on the list. Pardon me while I unroll my eyes from the back of my skull.
Tomorrow, and Tomorrow, and Tomorrow sparks a debate about credit in fiction.
As classic novels get revised for today's readers, a debate ensues about where to draw the line.
Inside Brandon Sanderson's fantasy empire.
Numbers & Trends
The bestselling books of the week.
Do you need help finding your next great read? Subscribe to Tailored Book Recommendations for really great reads year-round.
Pop Cultured
The best mystery movies of every decade from the last 100 years.
On the Riot
A school librarian offers ways to get teens interested in poetry.
Why this school librarian reads for pleasure during their teaching time.
A review of the Likewise app — does it work for books?
10 books other than the Bible that politicians have been sworn in on.
Writing for the bad faith reader.
How Past You can treat Present You with bookish goodness.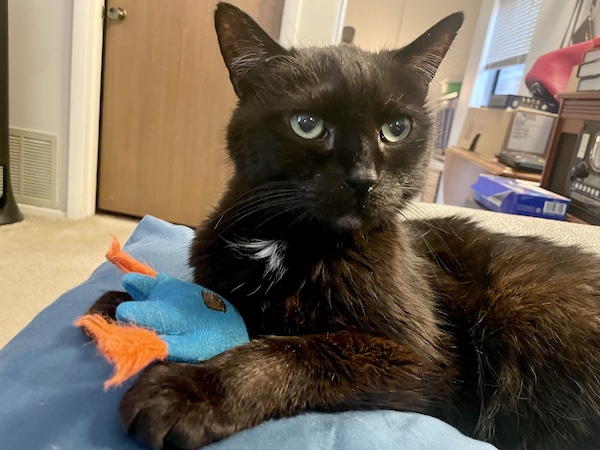 Look at this regal elderly boy! Gilbert really knows how to work his best angles, and he very much knows when the camera is on him. He's so photogenic, I almost can't stand it!
All right, that's it for this week – enjoy the weekend and hopefully a bit of warmer weather! I'll be back on Tuesday!
—Katie McLain Horner, @kt_librarylady on Twitter.