Dear Book Friends,
Greetings from the air! I'm in flight and on my way back home to Seattle, and I'm so excited to get back to cooler weather. I will say I did a lot of walking while I was in New Orleans, which means I did a lot of audiobook listening. And I went to my favorite coffee shop in New Orleans not one, not two, not three, but FOUR TIMES. I am serious about how much I love French Truck Coffee, ok? I also got some coffee to bring home with me, because apparently we don't have enough delicious coffee in Seattle. Hey, I know what I like. So yeah, if you love books and obsess over your favorite coffee, you're my people. And you've come to the right newsletter. There will be cats later too. So stick around.
Before we get to Book Radar, have you heard about Book Riot's latest newsletter, The Deep Dive? If you're looking for fascinating insider stories from long standing experts in the book and publishing world. then you should check it out. For just $5 a month, you'll receive exclusive content via email twice a month. You can also try The Splash Pad for free, which will round up recs and bookish goods once a month. Read more and find your membership level today at bookriot.substack.com.
Book Deals and Reveals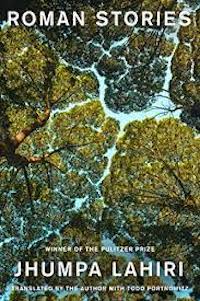 Publisher Alfred A. Knopf has announced a new short story collection from Pulitzer Prize-winning author Jhumpa Lahiri. Roman Stories will be out from Knopf on October 10.
And here's the cover reveal for Pulitzer Prize winner J.M. Coetzee's new novel. The Pole is out from Liveright this September.
Here's the cover reveal for Hailey Piper's A Light Most Hateful. The book is out from Titan Books on October 10. Preorder here!
Martin Scorsese's historical drama Killers of the Flower Moon will be out in limited theaters starting on October 6. The film will get a wide release on October 20.
Netflix has handed out a fifth season renewal to its series You, starring Penn Badgley. This will be the show's final season.
Publisher HarperCollins is editing Agatha Christie's classic detective novels to remove language considered offensive to modern audiences.
Stranger Things star Millie Bobby Brown will publish her first novel Nineteen Steps with William Morrow this fall. You can preorder here.
Prince Harry's bestselling memoir Spare is getting the parody treatment with the book Spare Us! A Harrody. The joke book is very real, and it will be available to buy in the U.K. on April 5.
If you're looking to get a tween or teen into comics, here are the 8 most popular graphic novels, according to a high school book club.
Are publishers acquiring fewer LGBTQ+ and diverse books in the wake of rising censorship?
Book Riot Recommends
Hi, welcome to everyone's favorite segment of Book Radar called Book Riot Recommends. This is where I'll talk to you about all the books I'm reading, the books I'm loving, and the books I can't wait to read and love in the near future. I think you're going to love them too!
Can't Wait for This One!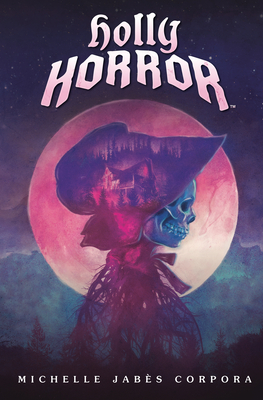 Holly Horror by Michelle Jabès Corpora (Penguin Teen, August 14)
If you love YA horror featuring atmospheric, dark gothic houses, creepy dolls, and oh yeah, cats, then this book is for you. And yeah, if you're seeing the title of this book and thinking "this reminds me of Holly Hobbie," you're not wrong! This book is a dark reimagining of the classic character Holly Hobbie. So if you ever enjoyed the Holly Hobbie greeting cards, dolls, or even the TV series, but thought to yourself, "I wish this was horror," then yes, this book is also for you.
Holly Horror is the story of Evie Archer, who moves to Ravenglass, Massachusetts following her parents' divorce. All her family needs is a fresh start, but in their new home—known by locals as the Horror House—Evie gets way more than she bargained for. Before Evie's family moved into the house, it was the home of Holly Hobbie, who disappeared mysteriously out of her bedroom one night. Now the memory of Holly haunts the home and begins to take over Evie's life. Can Evie find out what happened to Holly the night she disappeared? Or is history doomed to repeat itself?
Do you need help finding your next great read? Subscribe to Tailored Book Recommendations for really great reads year-round.
Words of Literary Wisdom
"The mind is a different matter than the body. It's meant to be sacred, private."
— House of Hunger by Alexis Henderson
What's Up in the Book Community?
My iPhone is constantly telling me I spend too much time staring at my screen, which is honestly so rude. But this means I spend a lot of time scrolling around the online book community: BookTube, Bookstagram, BookTok, BookLinkedIn (JK. That's not a thing…I don't think). You get the idea. Don't have the time, energy, or the will to do all of that yourself? No problem. I got you. In this weekly section of Book Radar, we'll take a look at something cool, interesting, and/or newsy that's going on in the book community.
This is old news now, but as of 2022, Tumblr is making a comeback. Like every good millennial, I was on Tumblr back when I was in college. Now I'm thinking it might be time to return and foster a book community there? There are already a bunch of great bookish blogs on Tumblr: bookphile, bookaddict24-7, books-cupcakes, booksarefriends… just to name a few. Are you on Tumblr? What book accounts do you follow? Let me know!
And Here's A Cat Picture!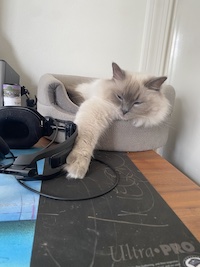 I'm back home today, but I thought we should look back at the cats we left behind in New Orleans. Here's Indigo, the other fluffy angel I had the honor of hanging with while i was visiting my friends. Look how cute she is. She is all floof.
And that's all for Thursday's Book Radar, friends! I hope you have a wonderful weekend.