Hello mystery fans! Over the years I've watched hit shows that I had missed when they originally aired, before streamers and DVRs, and currently I'm watching Alias on Disney+. I really do love ridiculous action stuff.
And if you haven't heard, BR has a new newsletter: Looking for fascinating stories, informed takes, useful advice, and more from experts in the world of books and reading? Subscribe to Book Riot's newest newsletter, The Deep Dive, to get exclusive content delivered to your inbox. Subscribe and choose your membership level today at bookriot.substack.com
Bookish Goods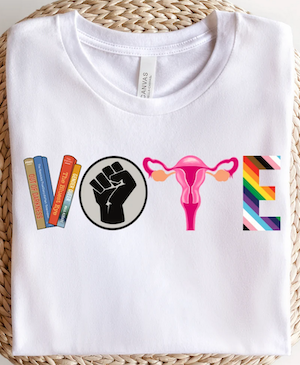 So many communities' rights are under attack, we absolutely need to keep showing up in masses to every election and pushing back every day. ($26)
New Releases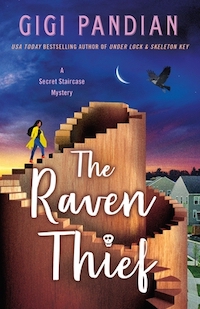 The Raven Thief (Secret Staircase Mystery #2) by Gigi Pandian
For fans of intricately put together puzzle mysteries, amateur sleuths, past family mysteries, food, and fun series! Starting here won't have you lost story wise, but there is a running family mystery from the first book you may want to read from beginning in which case pick up Under Lock & Skeleton Key. This book also gives the solve for the first book.
Tempest Raj lost her Las Vegas career as a magician and moved back home with her her dad and grandparents, where she lives in a tree house! But she's already had to put her amateur sleuth cap on, so why not again? This time it'll be to save her grandfather who's been accused of murder. And it won't be an easy case because the dead man fell from the ceiling onto the table during a fake séance being held by his ex (hilarious, I know!) and everyone in the room was holding hands at the time it happened. This is a fun murder mystery that not only takes readers into solving the whodunnit but also the how!
(TW mentions a past unsolved case that has been ruled a suicide)
For fans of YA murder mysteries and royals! Evan Bright is not having a normal childhood — she's been moved around boarding schools as the illegitimate and secret child of the King of England. Now she's spending the summer with the family, and the dad she doesn't know, in London. What could go wrong? Oh, a murder, her outing as the King's child, and her being a suspect in the death of the guy that tried to sexually assault her. Being a secret princess is anything but fun.
(TW attempted sexual assault including drugging, on page/ mentions past death by suicide, method not detailed)
For a more comprehensive list of new releases, check out our New Books newsletter.
Riot Recommendations
I've got two horror novels with mysteries!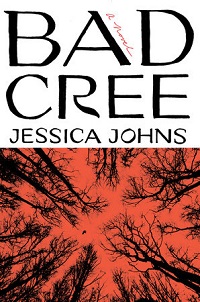 Bad Cree by Jessica Johns
Mackenzie is a young Cree woman who is having the kind of distressing dreams that involve waking up with a bird's head in your hands. These dreams are tied somehow to the weekend before her sister Sabrina died. Things only get worse when she starts to get threatening text messages from Sabrina…In order to figure out what is happening, and how a past event is tied to Sabrina's death, she'll have to finally return home and face her grieving family.
Kari is a sarcastic, don't mess with metal head who is happy hanging at the local bar. Until her cousin gives her a bracelet that ends up conjuring her missing mother's spirit. This isn't a family reunion, though, as it also came with a dark creature set out to haunt Kari. Now Kari must figure out what happened to her mother…
News and Roundups
I Asked ChatGPT Why Books Should Be Banned
Book Sanctuary Cities Like Chicago Are a Response to Book Bans, Censorship
A Florida professor says his contract was terminated for teaching about racial justice
Congratulations to the 2023 Lammy Finalists!
5 new mystery novels worth staying up late to finish
Finished Poker Face? Watch These Influences on the Peacock Mystery Series
The Interrogation Room: A Q&A with Gigi Pandian, author of the Secret Staircase Mystery series
The Sisters in Crime Writers' Podcast: Anne Laughlin
Crime Writers of Color Podcast: Esme Addison, author of the Enchanted Bay Mysteries, is interviewed by Robert Justice.