Welcome to Check Your Shelf. I am dealing with a very frequent problem in my life, which is that I have a huge stack of books that I want to start reading, but I've also started a new video game that is stealing all of my attention away, and I can't do both at once. (My husband got me hooked on Horizon Zero Dawn, and if you've never heard of it, it's like a post-apocalyptic Oregon Trail, if Oregon Trail had robot dinosaurs. You have to collect healing plants, hunt wildlife, and trade with merchants, but also take down giant machines that spew fire and electricity. It's AWESOME!) Anyway, very little reading happening in this house.
Don't forget to take a look at Book Riot's new newsletter, The Deep Dive, which features fascinating stories, informed takes, useful advice, and more from experts in the world of books and reading. You can subscribe for $5/month at bookriot.substack.com.
Libraries & Librarians
News Updates
Students are pushing back against UC Berkeley's plan to permanently close three campus libraries due to budget issues.
Cool Library Updates
The Las Vegas–Clark County (NV.) Library District launches a cellphone lending program.
Medical kits target community health issues.
A woman born in the basement of the East Liverpool Carnegie library in the early 1900s celebrates her 94th birthday by returning to the stacks whence she came.
Worth Reading
The ongoing debate about cotton gloves vs. no gloves for handling rare books.
Book Adaptations in the News
Apple wins an Oscar for its animated adaptation of The Boy, the Mole, the Fox, and the Horse.
Denise Mina's Morrow series is being adapted for TV.
Jennifer L. Armentrout's From Blood and Ash series is being developed into an Amazon series.
Trailer for The Last Thing He Told Me.
30 new screen adaptations of books to add to your 2023 reading list.
Banned & Challenged Books
Anti-censorship groups across the USA.
"Books are not contraband:" Meet the FReadom Fighters taking on book bans and online abuse.
A children's librarian is scolded by their principal for making book suggestions to a student, because they suggested a book that the student's mom considered "inappropriate."
Bookmobiles have a new mission: delivering banned books.
Students are switching up their college plans as more states pass anti-LGBTQ laws.
Here is the status of anti-drag bills across the U.S.
Under a newly introduced bill, Texas would require internet service providers within the state to block access to abortion websites.
The Texas House is making it a priority to require school library book vendors to rate titles with sexual content.
The Cy-Fair ISD (TX) has implemented a new policy that would restrict students to only reading books within their age level, and any adult books would require parental permission.
DeSantis holds an "Exposing the Book Ban Hoax" press conference, and says that he's not trying to ban books, while celebrating all the books that he's had banned.
Jodi Picoult hits back after DeSantis targets her books.
Dozens of books have been removed from Martin County (FL) schools.
Florida high school students say they should have the freedom to choose what they want to read.
The ACLU says that a proposed Florida law that would require people blogging about Ron DeSantis to register with the state is a clear violation of the First Amendment. Related: Florida is trying to take away the right to speak freely.
Apparently one of the Brevard County (FL) school board members thinks that it's only book banning if a book is completely inaccessible EVERYWHERE.
Sold and Last Night at the Telegraph Club will stay on school library shelves in Flagler County (FL).
Hillsborough County (FL) School Board will issue a final ruling on This Book is Gay.
Pinellas School Board (FL) will reconsider its ban on The Bluest Eye over the summer.
The Duval County Public Schools (FL) supervisor of book reviews has resigned. This person previously said that gay characters were "contrary to the design of humanity."
Livingston Parish Library (LA) director has resigned amidst ongoing censorship controversies.
The director of the Shreve Memorial Library (LA) says that the library "has no interest in governing anyone's children."
Gender Queer will stay in Hancock County schools and the Regional School Unit 24 in Maine.
Drag Story Hour protests take center stage in Jackson Heights in New York City.
This Montclair (NJ) nonprofit is donating LGBTQ-inclusive books to local preschools.
The Bluest Eye was pulled from a 9th grade English class at Washington Township High School (NJ).
The Sparta Board of Education (NJ) elected to remove The Upside of Unrequited based on a complaint from a single parent.
A really horrifying story of what happened at the Moon Township Library in Pennsylvania, where they made a Facebook post about the book The Hips on the Drag Queen Go Swish, Swish, Swish. People said they were going to send Kyle Rittenhouse to the library, and other people threatened the librarians' children by name.
18 books from the Penncrest School District have been removed.
How Moms for Liberty is shaping the Warwick (PA) school board races.
Charles Sutherland, the former school librarian who was found spray painting the word "groomer" on two Maryland public libraries, has been charged with possession of actual child pornography. This is just so goddamned infuriating and so incredibly unsurprising.
Montgomery County (VA) Public Schools respond to a mom's complaint about pornography in the school libraries, saying that they have a procedure in place if anyone wants to challenge a book in the library.
A Robeson County (NC) preacher is on a quest to ban books.
Why Tennessee's law limiting drag performances likely violates the First Amendment.
A Wilson County (TN) man has filed a lawsuit accusing the Wilson County Book Review Committee of violating the state's Open Meetings Act.
A book banning bill nears its final passage in the Kentucky General Assembly.
Faulkner County Library (AR) board canceled more than a dozen meetings and programs after the county judge warned members they needed to "avoid what happened in Craighead County."
Moms for Liberty are banning books in Lonoke County (AR).
The Michigan Library Association says that public libraries are not able to purchase materials that would meet the legal definition of obscenity, thereby rendering a newly state-sponsored bill pointless.
The Patmos Library (MI) board are looking at collection development policy changes, which come after the library was defunded for keeping LGBTQ books in the collection.
Illinois proposes its first anti-book ban legislation. This comes on the heels of Governor J.B. Pritzker being the first governor to directly speak about the wave of censorship, book banning, and harassment being seen by schools and libraries.
Tim Vlcek, a school board candidate for Lyons Township High School (IL) said he was unfamiliar with the right-wing group Awake Illinois, which is odd because he attended one of their candidate training workshops in January.
St. Charles Public Library (IL) board candidates discuss book banning at a recent candidate forum.
Iowa House Republicans advanced a bill that would prohibit school libraries from including books with sexual content.
The Keene Memorial Library (NE) has a new policy that will allow parents to request that children's books be relocated to the adult section, and there's no possible way this can end well.
A Kansas state representative calls rainbow drawings at David Brewer Elementary "proof of indoctrination."
Residents hosted a "read-in" at the Veterans Memorial Library (ND) to protest book-banning legislation.
Op/ed from North Dakota: "I went to a library to attend a book ban protest and didn't see a single pervert or "groomer."
Oklahoma Senate passed a bill that would put school library materials in age-restricted categories and require parental permission to check out certain titles. And the push to ban books for kids AND adults continues.
Park County School District 1 (WY) is discussing a new book policy, which would require each new book to be rated on a scale of 0 to 5 to determine their grade level/suitability. How does this even make sense?
Laramie County School District 1 (WY) are trying to define "sexually explicit" in their library policies.
Campbell County (WY) Public Library board is reviewing proposed changes to their collection development policy suggested by a Florida-based attorney with Liberty Counsel. Liberty Counsel "provides free assistance and representation to advance "religious freedom, the sanctity of life and the family," according to its website."
Greeley-Evans School District (CO) book review committee approves Beloved for high school libraries.
The 2023 Utah legislative session ended without passing any significant anti-library bills.
A bill to ban critical race theory in Arizona schools is headed to the governor's desk. And people who want to report teachers using critical race theory or "emotional-support curriculum" can do so through a Department of Education hotline.
An anti-LGBTQ+ group ramps up its "continual harassment" of British Columbia school boards.
Libraries shouldn't look for excuses to exclude.
Do you need help finding your next great read? Subscribe to Tailored Book Recommendations for really great reads year-round.
Books & Authors in the News
Disability activist and author Judy Heumann has died at 75.
Olivia creator Ian Falconer has died at 63.
The headline for this piece has changed: It currently reads "Updating kids' classics: what's really at stake?" but the original headline I saw read "Get over the Roald Dahl controversy — kid lit can and should be updated."
Oprah selects Hello Beautiful as her 100th book club pick.
Numbers & Trends
The bestselling books of the week.
Award News
The 58th Nebula Award finalists have been announced.
The 2023 Lambda Award shortlist has been announced.
The International Booker Prize longlist has been announced.
The Baillie Gifford Prize for Nonfiction announces the shortlist for its 25th anniversary Winner of Winners award.
The 2023 Joyce Carol Oates Prize finalists have been announced.
Bookish Curiosities & Miscellaneous
The owner of the online bookstore Sistah Scifi is rolling out book vending machines that showcase titles by Black and Indigenous SFF authors.
On the Riot
Weird things that saved this school librarian's life during the Scholastic book fair.
Unpacking the differences between Cabin at the End of the World and Knock at the Cabin.
20 book apps for every kind of reader.
What does overconsumption of books look like?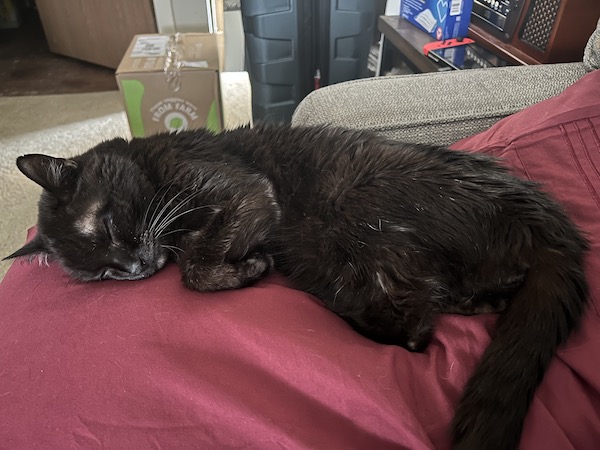 No caption for this one…just a perfect, precious little Gilbert.
All right friends, I'm off to kill more dinosaur machines. Have a good weekend!
—Katie McLain Horner, @kt_librarylady on Twitter.