Welcome to Check Your Shelf. The weather here in L.A. got wetter before it got better, and right now, we're staying at partly sunny with highs in the low 50s. At least it looks like there won't be much rain for the second half of our trip in San Diego (fingers crossed), although I have to do better about bringing sunscreen with me…I went to Santa Monica Pier on Tuesday and my face got extremely crispy fried.
Libraries & Librarians
News Updates
With new model language, library e-bills are back.
Ray Bradbury's personal collection will be displayed at his historic childhood library in Waukegan, IL.
Worth Reading
How the pandemic has reshaped libraries.
On speaking up for library workers.
Book Adaptations in the News
David Fincher sadly announced that there will not be any more seasons of Mindhunter.
Meanwhile, Warner Brothers has announced that there WILL be more Lord of the Rings movies.
The BBC has unveiled a two-part adaptation of Agatha Christie's Murder is Easy.
Midnight in the Garden of Good and Evil will be developed into a musical.
Florence Welch of Florence + the Machine fame is writing music and lyrics for a new Broadway musical adaptation of The Great Gatsby.
Guillermo del Toro is directing an animated adaptation of Kazuo Ishiguro's The Buried Giant.
Casting updates for Apples Never Fall and On Swift Horses.
Banned & Challenged Books
More politicians need to address book bans.
Here are the comics that Moms for Liberty and other book banners have deemed "inappropriate."
Duval County Schools (FL) have reinstated multiple books about Hank Aaron and Roberto Clemente after they were reviewed and found to be within the guidelines of Florida's new legislation.
As LGBTQ book challenges rise, some Louisiana librarians are scared to go to work.
The ACLU has sued Missouri over their book ban law that forced school libraries to remove hundreds of titles.
The real reason North Dakota is going after books and librarians.
Oklahoma is one step closer to implementing a state-wide book rating system.
Books & Authors in the News
After last week's hubbub surrounding the newly edited versions of Roald Dahl's books, the publisher announced that they will also be re-releasing the titles in their unedited versions. Meanwhile, Roald Dahl's US, French, and Dutch publishers announced that they have no intentions of editing his books. And related: Roald Dahl can never be made nice.
Numbers & Trends
Julia Donaldson ends James Patterson's reign as the most-borrowed author in UK libraries.
The best-selling books of the week.
Award News
The LA Times Book Prize finalists have been announced.
On the Riot
Barnes & Noble is overhauling its membership program and cutting its free educator program.
8 cozy video games that feel like reading a book.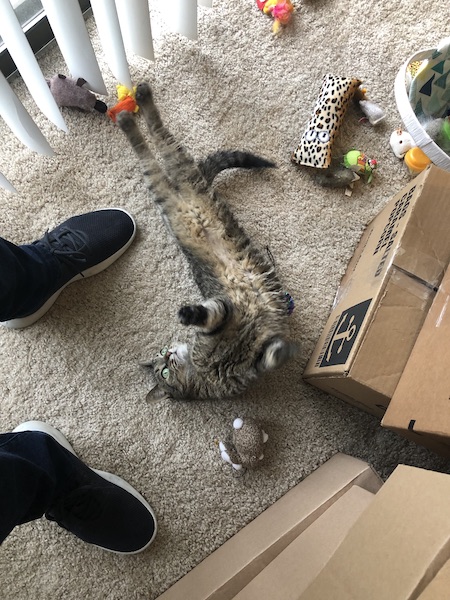 Meet Nell! Nell belongs to my brother-in-law and sister-in-law, and she is just the dinkiest little kitty you can possibly imagine! She's at least 11 years old but weighs under 7 pounds, and has the tiniest little toe beans! We used to see Nell a lot more when my BIL & SIL lived five minutes down the road, but she definitely still remembers us. Such a wee little baby!
Okay, all you cool cats and kittens. Enjoy the decent weather if you have it, and I'll see you next week!
—Katie McLain Horner, @kt_librarylady on Twitter.