Welcome to Check Your Shelf, which is being brought to you this week from Los Angeles! So far, the weather has been gray and rainy, and the day we flew into LAX, my husband and I spent FOUR AND A HALF HOURS waiting at the rental car place, which was the same amount of time that we had just spent on the plaine. I am fully convinced that if Dante were to write a modern version of Inferno, this would be one of the deepest circles of hell. By the time we got to our hotel, we ordered room service, and then collapsed and slept for, like, 12 hours. Not the best start to our vacation, but hopefully the rest should go smoother.
Collection Development Corner
Publishing News
HarperCollins employees are officially back at work.
A look at the gender and ethnicity pay gaps at HarperCollins.
Underpaid and overworked: a look at salaries and benefits in publishing.
A federal judge is ready to hear oral arguments in the copyright lawsuit filed by the Big Four publishers against the Internet Archive.
What the failed Simon & Schuster/Penguin Random House merger means for the book industry.
Authors have been warned to be on the lookout for scammers impersonating the Strand Bookstore.
The scifi magazine Clarkesworld has been overwhelmed with a recent flood of AI-generated stories. Plus, "the flood of ChatGPT crap" that's about to hit the publishing industry.

New & Upcoming Titles
There's going to be a newly published sequel to the original How the Grinch Stole Christmas.
Mona Awad announces a new novel, Rouge, which will be out in September.
Blackstone Publishing has acquired the rights to 8 early Michael Crichton novels that were written under the pseudonym John Lange.
Weekly picks from Crime Reads, LitHub, New York Times, USA Today.
February picks from Crime Reads (debuts, international fiction), Vulture.
March picks from Kirkus, The Root.
On the Riot
2023 queer romcoms sure to make you swoon.
Some of the best new novels about monsters.
The best new weekly releases to TBR.
Reading pathways for Sarah Beth Durst.
Whodunits, cozies, and more: a mystery sub-genre primer.
If you love this romcom, read this romance novel.
All Things Comics
On the Riot
11 of the best shonen manga to read in 2023.
Audiophilia
The 2023 Audie Award finalists have been announced.
The shared experience of listening to audiobooks.
On the Riot
Scribd vs Audible – which is the best audiobook service?
Book Lists, Book Lists, Book Lists
Adults
14 Reese Witherspoon-recommended books that your book club will devour.
45 books about libraries and librarians to check out.
10 mystery book series that will keep amateur sleuths guessing.
17 books to understand the Black history of Latin America.
42 of the best vampire books to read right now.
9 books that will make you rethink your narratives about health and healing.
5 books about failed adventures in terraforming.
10 classic tales for fans of swashbuckling and historical intrigue.
Without shame: female writers who have written about female psychopaths.
5 cozy mysteries about characters who are starting over.
Do you need help finding your next great read? Subscribe to Tailored Book Recommendations for really great reads year-round.
On the Riot
8 of the best children's books about ADHD.
8 of the best middle grade books to read aloud.
9 essential YA nonfiction books about Black history.
20 must-read horror stories.
22 of the best fantasy books of all time.
Book suggestions if you're craving ghost stories.
8 excellent Greek retellings.
11 books like Carrie Soto is Back.
25 of the best historical fiction books of the last 10 years.
8 Peruvian books in translation.
10 of the best essay collections.
10 books to help you explore slow and sustainable fashion.
Aromantic books to celebrate Aromantic Awareness Week.
8 of the best crime thrillers.
Level Up (Library Reads)
Do you take part in Library Reads, the monthly list of best books selected by librarians only? We've made it easy for you to find eligible diverse titles to nominate. Kelly Jensen has a guide to discovering upcoming diverse books, and Nora Rawlins of Early Word has created a database of upcoming diverse titles to nominate, as well as including information about series, vendors, and publisher buzz.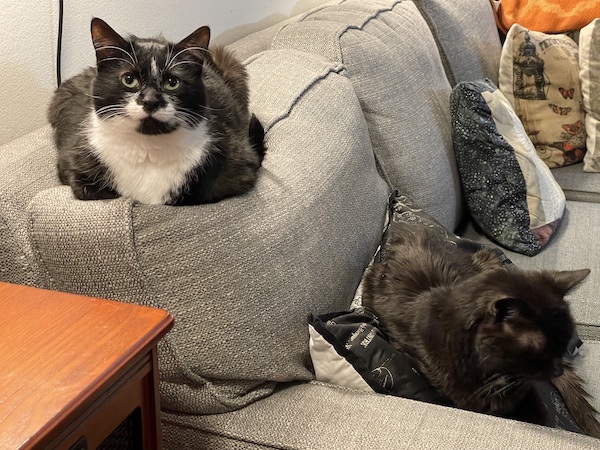 The hardest part of any vacation is leaving these two ding dongs at home, but we know that they're getting lots of good care from their cat sitters.
All right, folks – I'm out! Catch you again on Friday!
—Katie McLain Horner, @kt_librarylady on Twitter. Currently reading The Resemblance by Lauren Nossett.