Hello, readers! My name is Jennie Wood and I'm a non-binary author, musician and creator of Paper Planes and the Flutter graphic novel series. Flutter was named one of The Advocate's best LGBTQ graphic novels of the year, a Barnes & Noble book of the month, a Virginia Library Association Diversity Honor Book and published as a collection by Dark Horse. My work can be seen in several anthologies, including the Eisner award-winning Love is Love, Planet Comics, and John Carpenter's Tales for a HalloweeNight.
What Are You Reading?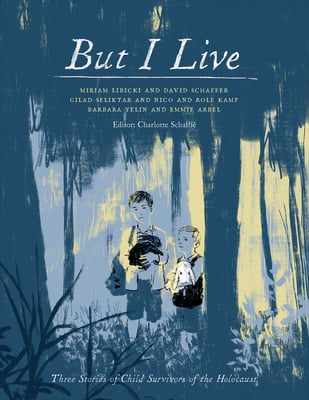 I recently finished But I Live, a co-creation from three graphic novelists and four Holocaust survivors that came out last year. The book consists of three illustrated stories. Each story vividly and thoughtfully tells the experiences of these survivors as children during the Holocaust. Extremely moving and intimate, it's one of the most powerful books I've ever read.
In these stories, the reader sees the Holocaust through the eyes of children. That's one reason the book is so powerful. The kids can't comprehend what is going on around them. I remember learning about the Holocaust in school as a kid, and struggling to get my mind around that level of hatred and evil. It's still hard as an adult to sit with these stories, to let them in completely. But we must. We can't give into censorship and denial. We can't turn away and avoid the horrors of the past. We have to hold these stories up, embrace and share them so they are not forgotten. This is more important now than ever before.
Books That Shaped Me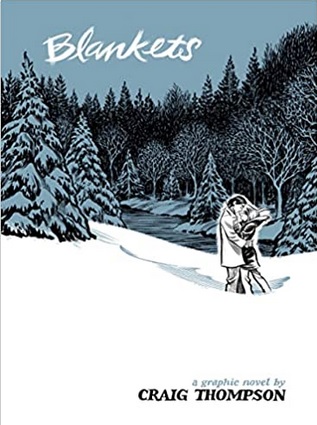 Blankets by Craig Thompson
Having recently finished reading But I Live, graphic novels that have influenced me are on my mind. I grew up reading superhero comics as a kid because they provided an escape from problems at home and from being queer in a small, conservative southern town. However, it was later as an adult when I realized what all comics could do. When I did, it was through graphic novels. I remember reading Fun Home, Y: The Last Man, and Blankets, one right after the other, and realizing that so many things were possible in the comic and graphic novel format from sweeping epic stories to extremely intimate ones.
Craig Thompson's Blankets has stayed with me over the years for many reasons. When I first read it, I could relate to the small town Christian upbringing and his lonely, isolated childhood. Also, the need to move away from home — not only to survive, but to thrive — really resonated with me. As I've gotten older, I've started to really appreciate and prefer more intimate and personal stories like Blankets. I'm also able to look back now and see how friends and loved ones from my childhood left their mark on me. Blankets definitely influenced Paper Planes. The confusion and yearning, the struggle to communicate feelings and emotions that we all experience growing up, all of that is so well done in Blankets. And how I felt while reading that book for the very first time well over a decade ago – that has stayed with me. It's such a sensitive, human, bittersweet story. For me, it's the bittersweet stories that are the most satisfying. As a reader, I often think I want the happy ending, but deep down I really want something that mirrors real life.
More Good Stuff
Here is more work from the artist of Paper Planes, Dozerdraws.
I will be at this year's ALA Annual Conference & Exhibition, which is in Chicago this June. I'll post more info on that event as well as others throughout the year here.

Here's more info and a preview of Flutter, my graphic novel series, which has been collected into one book by Dark Horse.

Mitch Kellaway reviewed my young adult novel, A Boy Like Me, for Lambda Literary.
I was recently interviewed for a new, ongoing Dead Darlings feature, Next Chapters. Dead Darlings is a great online resource for writers. Over the last decade, I've written various blog posts and participated in interviews for the website.
Check out this recent 5 out of 5 star review of Paper Planes from First Comics News!