Happy Friday, shipmates! It's Alex, and I've got some new releases and a couple of pre-orders for your perusal. I will keep this brief since I'm having a bit of a week, but there's a pretty blue sky outside and my cat is taking a nap in the sunbeam (after jumping up on the table despite being a creaky old guy — good for him), so I'm going to count the positives. I hope you have a pretty sky and a happy cat (or dog or other pet if applicable) wherever you are! Stay safe out there, space pirates, and I'll see you on Tuesday.
Are you looking for the perfect Valentine's gift for your bookish boo? Gift Tailored Book Recommendations. Your boo will tell our professional booknerds about what they love and what they don't, what they're reading goals are, and what they need more of in their bookish life. Then, they sit back while our Bibliologists go to work selecting books just for them. TBR has plans for every budget. Surprise your bookish boo with Tailored Book Recommendations this Valentine's and visit mytbr.co/gift.
Let's make the world a better place, together. Here's somewhere to start: NDN Collective and Jane's Due Process.
Bookish Goods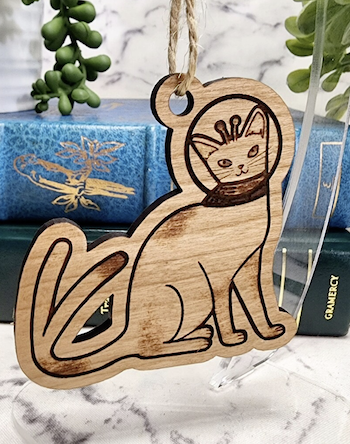 Sometimes you're just having a day where you wanna see something cute. That's me today, and this really cute wooden ornament is what I found — a space kitty! $13
New Releases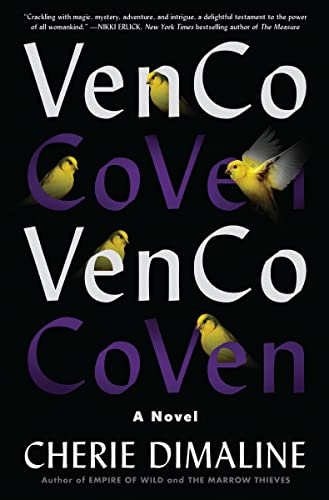 VenCo by Cherie Dimaline
Lucky St. James is Métis and a millennial who is barely holding on when she gets the bad news that she's about to be evicted from the tiny apartment in Toronto that she shares with her grandmother. But at night, she hears a strange call that causes her to burrow though a wall to find a tarnished silver spoon that connects her with a network of North American witches who hide behind the front company of VenCo and work to return women to their rightful power. They have an enemy, though: a witch-hunter who is older than he looks and will stop at nothing to keep VenCo from ushering in its new beginning.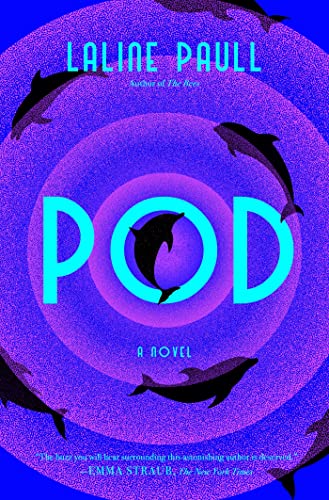 Pod by Laline Paull
Ea is a spinner dolphin only recently come of age, but she's always felt like an outsider in her pod because she has a type of deafness that prevents her from spinning properly. When catastrophe strikes her family, Ea blames herself and leaves the pod, venturing into the vast, a place full of danger, where creatures are mutating, species of fish are simply disappearing, and demonic noises from above pierce the depths. But when she has just begun to build a new life as a hermit, she encounters a pod of bottlenose dolphins and the course of her destiny changes once again.
For a more comprehensive list, check out our New Books newsletter.
Riot Recommendations
Since pre-orders are love, here are a couple of recommendations for upcoming books by Black authors you should pre-order this year!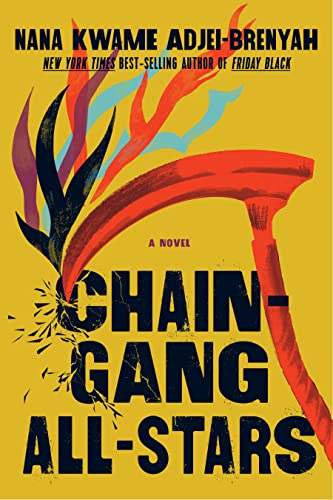 America's private prison industry has taken over, and one of its profit leaders is CAPE, the Criminal Action Penal Entertainment system. Loretta Thurwar and Hamara Stacker are the cornerstone stars of the most popular program, the gladiators everyone wants to see spill blood to gain their freedom. Thurwar will supposedly soon earn her freedom, but CAPE's corporate owners will do anything to protect their profits. (May 2)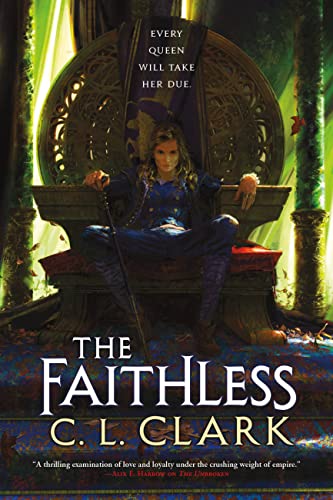 The empire is withdrawing from Qazal after losing to the rebels, but severing the ties between the two nations is neither quick nor simple. Luca must still oust her uncle from the Balladairan throne if she is to take her rightful place as queen, and her allies have started to disappear. Touraine might have her freedom now, but she quickly realizes that leading a country and leading a rebellion are very different matters. (March 7)
See you, space pirates. If you'd like to know more about my secret plans to dominate the seas and skies, you can catch me over at my personal site.