Dear Book Friends,
Greetings from Atlanta. I hope your week has been going well. Mine has been a little bit hectic with all of the travel and getting ready for my friend's wedding, but I'm so excited for this weekend! And I'm ready to take a quick break to chat books with you for a minute before I go shopping for a coat to wear to this wedding. So let's do this.
Book Deals and Reveals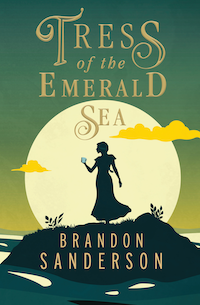 Tor Books has announced that it will publish Brandon Sanderson's secret Kickstarter projects, starting with Tress of the Emerald Sea on April 4, 2023.
Here's the cover reveal of Sarah Suk's The Space Between Here & Now. Suk describes her new YA novel as "a story of a girl who time travels to her memories through scent." This one's out on October 31.
Check out the cute cover for this upcoming rom-com novel Betting on You by Lynn Painter. Betting on You is out from Simon & Schuster Books for Young Readers in November.
Kiley Reid has announced the publication of her sophomore novel Come and Get It. Reid's sophomore novel is set to be published in January 2024.
The series adaptation of Anne Rice's Mayfair Witches has been renewed for a second season at AMC.
Entertainment Weekly is giving readers a sneak peek at the latest novel from Melissa Broder, author of Milk Fed and So Sad Today. Death Valley will hit shelves on October 24.
Abrams Children's Books will be publishing a new collaboration between Julie Andrews and her daughter Emma Walton Hamilton. The duo's new picture book,The Enchanted Symphony, will be published September 12.
Regina King's Royal Ties Productions and Freddie Highmore's Alfresco Pictures are producing a series adaptation of The Comedown. The series will air on Starz.
With her 2023 Grammy win, Viola Davis is the 18th person to achieve EGOT status, having won an Emmy, Grammy, Oscar, and Tony Award.
Barbra Streisand announced that her long-awaited memoir My Name Is Barbra will be coming out November 7, 2023 with Viking Books.
Book Riot Recommends
Hi, welcome to everyone's favorite segment of Book Radar called Book Riot Recommends. This is where I'll talk to you about all the books I'm reading, the books I'm loving, and the books I can't wait to read and love in the near future. I think you're going to love them too!
Can't Wait for This One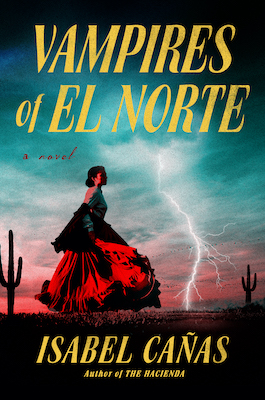 Unless you lived under a rock for the whole of 2022, you probably heard people talking about Isabel Cañas' debut novel The Hacienda. It made a lot of best-of lists for 2022, including mine, and now the author is back with her sophomore novel, a supernatural western set on the Texas-Mexico border in the 1840s.
Nena is the daughter of a rancher, and she's seen her fair share of threats living so close to the border. She knows there are things much more dangerous than the Anglo settlers in the north. There's something that lurks near the ranch at night, attacking people and draining them of their blood. Nena knows it's there because she was once attacked.
Néstor thinks Nena is dead. Since the attack, he has been moving from ranch to ranch working as a vaquero, unable to shake the grief from losing his childhood love. When the United States attacks Mexico in 1846, Néstor meets Nana again in a shocking reunion.
Gift Tailored Book Recommendations to your bookish boo this Valentine's. Gift TBR today!
Words of Literary Wisdom
"A second chance doesn't mean you're in the clear. In many ways, it is the more difficult thing. Because a second chance means that you have to try harder. You must rise to the challenge without the blind optimism of ignorance."
— Severance by Ling Ma
What's Up in the Book Community?
My iPhone is constantly telling me I spend too much time staring at my screen, which is honestly so rude. But this means I spend a lot of time scrolling around the online book community: BookTube, Bookstagram, BookTok, BookLinkedIn (JK. That's not a thing…I don't think). You get the idea. Don't have the time, energy, or the will to do all of that yourself? No problem. I got you. In this weekly section of Book Radar, we'll take a look at something cool, interesting, and/or newsy that's going on in the book community.
Apparently the tide is turning on Colleen Hoover, who used to be a TikTok darling. According to a recent article in Slate, BookTok and BookTube have turned on the author for more reasons than just her recent (tasteless) coloring book announcement. Look up Hoover on BookTok or BookTube, and you'll find a lot of negative reviews of the author's works now, some of which have hundreds of thousands of views. Why the sudden change? Readers are starting to critique the messages of Hoover's work, worrying that it's worse than bad, but the depictions of domestic violence might actually might be harmful to readers.
And Here's A Cat Picture!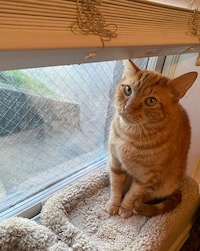 I hate leaving town because I miss my cats so much. The window beds continue to be a hit with the kitties. Look at Murray, keeping watch on the outside from the safety of his soft window bed. I can't wait to be back home with him.
And that is all, friends. I hope you have a wonderful weekend!