Welcome to Check Your Shelf. As of Tuesday this week, our new director has started at our library, which means I am no longer the interim director and am back to my regular role as Head of Circulation! I'm grateful to have had the learning opportunity, but it taught me a lot about what I value in my professional life, and right now, I think I value balance most of all. I'm very excited to work with our new director, and I'm looking forward to having more mental energy at home. I hope this new year brings all of you what you need most from your work lives.
Libraries & Librarians
News Updates
Boulder's main library is planning to gradually reopen following the discovery of high methamphetamine levels in the public bathroom air vents.
Cool Library Updates
The Otsego (MI) Library was transformed into Willy Wonka's Chocolate Factory to help raise money to purchase new children's materials.
A librarian's dream helps turn a waiting area at Cook County Jail into an educational nook for children who are visiting people experiencing incarceration.
Worth Reading
Librarians are meeting younger readers where they are: TikTok.
Book Adaptations in the News
George RR Martin speaks about the impacted future of the Game of Thrones franchise at HBO Max.
Jinkies! Here's the latest on the HBO MAX Velma series.
Here's the first look at Season 7 of Outlander.
Banned & Challenged Books
Suggestions for your anti-censorship resolutions.
The absurd year in educational censorship.
Author Susan Kuklin writes about her book Beyond Magenta being targeted by book banners.
Another summary of the Llano County Library situation in Texas.
A Medina County (TX) resident presented a list of almost 1000 books that he wants the Uvalde Consolidated School District to remove. Not surprisingly, there are a LOT of books on the list that aren't even part of the collection, because if you want to ban books, why bother doing your research ahead of time?
The Rapides Parish FREADom Fighters (LA) are opposing a proposal to prohibit content referencing sexual orientation and gender identity from the children's collection at the public library.
Protestors and supporters gathered at a Drag Story Hour held at the Queens Public Library (NY) in Jackson Heights. Supporters outnumbered protesters, but there's been an increase in threats and violence against the supporters in recent months.
A high school junior at Great Neck High School (NY) wrote a really excellent letter to the editor in support of Gender Queer.
Loudoun County Public Schools (VA) removed Fences from the 11th grade curriculum.
Ten more committees (!!!) begin reviewing challenged books at Beaufort County School District (SC).
When Nixa (MO) adults banned their books, these teens fought back by organizing.
The Wentzville School District (MO) returned 200 temporarily removed books to shelves, but 17 titles are still inaccessible.
Carroll High School (IA) elects to keep Red Hood and The Haters in the school library.
A group of moms in Fremont, Nebraska are protesting the presence of sex education and LGBTQ+ books for children and teens in the public library.
Valley City Barnes County Public Library (ND) will be holding a public hearing about the book Let's Talk About It, which a group of challengers have been trying to remove since September.
Almost every book challenged at the Meridian Public Library (ID) is LGBTQ+ or is written by/features a person of color. Shocking.
This news article summary from Snohomish County (WA) says, "Whether Mukilteo high schoolers must read Harper Lee's 'To Kill A Mockingbird' was just one of this year's controversies over classroom literature," but then the first line of the article says, "To set the record straight, the Mukilteo School District did not debate a ban of Harper Lee's novel To Kill a Mockingbird in 2022." The decision to update the curriculum is NOT equivalent to banning books, and equating the two is not accurate or nuanced journalism.
Books & Authors in the News
Suspected manuscript thief, Filippo Bernardini, is expected to plead guilty to wire fraud.
Numbers & Trends
The bestselling books of the week for December 28th and January 3rd, according to all the lists.
Award News
Year-end short speculative fiction roundup: an overview of awards eligibility season.
Pop Cultured
Two lists of whodunnits to watch after seeing Glass Onion!
Here's a first look at True Detective Season 4.
The best crime thrillers you can stream right now.
Bookish Curiosities & Miscellaneous
Jenna Bush Hager unveils her Streaking With Jenna program for 2023. (That's READING streaks, you weirdos!)
On the Riot
The worst-rated book-to-movie adaptations, according to Rotten Tomatoes.
A guide to bookish MacArthur fellows.
The worst book titles of all time.
On simplifying your reading trackers.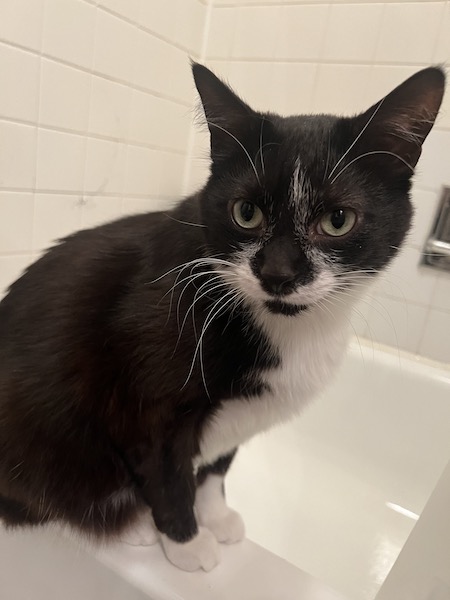 Dini wants to make sure we don't require any assistance or supervision in the bathroom. We've told him countless times that we can dry off without his assistance, we know how to brush our teeth, and if we need another roll of toilet paper, we will ASK.
What a doodlehead.
All right, that's all I've got for this week. Stay awesome, you punk-ass book jockeys.
(I may or may not be watching Parks and Rec all the way through for the first time…)
—Katie McLain Horner, @kt_librarylady on Twitter.