Welcome to Check Your Shelf, where the entire Midwest is getting ready to hunker down against this oncoming snow storm. The one silver lining is that I have an opportunity to use my interim director powers for good and close the library. We're already closing early on Thursday, and I'm keeping an eye on the forecast and local closures to make a decision about Friday. But wherever you are, I hope you're safe and warm!
Libraries & Librarians
News Updates
The Top 10 library stories of 2022 from Publishers Weekly.
Boulder, Colorado has closed its main library branch after "higher-than-acceptable" levels of methamphetamine were found in the air ducts in the public restrooms.
Book Adaptations in the News
There's a Winnie-the-Pooh animated prequel in the works, but it's not from Disney.
Peacock has tapped James Wan to executive produce a horror thriller series based on Robert McCammon's 1988 novel Stinger.
Nick Cutter's horror novel The Deep is being turned into a series at Amazon!
Hulu's limited docuseries based on The 1619 Project gets a January release date.
Want to read books from this newsletter? You can, for free! Get three free audiobooks with a trial to Audiobooks.com. Claim your 3 free audiobooks now!
Banned & Challenged Books
How your book club can fight against censorship.
AI isn't a threat to high school English classes. Censorship is.
A look at the year in book banning.
Librarians are facing harassment.
Publishers Weekly named "The Defenders" as the 2022 People of the Year – the teachers, librarians, authors, booksellers, publishers, and allies fighting censorship.
Facing the threat of far right violence, library workers seek safety in unionizing.
The Granbury ISD (TX) superintendent ordered school librarians to remove LGBTQ books, and now the federal government is investigating.
The Huntsville Public Library has been privatized following a controversial Pride Month display.
Carroll ISD (TX) changes its non-discrimination statement, eliminating gender, sexual orientation, and religion from the wording.
Keller ISD (TX) school board invited a religious leader who had been indicted on four counts of sexual assault to open a recent meeting.
Katy ISD (TX) students come together as censorship of LGBTQ+ voices ramps up.
Seventeen listed Cameron Samuels as an important voice of 2022 after they led a powerful movement against censorship in the Katy ISD.
The Abilene (TX) City Council is considering a resolution that will protect minors from obscene library materials.
Polk County (FL) School Board delayed the approval of 37,000 newly purchased books after residents complained they hadn't had enough time to review all of the books before the scheduled vote, and they wondered how staff were able to adequately review the books as well. OH MY STARS, THAT'S NOT HOW PROFESSIONAL STAFF PURCHASES OR REVIEWS BOOKS! AT ALL! And the school board is catering to this nonsense!
Several books were removed from Lake County (FL) despite no formal challenges to these titles, because they allegedly violated Florida criminal code.
This Clay County (FL) resident has a list of over 3600 titles that he wants removed from school libraries, and says if the books aren't removed, he will submit challenges for every book in order to overwhelm the system.
No parent objected to the 176 books ordered for the the Duval County (FL) School District's "Essential Voices" collection, but the district kept them off the shelves anyway.
The Brevard County School Board (FL) wants books under challenge in the schools to be taken off library shelves and held behind the desk "like adult magazines."
A Florida Department of Education workgroup is creating a training that all school librarians must use in selecting books, but Moms for Liberty say that the recommendations aren't strong enough.
Gender Queer is being challenged in Maine School Administrative District 52.
A Maine parent is upset over "pornographic books" in the school district and the lack of a rating system for library books.
Neo-Nazis disrupted a drag event in Fall River, Massachusetts, but the organizers said that they won't be discouraged.
A Ridgefield (CT) town hall employee was arrested for disorderly conduct after swatting a folder at a YouTuber who was performing a First Amendment audit, and now area towns are taking action to prevent similar occurrences.
A new school board member in Isle of Wight County (VA) proposed changes to a state-mandated policy that is supposed to protect against children being exposed to "sexually explicit" materials. He wants to expand it to include content deemed "inherently divisive."
Moore County (NC) schools updated their book review policy so that only board members and parents or guardians of enrolled students can initiate a reconsideration process.
School administrators in Charlotte (NC) recently met with Moms for Liberty about modifying school policy.
These are the books that Charlotte-area residents want to ban.
Guilford County (NC) elects to keep Life is Funny in the high school library.
Beaufort County School District (SC) votes to return four books to library shelves: The Handmaid's Tale, The Perks of Being a Wallflower, The Kite Runner, and Speak.
The "Mama Bears of Forsyth" (GA) return to school board meetings after temporarily being banned for misconduct.
"The mother of a Harlem Middle School [Evans, Georgia] student has filed a 323-page lawsuit against members of the school board, a teacher, and a principal over what she says is a violation of her parental rights and a book that she claims does not belong on the shelves of school libraries." The book is Drama, but let me back up a second…a THREE HUNDRED AND TWENTY THREE PAGE lawsuit?? That's longer than the book in question!
In St. Tammany Parish (LA), supporters are fighting to keep LGBTQ+ books on library shelves.
Rapides Parish (LA) Library Board is proposing a change to their collection development policy that would prohibit sexual content, as well as content regarding sexual orientation and gender identity, from the children's and teen's collections.
Some West Virginia lawmakers are interested in banning books. Just don't call it a book ban.
"Tennessee's textbook commission has wide new powers to determine which books students can and can't access in public school libraries. But members say the panel doesn't have enough resources to finish its most pressing new task: providing guidance to school leaders on how to comply with several recently enacted library laws."
The Wilson County (TN) School Board voted to remove two books from school libraries: Tricks and Jack of Hearts (and Other Parts).
Missouri gets 10,000 public comments on a new library rule that has been labeled as "political censorship."
The Patmos Library (MI) closed early due to staff safety concerns over a threatening social media post allegedly made by Republican 11th Congressional District Chair Shane Trejo, who said, "Time to shut the library by force."
Marathon County (WI) Board retaliates against two library trustees who refused to remove a book from the shelves.
"They want to shut us down:" The threats that canceled a Drag Queen Bingo program at the Downer's Grove (IL) Library and how the library handled it.
The Chicago Tribune named librarians and library workers of Illinois as "Chicagoans of the Year for Books."
The Bartholomew County Library (IN) has drafted a community survey about library materials after several residents have advocated for the segregation or removal of certain teen books.
Kearney (NE) School Board denies two book ban requests for Crank and Empire of Storms.
Two Pierre (SD) parents are upset that the high school is using The Absolutely True Diary of a Part Time Indian in the classroom, saying "This is like handing kids an R-rated movie." The superintendent later reminded parents that there's always been a letter explaining parents can have their students opt out of reading the book if they so choose.
Libraries serve communities, not aggrieved parents. Challenged books have so much to teach Kansans.
The Motion Picture Association opposes Oklahoma's proposed system for library book ratings.
In Greeley, Colorado, residents submitted 5400 forms that challenged 274 books in school libraries, and then caused the school board meeting to end early due to disruption and bad behavior from members of the public.
Some Cheyenne (WY) residents want to ban The 57 Bus, because as this piece states, it portrays LGBTQ+ youth as "fully human."
The Crook County (OR) library board rejected the proposal to segregate LGBTQ books from the children's section.
The owner of a vandalized taproom in Washington says that they believe their business was targeted ahead of a scheduled Drag Queen Story Time event.
Greater Essex County District School Board (Ontario) is pushing back against demands to list all of the books in the school library because it creates "a slippery slope."
A group of Southern Manitoba parents are calling for libraries to remove "sexually explicit" books, or have their funding cut.
The evolution of the anti-CRT movement: a timeline.
"Parents first" school board bids should be a wake-up call.
Book banning is bad policy, so let's make it bad politics.
Numbers & Trends
A fifth of American adults struggle to read. Why are we failing to teach them?
The most-borrowed books from the New York Public Library.
Award News
The 2023 William C. Morris Award finalists have been announced.
The shortlist for YALSA's 2023 Award for Excellence in Nonfiction has been announced.
Pop Cultured
Harry and Meghan announce a new Netflix series, Live to Lead.
On the Riot
2023 YA book-to-movie adaptations to put on your radar.
Here are the books hitting the public domain in 2023.
How the bookish internet killed this Rioter's reading life.
How to read through burnout.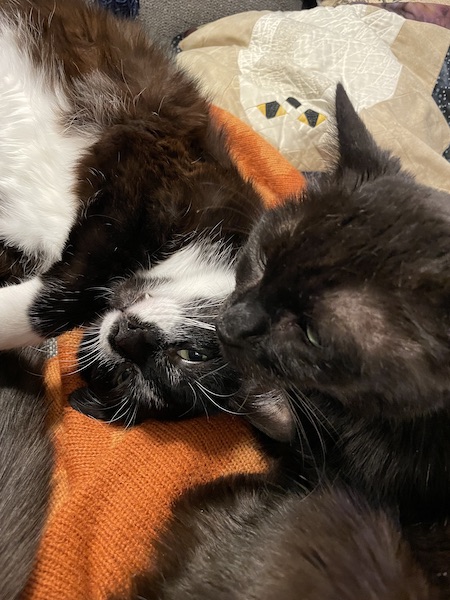 I'll leave you with this picture of the boys snuggling! My two Christmas kitties, who really do love each other!
Okay, everyone. Have a great holiday, and stay warm!!! I'll catch you on the flipside.
—Katie McLain Horner, @kt_librarylady on Twitter.