Hello mystery fans! I have been enjoying the new podcast If Books Could Kill so much! Bonus: you don't have to have read the books to enjoy it, and it's hilarious. Now, ready for some mystery? I've got new releases, more audiobooks from this year that I loved, and news and roundups.
And don't forget: if you want to join the Read Harder challenge in the new year, find the tasks and subscribe to our newsletter for tips and recommendations here!
Bookish Goods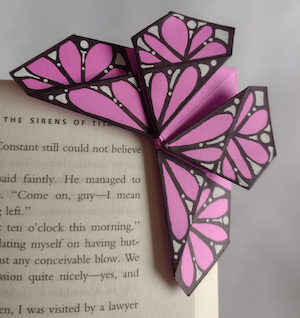 If you love butterflies, origami, and page corner bookmarks here you go! ($7)
New Releases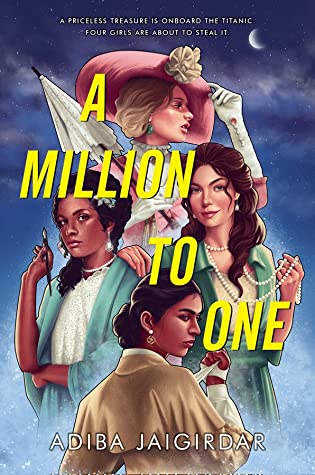 Calling all heist and historical mystery fans! There's a jewel-encrusted book aboard the Titanic. Also on board the ship: Josefa, Emilie, Hinnah, and Violet. There skills of being a thief, an artist, an acrobat and an actress will come into play as they are there with one mission: steal the book. Problem, aside from being on the Titanic (!): grudges amongst the team, a new romance, and mistakes could cost them everything.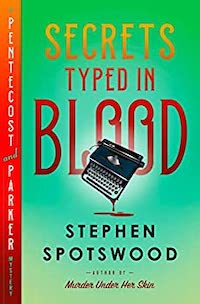 For fans of fun historical mysteries, duo sleuths, and great character voice, plus humor!
Lillian Pentecost, the most famous PI woman in the U.S., has multiple sclerosis so she brought on Willowjean "Will" Parker, a runaway working at the circus, to help her. That's how the story begins in the first book, Fortune Favors the Dead. Will is narrating for us the story and recounting their cases. This time there are three murders, seemingly bringing pulp detective magazines murders to life, which they must solve without alerting the press or cops that they are connected. Why? Because the writer of these stories writes under a pseudonym and wants to keep her private life private. Enter some undercover work, the fandom of crime memorabilia, and danger…
I inhaled this audiobook narrated by Kirsten Potter!
(TW child harm/ mentions child murder case/ brief suicide mention and past case, detail/ questions child abuse/ recounts domestic murder)
Looking for more new releases? Check out our New Books newsletter!