Welcome to Check Your Shelf. As usual, the holiday season is starting to blow past in a whirlwind of work and general procrastination. I'm going to try to slow things down a little this week, but at least we got our tree up tonight!
Collection Development Corner
Publishing News
HarperCollins addresses the stalled union negotiations and the union responds.
And here's a look at life on the front lines of the HarperCollins strike.
The murky path to becoming a New York Times best-seller.
The companies that are killing creativity.
A new study in the UK shows that writers' earnings have plummeted, with women and authors of color being hit the hardest.
New & Upcoming Titles
Publishers Weekly has their most-anticipated adult titles for Spring 2023.
Ben Mezrich is already writing a book about Elon Musk's Twitter takeover.
St. Martin's Press bought world English rights to Rachel Kapelke-Dale's novel The Fortune Seller, which is billed as "Yellowjackets meets The Talented Mr. Ripley."
Del Rey has purchased world English rights (for six figures!) for Molly X. Chang's To Gaze upon Wicked Gods and two other books in a planned trilogy.
Here's the cover reveal for Elliot Page's upcoming memoir, Pageboy.
Here's a preview of former FBI director James Comey's debut crime novel.
Gorgeous cover reveal for historical horror novel The Others of Edenwell by Verity Holloway.
And the cover reveal for A Likeable Woman by May Cobb.
9 new holiday romances to make you holly and jolly.
Best books of 2022 from Amazon, Buzzfeed, Chicago Tribune, Crime Reads (general, espionage), Entertainment Weekly (romances), Guardian (general, mystery/thrillers), Kirkus (middle grade), LA Times (fiction, nonfiction), Library Reads, LitHub, New York Times (crime fiction, historical fiction, poetry, romance, SFF, thrillers, true crime) NPR, Oprah Daily, Slate, Sun Sentinel (mysteries), Time (nonfiction), Vulture, Washington Post (mysteries, humorous romances).
Weekly book picks from Crime Reads, LitHub, New York Times, USA Today.
December picks from Buzzfeed, Gizmodo (SFF), Lambda Literary, Shondaland, Tor.com (fantasy, horror/genre-bending).
The most anticipated YA novels of 2023.
Want to read books from this newsletter? You can, for free! Get three free audiobooks with a trial to Audiobooks.com. Claim your 3 free audiobooks now!
What Your Patrons Are Hearing About
Screaming on the Inside: The Unsustainability of American Motherhood – Jessica Grose (LA Times, New York Times, The Rumpus)
How Far the Light Reaches: A Life in Ten Sea Creatures – Sabrina Imbler (The Guardian, Shondaland, Washington Post)
A Dangerous Business – Jane Smiley (NPR, Shondaland, Washington Post)
Cursed Bunny – Bora Chung (New York Times, Tor.com)
The McCartney Legacy: Volume 1: 1969 – 73 – Allan Kozinn & Adrian Sinclair (Datebook, New York Times)
A World of Curiosities – Louise Penny (The Guardian, Washington Post)
On the Riot
Here's Book Riot's best books of 2022!
The best historical fiction of 2022.
And here's Book Riot's Read Harder Challenge for 2023!
The best new baking cookbooks to gift.
The best new weekly releases to TBR.
December picks for horror, mysteries/thrillers, romance, nonfiction, children's books, YA.
Who was Nora Ephron?
How dice helped this reader tame their TBR.
All Things Comics
James Gunn has issued his first public statement about the future of DC Studios.
The best middle grade graphic novels of 2022.
On the Riot
8 new manga, graphic novels, and comics released this December.
Writerly lessons found in graphic novels and nonfiction.
Audiophilia
Best audiobooks of 2022 from AudioFile, New York Times, Slate.
AudioFile announces the December Earphones award winners.
16 audiobooks that offer life (and language) lessons.
On the Riot
20 of the best audiobooks of all time.
The best audiobook thrillers to listen to this winter.
Book Lists, Book Lists, Book Lists
Adults
8 schemers and opportunists in literature.
4 atmospheric thrillers with unexpected settings.
8 books meant to unsettle the reader.
A reading list centered around Kingston, Jamaica.
12 romance novels by Latinas to gift your book-loving friends.
5 character-driven mystery novels from European authors.
7 novels that use mystery to examine race.
The best books featuring women in STEM.
On the Riot
Books this Rioter is giving as gifts for the kids in their life.
8 books about birthdays for kids.
21 of the best award-winning sci-fi books.
8 dark academic mystery novels.
9 books in translation from Indonesia.
9 unforgettable prose books written by poets.
8 books for board gamers.
Level Up (Library Reads)
Do you take part in Library Reads, the monthly list of best books selected by librarians only? We've made it easy for you to find eligible diverse titles to nominate. Kelly Jensen has a guide to discovering upcoming diverse books, and Nora Rawlins of Early Word has created a database of upcoming diverse titles to nominate, as well as including information about series, vendors, and publisher buzz.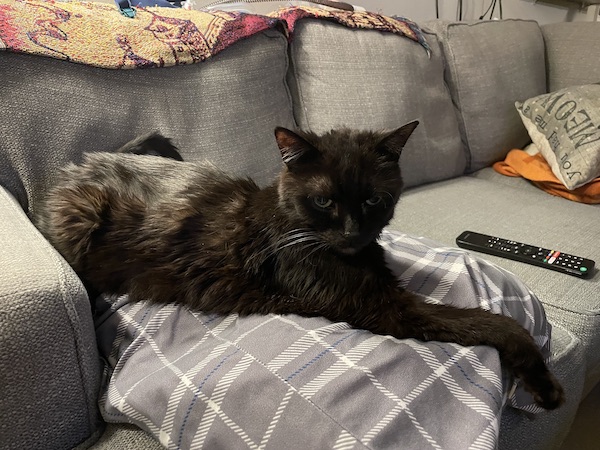 Before you ask, yes, that's an optical illusion. Gilbert's leg is not actually that long and bendy. But he does look rather fancy sitting there, doesn't he?
All right, friends and neighbors – that's it for today. Catch you on Friday!
—Katie McLain Horner, @kt_librarylady on Twitter.