Hey‌ ‌there‌ horror fans, ‌I'm‌ ‌Jessica‌ ‌Avery‌ ‌and‌ ‌I'll‌ ‌be‌ ‌delivering‌ ‌your‌ ‌weekly‌ ‌brief‌ ‌of‌ ‌all‌ ‌that's‌ ‌ghastly‌ ‌and‌ ‌grim‌ ‌in‌ ‌the‌ ‌world‌ ‌of‌ ‌Horror.‌ ‌Whether‌ ‌you're‌ ‌looking‌ ‌for‌ ‌a‌ ‌backlist‌ ‌book‌ ‌that‌ ‌will‌ ‌give‌‌ you‌ ‌the‌ ‌willies,‌ ‌a‌ ‌terrifying‌ ‌new‌ ‌release,‌ ‌or‌ ‌the‌ ‌latest‌ ‌in‌ ‌horror‌ ‌community‌ ‌news,‌ ‌you'll‌ ‌find‌ ‌it‌ ‌here‌ in‌ ‌The‌ ‌Fright‌ ‌Stuff.
Welcome to week two of "horror books that Jessica became obsessed with in 2022!" I'm pouring over all the amazing horror that came out this year and highlighting some of my favorites.
Bookish Goods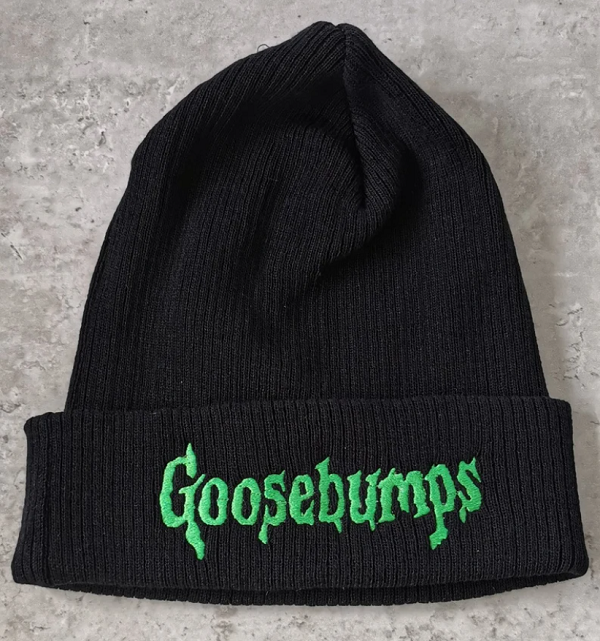 I don't know about you, but I probably wouldn't be a horror reader today if it weren't for R.L. Stine and the Goosebumps books. So the next time you head out into the cold, pull on this embroidered beanie and spread some love for one of the most successful and beloved middle grade horror series in the genre.
$18
New Releases
The second book of Brennan LaFaro's Slattery Falls series is out this week! Five years after the events of the first book, Elsie and Travis are still haunted by their time in the Weeks house. But they have still managed to find some degree of peace, living a quiet life with their daughter April. Until, that is, April starts telling them about a sinister, green-eyed man who comes to her window at night. When April suddenly disappears, Elsie and Travis know it has to be the work of Robert Weeks, leaving them with no choice but to return to Slattery Falls so they can rescue their daughter and put their vengeful enemy back in his grave.
For a more comprehensive list, check out our New Books newsletter!
As always, you can catch me on twitter at @JtheBookworm, where I try to keep up on all that's new and frightening.