I'm Kelly Jensen, Editor at Book Riot. We're getting ready to launch a series of author spotlights to help readers get to know the people behind the books and this is a sneak peek of what that looks like.
I am a former public librarian-turned-editor who has been with Book Riot for close to 10 years. Much of my work is on young adult literature and covering censorship, and once I left libraries, I knew I wanted to continue reaching teens through writing. I've been able to do just that with books like Body Talk, my third anthology for teens. It digs into the physical and political realities of having a body..
In my hours not working, I'm a mom to a toddler, caretaker to four cats and a bunny, a graduate student in mental health counseling, a volunteer and associate board member for a senior pet rescue, and I teach yoga.
What Are You Reading?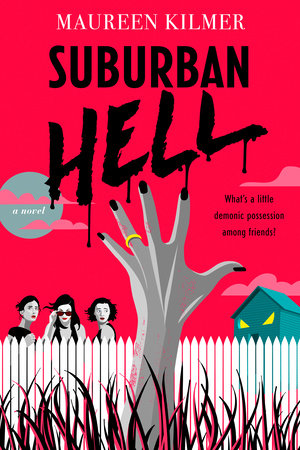 Earlier this year, I finished a hilarious suburban horror novel called, aptly, Suburban Hell. It's about a group of four moms who accidentally conjure a demon from the space where one of them was planning to build a She Shed. It explored friendship, was a thoughtful critique of suburbia, and gave space for moms–too often seen as a one-dimensional thing–to be dynamic, fully formed people.
Books That Shaped Me
What I love about my books is that they fill a hole in YA for thoughtful essays packaged in an extremely accessible, inviting way. I can't point to a lot of other books that inspired that style as inspirational, BUT I read a lot of essay collections and was inspired to offer such books for YA readers because of that. Among my top essay collections are Alice Wong's Year of the Tiger (Alice has a phenomenal essay in Body Talk!), Jia Tolentino's Trick Mirror, Alida Nugent's You Don't Have to Like Me (immediately after finishing this book I begged her to take part in my feminism anthology, to which she said yes), and though she does not have a book of essays, Anne Theriault's online work has absolutely shaped me as a writer and thinker (her essay in Here We Are helped inspire my second anthology on mental health, (Don't) Call Me Crazy).
More Good Stuff
I did a lot of cool promotions and events for Body Talk. Here are some of them I think you might enjoy:
One of the best events I've ever done was this launch event for Body Talk with Charis Books. It's a discussion of boobs with a range of incredible authors, activists, and performers. You can catch that here.
The above panel was kind of my dream experience. Nic Stone, who was part of the event, was signed on to be in Body Talk; her career took off by leaps and bounds by the time her essay deadline was nearing and she had to pull out of the anthology to focus. We'd talked back and forth about doing something together, and somewhere along the way, had an unrelated conversation about breasts. From there, the event was born!
You can find all of my Book Riot work here.
I've also written extensively for School Library Journal.