Dear Book Friends,
Welcome to December! I'm fully in December mode, y'all. It's snowing here, and I'm watching the 2019 version of Black Christmas starring Imogen Poots. Apparently I really loved this movie when it came out, so I'm checking it out again to see if it holds up? But anyway, enough about me and my weird Christmas movie tastes! Let's chat about books and things.
Book Deals and Reveals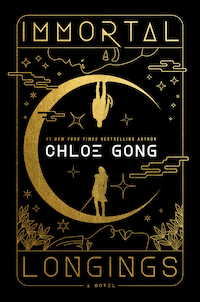 Check out the first chapter and the cover of Chloe Gong's upcoming adult epic fantasy novel Immortal Longings. This novel, the first in a new trilogy, will be out in July 2023.
And while we're on the subject of absolutely stunning covers, here's the cover for Tracey Livesay's The Duchess Effect. This one is also coming July 2023!
Isabel Cañas has a new novel coming out from Berkley. It's called Vampires of El Norte, and you can check out the cover and an excerpt here.
And here's the cover reveal for Small Worlds, the new novel from Caleb Azumah Nelson, the best-selling, award-winning author of Open Water.
Universal released a new poster for M. Night Shyamalan's Knock at the Cabin, which is based on Paul Tremblay's novel The Cabin at the End of the World. Knock at the Cabin hits theaters on February 3rd.
Tor Teen will release the horror anthology The White Guy Dies First in summer 2024. The book, edited by Terry J. Benton-Walker, will feature 13 authors of color writing short stories in which the white guy always dies first.
Scarlett Johansson is set to star in a new TV adaptation of Just Cause, based on the John Katzenbach novel of the same name.
Audible has announced its picks for the 18 best audiobooks and podcasts of 2022.
And…Pitchfork has announced their picks for the best music books of 2022.
Country star Miranda Lambert is releasing her very first cookbook. On Instagram, Lambert announced the title of her upcoming book is Y'All Eat Yet? and will be available on April 25th, 2023.
In an effort to support those inside the prison system, Haymarket Books is hosting Books Not Bars for the Holidays. You can donate and get more details here. Or you can request a book for an incarcerated loved one here.
Book Riot Recommends
I'm a Contributing Editor at Book Riot, I write the Today in Books newsletter, and I'm a Bibliologist for Book Riot's Tailored Book Recommendations subscription service. I also have a PhD in English, so I'm basically a doctor of books. Books are my life, in other words, so in this section of the newsletter, let me share with you some upcoming books I'm super excited about. And I think you will be too!
Can't Wait for This One!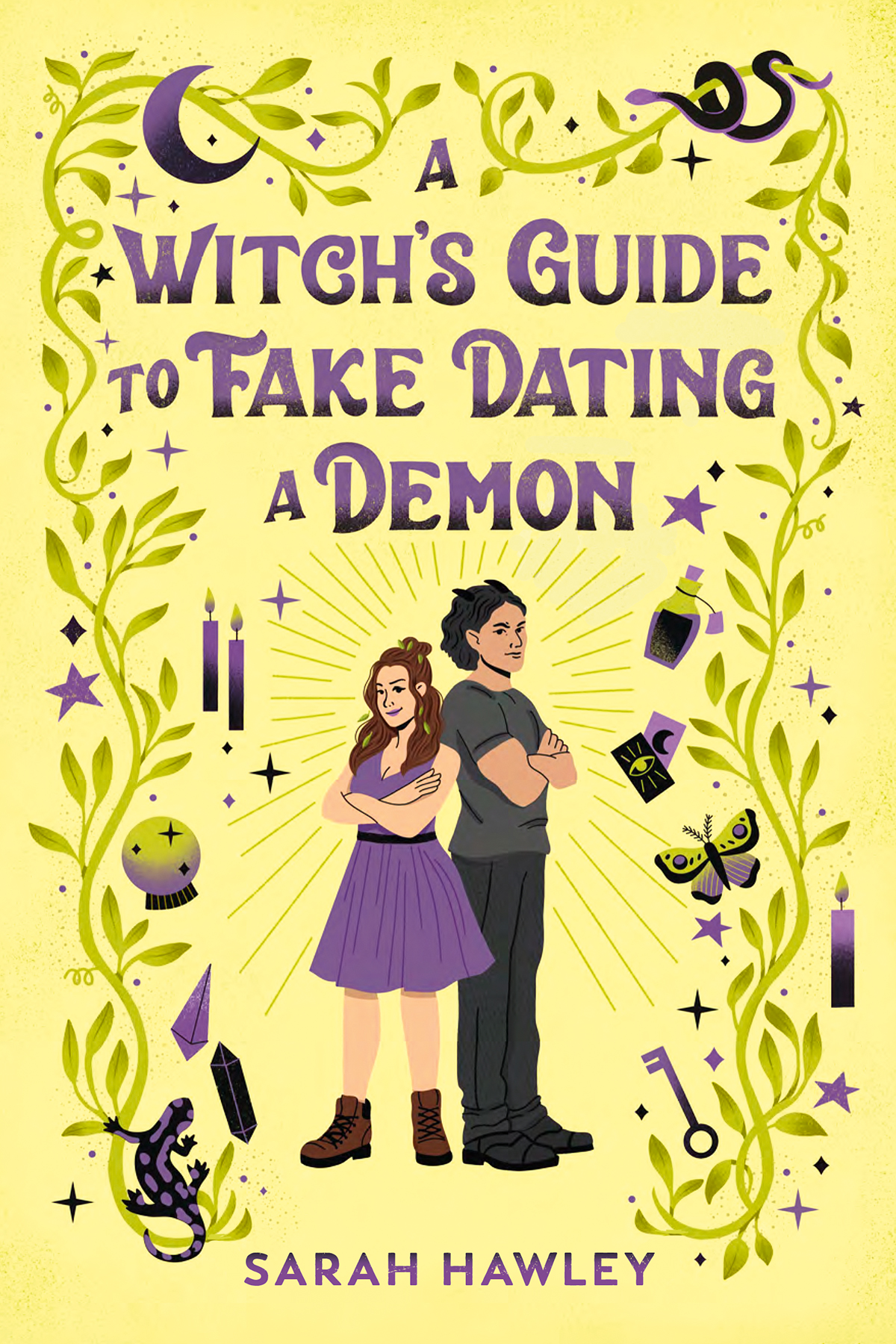 Before I even saw the cover, this title had me interested. Witches? Demons? Fake dating? Say less. Unfortunately, we have to wait til March 2023 for this quirky romcom, but trust me when I say I will definitely be picking up a copy of this one when the time comes.
Mariel Spark is a witch and a member of the famed, magical Spark family. According to a prophecy, Mariel is destined to be one of the most powerful witches of the past few centuries. But much to her family's dismay, Mariel would much prefer spending her time baking and gardening versus brewing potions and casting hexes.
But Mariel's life gets turned upside down when she attempts a spell to summon flour and instead finds herself face to face with a demon. And not just any demon. Ozroth the Ruthless is a legend among demons who will stop at nothing to collect mortal souls. Ozroth refuses to leave Mariel's side until she completes a bargain, which she refuses to do.
Terrified of what her mother will think when she sees a demon hanging around her at all times, Mariel decided to tell a little lie. She tells her mother she's dating Ozroth. I'm sure this will go well.
Want to read books from this newsletter? You can, for free! Get three free audiobooks with a trial to Audiobooks.com. Claim your 3 free audiobooks now!
Words of Literary Wisdom
This one's a little longer but worth the read:
"I'm too weak for it. I mean, everyone is, but I am especially susceptible to its false rewards, you know? It's designed to addict you, to prey on your insecurities and use them to make you stay. It exploits everybody's loneliness and promises us community, approval, friendship. Honestly, in that sense, social media is a lot like the Church of Scientology. Or QAnon. Or Charles Manson. And then on top of that — weaponizing a person's isolation — it convinces every user that she is a minor celebrity, forcing her to curate some sparkly and artificial sampling of her best experiences, demanding a nonstop social performance that has little in common with her inner life, intensifying her narcissism, multiplying her anxieties, narrowing her worldview. All while commodifying her, harvesting her data, and selling it to nefarious corporations so that they can peddle more shit that promises to make her prettier, smarter, more productive, more successful, more beloved.
And throughout all this, you have to act stupefied by your own good luck. Everybody's like, Words cannot express how fortunate I feel to have met this amazing group of people, blah blah blah. It makes me sick. Everybody influencing, everybody under the influence, everybody staring at their own godforsaken profile, searching for proof that they're lovable.
And then, once you're nice and distracted by the hard work of tallying up your failures and comparing them to other people's triumphs, that's when the algorithmic predators of late capitalism can pounce, enticing you to partake in consumeristic, financially irresponsible forms of so-called self-care, which is really just advanced selfishness. Facials! Pedicures! Smoothie packs delivered to your door! And like, this is just the surface stuff. The stuff that oxidizes you, personally. But a thousand little obliterations add up, you know? The macro damage that results is even scarier. The hacking, the politically nefarious robots, opinion echo chambers, fearmongering, erosion of truth, etcetera, etcetera. And don't get me started on the destruction of public discourse. I mean, that's just my view. Obviously to each her own. But personally, I don't need it. Any of it…I'm corrupt enough."
— The Rabbit Hutch by Tess Gunty
What's Up in the Book Community?
My iPhone is constantly telling me I spend too much time staring at my screen, which is honestly so rude. But this means I spend a lot of time scrolling around the online book community: BookTube, Bookstagram, BookTok, BookLinkedIn (JK. That's not a thing…I don't think). You get the idea. Don't have the time, energy, or the will to do all of that yourself? No problem. I got you. In this weekly section of Book Radar, we'll take a look at something cool, interesting, and/or newsy that's going on in the book community.
It's been a while, so I think it's about time we checked in on the HarperCollins strike, which has been going on since November 10th. If you're behind on what's happening, you can check out Book Riot's post on how to support them here. You should also follow the HarperCollins Union social media accounts on Instagram and Twitter. Recently, they posted a "cover reveal" of a fake book entitled Meet Me at the Bargaining Table, including a link to "order your copy" (aka donate to the Harper Union Strike).
And Here's A Cat Picture!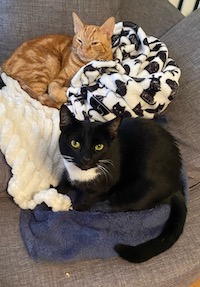 Remember how I said it's snowing? Yeah, these kitties are cold! Thankfully they have each other and a bunch of blankets to snuggle amongst. I love them so much!
Anyway, that's all for today, friends! Happy last month of 2022! Let's do this!