Welcome to Check Your Shelf. Just when I was thinking this might be an uneventful week, I realize that I've likely broken one of my back teeth, and now I need to see if I can get an emergency dentist appointment sometime this week. Thank goodness it doesn't hurt, but teeth stuff wigs me out, and the sooner I can get this taken care of, the better. Blech.
Collection Development Corner
Publishing News
The Penguin Random House/Simon & Schuster merger is dead in the water. Plus, what happens when publishing houses merge?
Inside Amazon's struggle to deal with an antisemitic film.
New & Upcoming Titles
Joe Ide's IQ series is set to continue in 2023.
Tor Teen announces a new YA horror anthology called The White Guy Dies First, featuring a collection of stories where…you guessed it…the white guy dies first.
Miranda Lambert is publishing a cookbook.
Tananarive Due did a cover reveal for her upcoming horror novel, The Reformatory. WANT WANT WANT WANT OMG WANT.
Paul Tremblay shares the cover reveal of his upcoming story collection, The Beast You Are.
Here's the cover reveal and an exclusive excerpt for Samantha Downing's upcoming thriller, A Twisted Love Story.
Take a look at the cover reveal for Britney S. Lewis' YA novel The Dark Place, which combines the "emotional resonance of John Green and the surrealist horror imagery of Jordan Peele."
New York Times' 100 Notable Books for 2022.
Kirkus shares their best nonfiction picks for 2022, including biographies, memoirs, U.S. history, world history, nature & environment, current affairs, science & medicine, and more!
Best books of 2022 from the New York Public Library.
10 best romance novels of 2022.
Most anticipated YA books to read in December.
RA/Genre Resources
How romance novels saved this reader who was going through intense emotional struggles.
On the Riot
2023 YA book title earworms. (Click through with caution!)
New holiday romcom books to warm your heart.
The best new weekly releases to TBR.
9 classic types of sci-fi plots.
What makes a good mystery series?
Why are magic users often oppressed in fantasy novels?
All Things Comics
Blade finds a new director and a new writer.
On the Riot
15 short graphic novels for when you just don't have time to read.
Cozy graphic novels to snuggle up with.
9 iyashikei manga to heal weary hearts.
Audiophilia
The 18 best audiobooks and podcasts of 2022.
On the Riot
20 must-listen audiobooks with Indigenous narrators.
Book Lists, Book Lists, Book Lists
Children/Teens
Adults
Quick reads to help you reach your reading goals.
6 haunting Native American horror novels.
5 of the best contemporary mystery books.
Turn up the heat with spicy romances!
8 closed door romance novels to make you swoon.
16 delightful holiday romances to make you feel merry and bright.
42 cold weather mysteries and snowy suspense novels.
6 immersive historical fiction sagas.
Want to read books from this newsletter? You can, for free! Get three free audiobooks with a trial to Audiobooks.com. Claim your 3 free audiobooks now!
On the Riot
The best unexpected board books to gift.
The best baby Christmas books.
YA books that take place in a single day.
The most popular UK YA books, as chosen by students.
8 enchanting books about Hades and Persephone.
9 macabre medical mystery books.
25+ of the best craft books.
8 human migration books to broaden your horizons.
Level Up (Library Reads)
Do you take part in Library Reads, the monthly list of best books selected by librarians only? We've made it easy for you to find eligible diverse titles to nominate. Kelly Jensen has a guide to discovering upcoming diverse books, and Nora Rawlins of Early Word has created a database of upcoming diverse titles to nominate, as well as including information about series, vendors, and publisher buzz.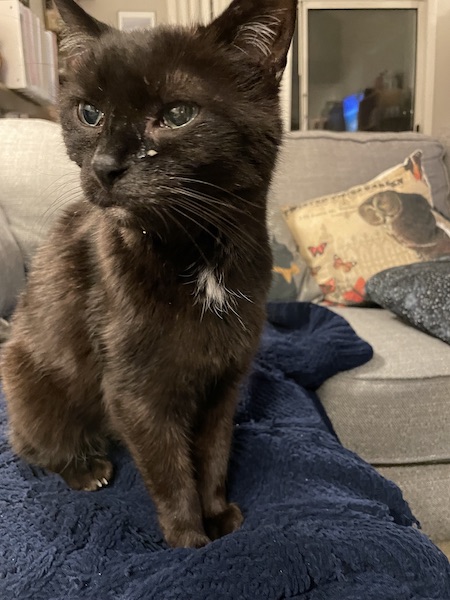 I texted this photo to my husband and said "Good grief." He texted back, "Why good grief? He has an eye goober." To which I responded, "That's not an eye goober. That's food." And if I was able to share a larger version of the photo, you would see that he also has food caught in his whiskers. We can't take this old fart anywhere!
All right friends, hopefully by the time Friday's newsletter comes out, I'll have a whole tooth again. Chew carefully this week, and I'll catch you later!
—Katie McLain Horner, @kt_librarylady on Twitter. Currently listening to The Good Girls: An Ordinary Killing by Sonia Faleiro.